Rosie Huntington-Whiteley has "offers on the table," is waiting "for the right script"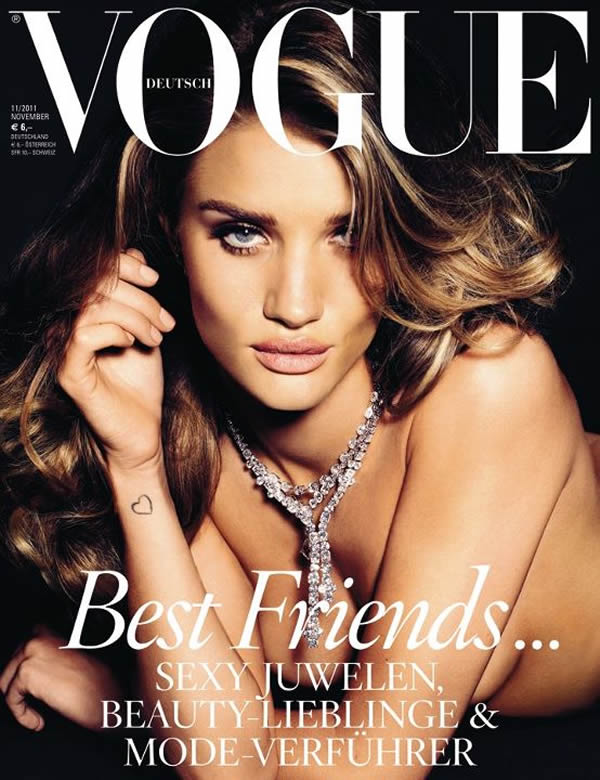 Rosie-Huntington Whiteley covers the November issue of German Vogue, and for those who've lamented that models (i.e., Gisele "Broccoli" Bundchen) shouldn't sit for interviews with magazines, you'll be happy to learn that Rosie does not breathe a word to accompany this photo spread. While I have still rustled up a few stories about her to discuss below, let's first take a look at the three (?) different covers for this shoot. One features Rosie nude except for a diamond necklace; the next shows only her face; and the third shows her wearing a pretty awesome red leather trenchcoat and nothing else: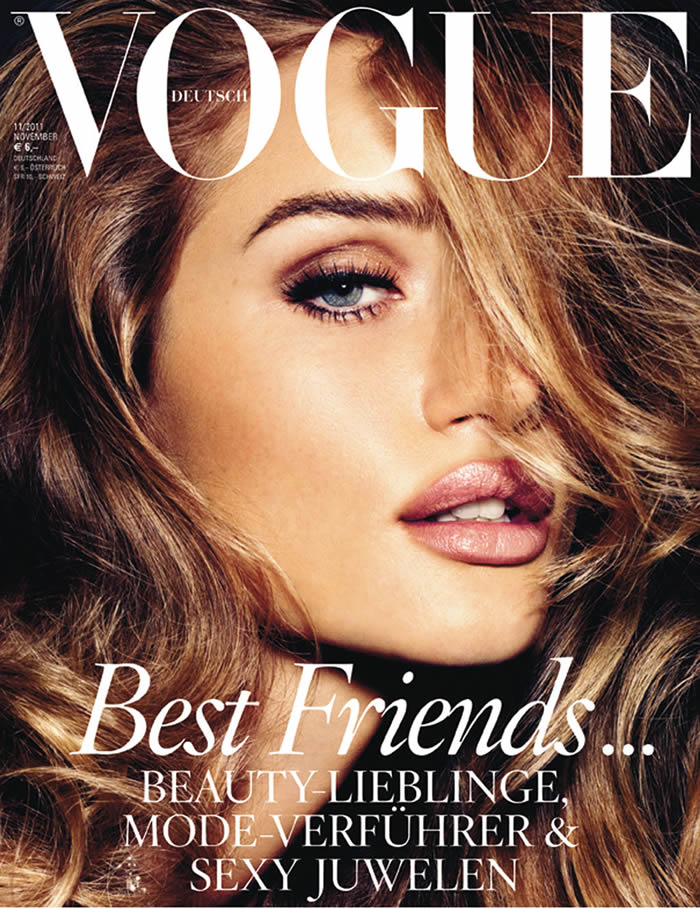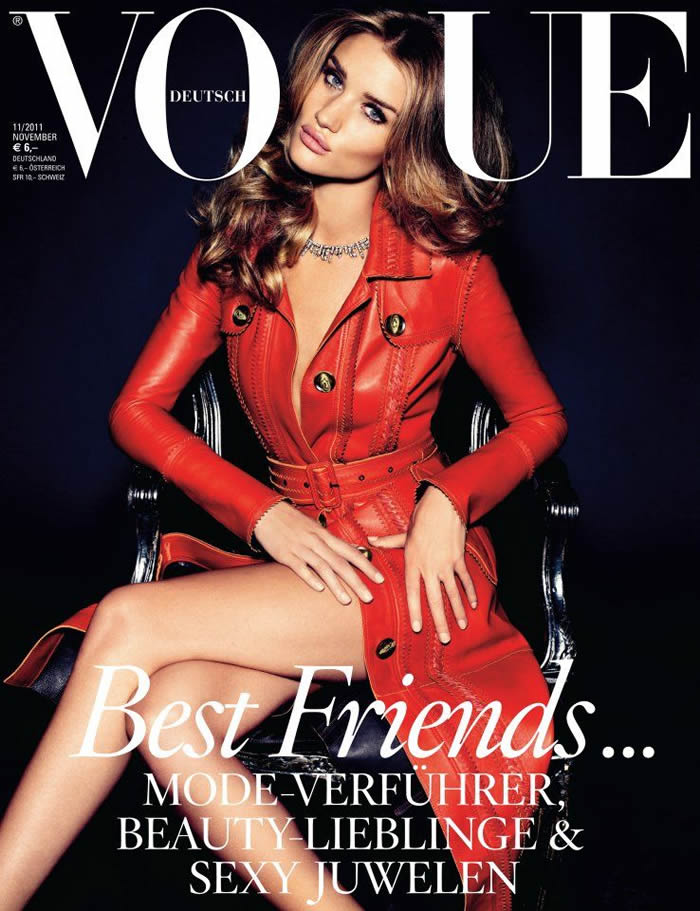 Of course, Rosie isn't just a model but an actress too, and she and her mood lips starred as "the chick" in this summer's Transformers: Dark of the Moon movie. During the film's promotion, Rosie hinted that she wanted a sniff of Angelina Jolie's career. Well, that hasn't happened yet because a quick peek at her IMDb page reveals that she has absolutely nothing going on in the acting department in either the current or future tense. However, a sketchy source has revealed to the Mirror that "She's had offers on the table for roles in Hollywood blockbusters – two serious ones. But she doesn't want to do that. She's taking her time for the right script to come along and then she'll take another role on." So apparently, Rosie is very selective and doesn't want to taint the illustrious image that she's so carefully coveted thus far; that is, writhing in front of a wind machine for a Victoria's Secret lingerie commercial or running with slo-mo boobs in a Michael Bay movie.
Actually, I'm betting that since Rosie arched her back just right for Michael Bay, her next role will probably be in another Transformers movie. Rosie herself has already predicted that Shia will probably relent and sign on for the next one too, but she adds, "He'll kill me for saying that." Probably so, and then he just might claim to have hooked up with her on set the next time he's promoting a movie because, you know, that's how Shia rolls. Like a douchebag.
Meanwhile, Rosie is still going strong with the ruggedly hunky Jason Statham, whose fans will be crushed to read of rumors that Jason is planning to propose to his lady love: "Jason is besotted with Rosie and wants to settle down. They could be married as soon as next summer – as long as Rosie says yes!" Ugh. While I don't deny that Rosie has a bod to die for, she seems so … vacant. Could it possibly be true that Jason feels absolutely fulfilled with a pair of legs that are attached to a silly model? Speaking of legs, here are more of Rosie's stems in various states of undress: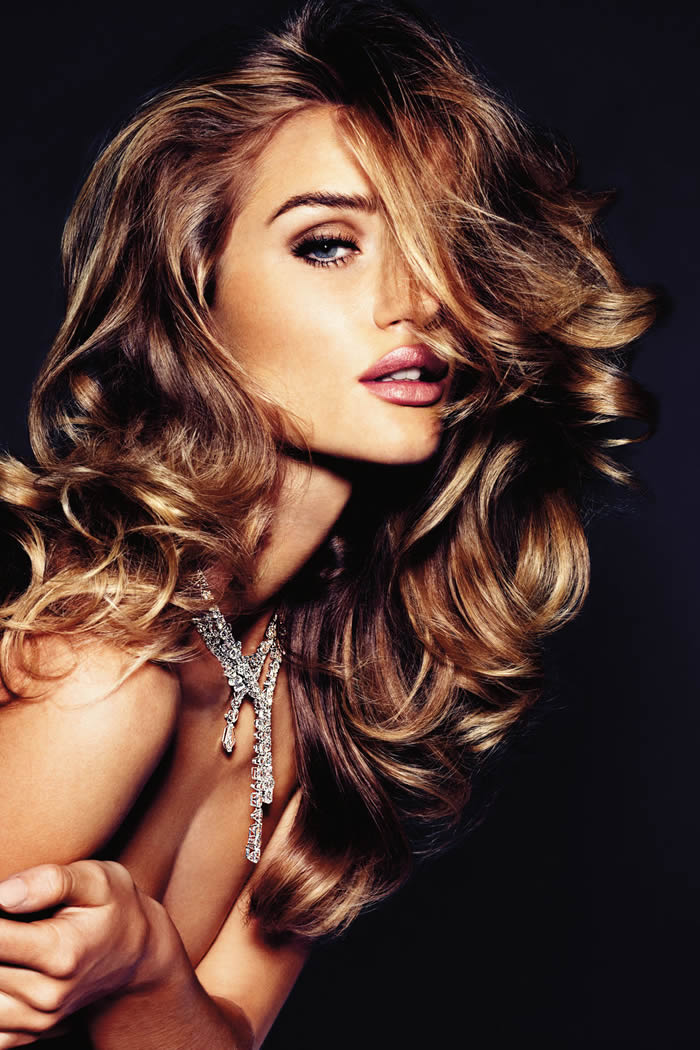 Photos courtesy of Vogue Germany
Written by Bedhead

Posted in Jason Statham, Rosie Huntington-Whitely, Shia LaBeouf

- Mariah Carey lip synced on American Idol [CDAN]
- Colin Firth is looking good [Lainey Gossip]
- Internet celebrity charged with murder! [D-Listed]
- What is Paz Vega wearing? [Go Fug Yourself]
- New bachelors on The Bachelorette [Reality Tea]
- Goodbye to The Office [Pajiba]
- Bachelor Sean's fiance cheats on him [Evil Beet]
- Britney Spears out with her man [Popsugar]
- Nina Dobrev works it [Popoholic]
- Cindy Crawford needs to lay off the 'tox [Celebslam]
- Who said it: Carrie Bradshaw or The Dalai Lama? [Buzzfeed]
37 Responses to "Rosie Huntington-Whiteley has "offers on the table," is waiting "for the right script""