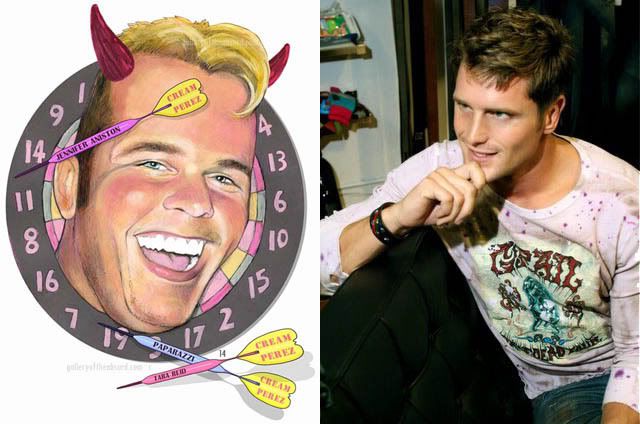 Lace Bass' partner, Amazing Race reality TV star Reichen Lehmkuhl, has blogged on his myspace about Perez Hilton's claims that he's been cheating on Lance. He says he and Lance are still together, and that Perez makes shit up to increase his traffic:
Mario Lavendeira (PerezHilton.com) is a Big (blank) Ugly Liar, an Accused Thief and Criminal

All,

From the Horse's Mouth: Just a friendly reminder that when you read websites like PerezHilton.com, you are reading lies and are being taken advantage of as you make more money for a person who does nothing but fabricate stories to make his site look interesting.

That anyone would trust someone like Mario Lavendeira (PerezHilton.com) who STEALS from photographers, bloggers, and the general population, is beyond me, really. This person is a common criminal.

Contrary to what this ugly wind-bag has reported, I have not broken up with my boyfriend. I did not go home with anyone from "Survivor" from any party. I have not "made out with" anyone at a party while I have been with my boyfriend. The opposite has been written on his site. It is all a complete and blantant lie. This person is a liar. Period.

My book was done before I ever met Lance. I do not date people so that I can "use" them. I'm self-sufficient and happy to be that way. I have served my country, I have made my own money, my own career, written my own books, bought my own homes and other possesions, and I'm proud to be this way, on my own. I am not broke. I am individually financially sound. I date people because I happen to love them. Period.

I will only post this once. This disgusting person and his site makes up blatant lies to create interesting stories. I am one of this criminal's targets. Understand that. So know, from here on out, that if you read anything about ME on PerezHilton.com, you are 99.9% sure to be reading a lie or an exagerrated, incorrect version of something that is 0.01% true.

Merry Christmas Everybody!!

Love, Reichen
Meanwhile it is indeed true that Perez is being sued by paparazzi photo agency X17 for $7.6 million. The major news outlets have picked up the story, and Perez remains defiant, saying "All successful people get sued. It just happens. The more successful you become, the more high profile, the bigger target you are and I'm an easy target." X17 says they tried to settle with him amicably many times, and he was openly rude about it. They say that they have lost business with celebrity glossies as a result of Perez pilfering their photos. The gossip rags claim that Perez's first use of the photos keeps them from having an exclusive scoop.
It sounds to me like Perez wanted to get sued again so he can get lots more free publicity.
Header image is an original illustration from Gallery of the Absurd, and you can view it full on their site. Reichen image found on Oh No They Didn't!.