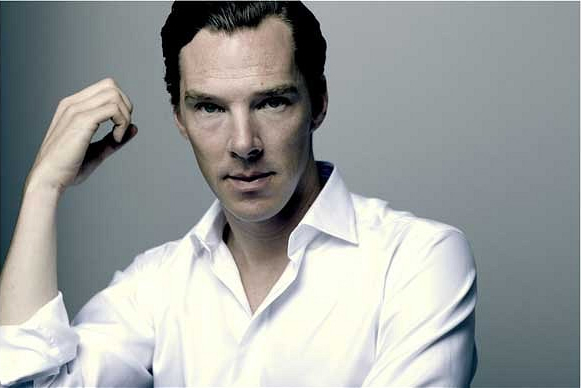 I don't even know how to describe this interview with Benedict Cumberbatch. He made me laugh several times, he made me want to have his strangely beautiful babies, he made me long to move to London to stalk his pale, English ass. He's lovely. He's perfect. And he's hilarious. The Telegraph sat down for an extensive interview with Cumby because he's promoting his latest mini-series, a collaboration between HBO and the BBC – it's an five-part miniseries adaptation of Ford Madox Ford's Parade's End, with Cumby playing the lead character, Christopher Tietjens. The miniseries and book is set in the 1910s-1920s, before, during and after World War I, and the book was adapted by Tom Stoppard. You can read the full interview here – there's quite a bit about the miniseries, which is interesting but I'm not going to excerpt much of it. Here are my highlights:
Playing the lead character in Parade's End: 'I love him. I really do think that Christopher Tietjens is the character I'm most fond of ever having played.'

Wearing padding and extensive makeup for the part: 'I had [London mayor] Boris Johnson as a visual reference,' Cumberbatch says, retracting his angular face into his neck and tugging at his jowls. 'I wanted to go further with it… but I think they were slightly nervous about any kind of attractiveness being completely lost.'

Playing a character whose wife cheats on him: 'The tragedy is that Tietjens and his wife love each other, it's just the wrong kind of love, expressed in the wrong kind of way,' he says. 'There but for the grace of God a lot of us might go, or are going, or have gone.'

His newfound fame: 'It's all gone a little bit vertiginous recently. Fame is a weird one. You need to distance yourself from it. People see a value in you that you don't see yourself. So when I'm told of my sex-symbol status and all that nonsense I find it laughable, silly. I mean, look.' He gestures towards his face. 'I'm 36 and I've been looking at this same old mush all my life.'

His first stage role: He acted throughout his school days, beginning at a pre-prep school in Notting Hill where he starred as Joseph in the nativity play and earned his first, intoxicating laugh from the crowd when he shoved the girl playing Mary off the stage. 'I didn't really understand it, and I wasn't intending to play to the house,' he says. 'I was just furious about how self-indulgent she was being.'

Further education: 'Then I went to Harrow [a posh, all-boys school], and that was really the moulding of me. In my first year I had the onerous task, having just established myself as a reasonably decent rugby-playing cricketer and footballer, of starring as Titania, Queen of the Fairies. I then followed up with a Rosalind that was deemed by my drama tutor as being the finest since Vanessa Redgrave's.' He laughs. 'I have seen pictures of that and it's quite scary – I look like I am possessed by a woman.'

He didn't want a posh university: From Harrow he went to the University of Manchester to study drama, a deliberate detour from the Oxbridge route taken by so many of his peers. 'Not that Manchester was really roughing it,' he says, 'but I didn't want just an extension of my public school when I went to university. I wanted less exclusivity. I wanted more of life.'

A moment on doubt on Star Trek 2: 'It sounds really arrogant but I don't think I did [doubt myself], no,' he says. 'I'm not someone who's naturally confident, I just knew no matter what it held for me, I was going to pursue it.' There are still moments, he says, when his confidence falters. The first day he stepped on set of the new Star Trek film, joining an illustrious line of British stars who have played the villain in a Hollywood blockbuster, he had a momentary feeling of being out of his depth. 'I didn't know what I was going to do and I had very little time to establish the character in that franchise,' he says.

Filming The Hobbit: Although he plays two roles, a necromancer and Smaug (a fantastical villain he describes with undisguised glee as 'a 400-year-old fire-breathing worm who lives in the middle of a mountain on top of a pile of gold, who is three or four times bigger than the Empire State Building and can fly'), he barely encountered any other members of the cast. He worked on his scenes with the director, Peter Jackson, shooting against a green screen while wearing a motion-capture suit. 'It's sort of a grey all-in-one jumpsuit, with a skullcap, a Madonna headset and Aboriginal-like face paint,' he explains. 'You feel like a tit in all that gear but Peter is so lovely you soon forget.'

He longs for a family of his own: 'I've been broody since I was 12, but I can't just get anyone pregnant, it has got to be the right person,' he says. I can't imagine he has much time to look these days. 'To find the right person? Oh well, there's always a way isn't there –and I don't mean the internet,' he adds, laughing. 'I mean there are always moments and meetings and chance encounters. But to make meaningful relationships is very hard at the moment. Also, I was in a very, very long relationship all through my twenties and early thirties [to The Thick of It actress Olivia Poulet], so I know about looking for the right one, I guess. And it's tough, it's tough.' For the time being, he says, he is single.

Feeling guilty about money: 'I've done very well in a very bad time for our profession, which is weird. When you start getting jobs, and see your mates from drama school, you don't really want to talk about it, because you have this innate sense of guilt that it's not fair that others aren't doing exactly what you're doing. I do have that. The number of people my age, younger now, a whole generation younger, who are fiercely bright, over-educated, under-employed and who are politicised and purposeless really upsets me. It's soul-destroying. So there is a kind of weird guilt about doing well. It's interesting, but only very recently have I found myself able to say, "I've got some money in the bank account. I am allowed to enjoy this." But at the beginning, and even now, actually, to be really honest, I'm simply thrilled to be getting money to act. Although,' he adds, looking worried, 'I don't know if you should be putting that in print. If any producers read it, they'll stiff me on my next fee.'
"I've been broody since I was 12, but I can't just get anyone pregnant, it has got to be the right person" – PICK ME!!! ME!! For the love of God, I will have his posh, bizarrely beautiful babies. He should know that his weird features plus my Indian features will probably produce an amazing baby. Do you think he knows that? I hope he knows that. I'm waiting for you, Cumby.
Also – the bit about playing Joseph and pushing Mary off the stage because "I was just furious about how self-indulgent she was being" is Classic Cumby. I LOVE HIM.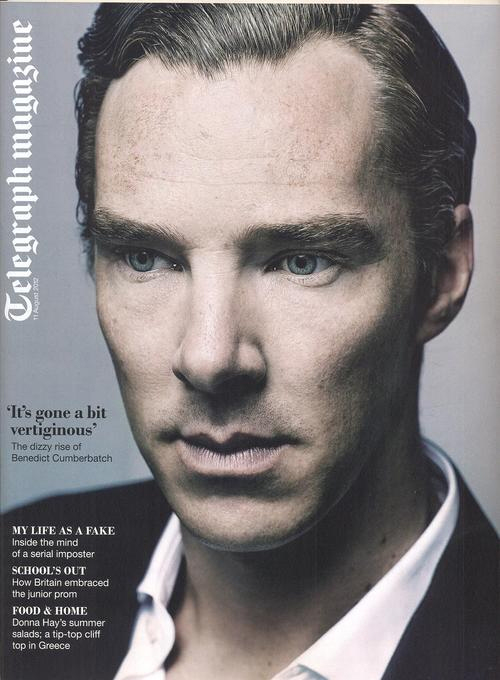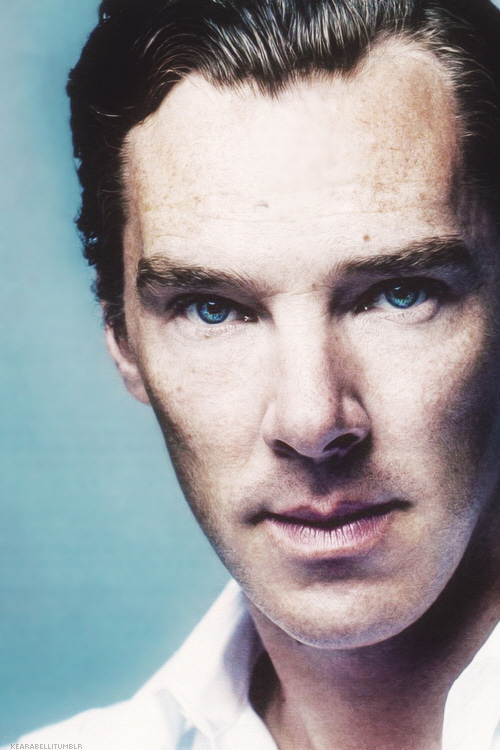 Photos courtesy of Julian Broad/The Telegraph.