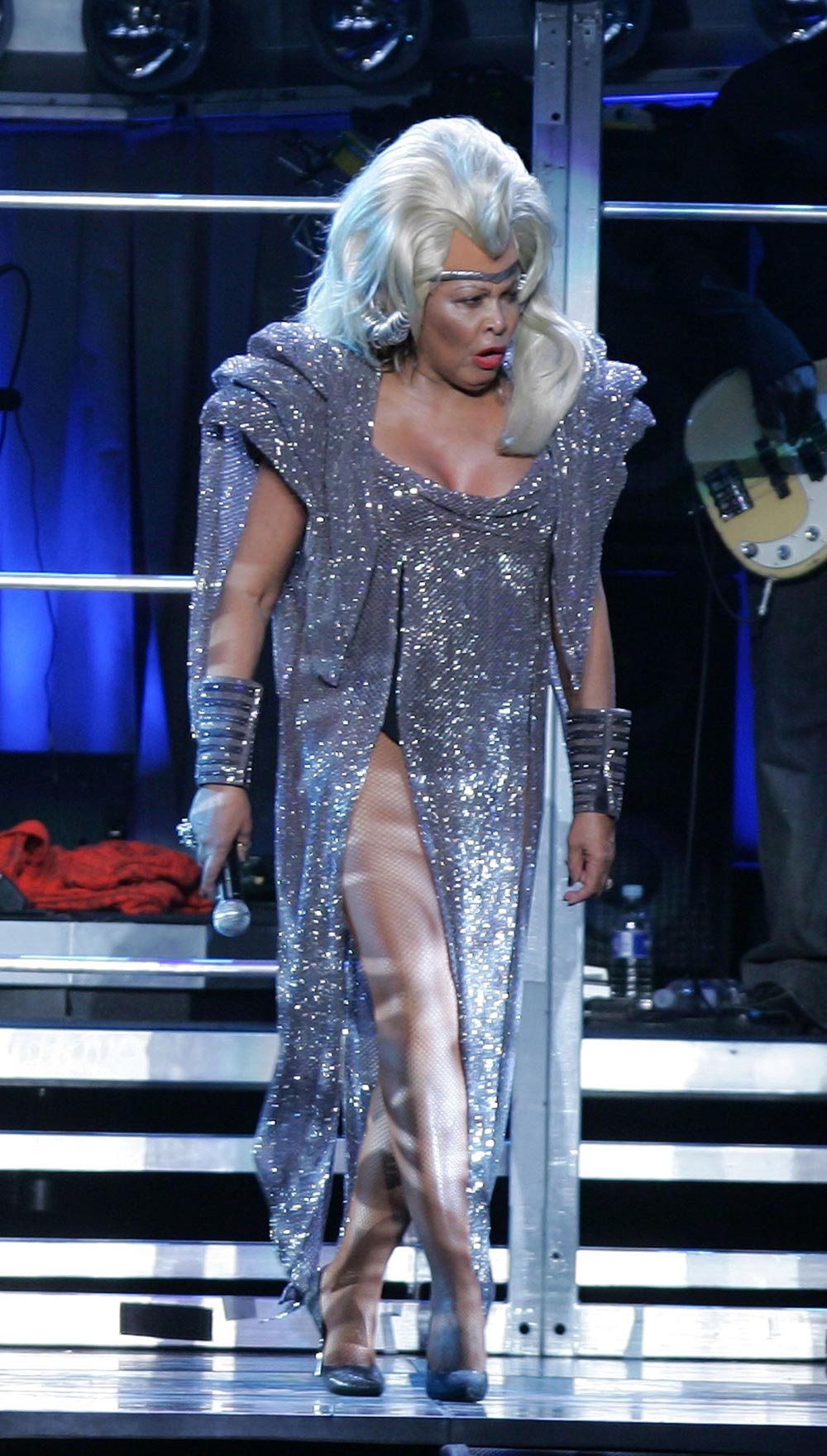 A few years ago, I went to see Cher during her very extended "Farewell" tour. The fifty-something singer busted out that black fishnet body stocking she wore in her "Turn Back Time" video back in the 80s. It was kind of nostalgic, but it was also kind of unnecessary. Not to mention, there's no way it was the same body stocking because even though she looks great, she's not in the same shape she used to be. That's kind of how I felt looking at these photos of the great Tina Turner reprising her over-the-top Aunty Entity costume from the movie "Mad Max: Beyond Thunderdome." Now, don't get me wrong. Tina, who just turned 69, looks fantastic, but some memories just need to stay sacred – and that Mad Max costume is one of them.
Tina Turner, who just turned 69, stood on a pedestal 30 feet in the air to greet her cheering legions at the opening of last night's sold-out show in New York's Madison Square Garden.

Hydraulics eased her down as she sang "Steamy Windows." An affirmative roar greeted her question: "Is everybody all right?"

The eight-time Grammy Award winner has hit the road again after announcing her retirement in 2000 following a tour that grossed $110 million. Turner's 36 North American performances are almost wrapped up; 43 dates in Europe follow.
Look, I know I'm going to catch hell for this opinion. I know that 50 is the new 40 and so on. And Tina is still amazing, at any age. But she's also a great-grandmother. My own grandmother is 72 and the though of her flashing cleavage and leg makes me …well, uncomfortable. Maybe it's time for Tina to cover up a little. People would still come see Tina's show if she didn't wear the skin-baring outfits. She doesn't need them. It's not like she's Madonna and only has her sexy image to fall back on – the woman is a legend.
Before you start calling me sexist, I feel the same way about Mick Jagger – the guy needs to keep his shirt on. Call me ageist but I could live very happily the rest of my life without seeing old man pigeon chest in addition to elderly cleavage. Wouldn't it be better to see them live, looking and acting their age, and simply look at the old album covers to remember them young and sexy?
Photo credit: WENN