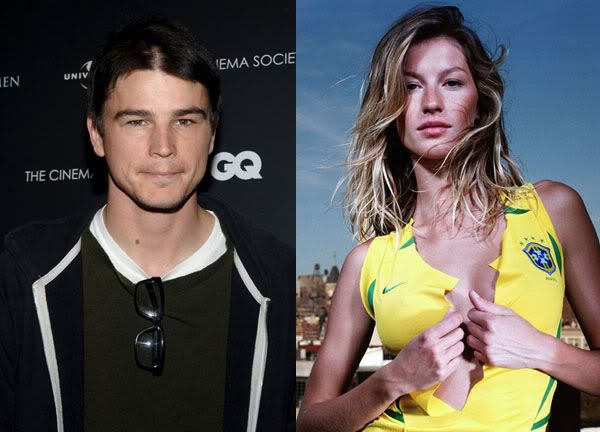 Everyone was saying the Josh Hartnett looked like crap after he was seen out at an event last week in need of a brow wax and some hair pomade. Page Six reported that his low-key relationship with sexy smartie Scarlet Johansson seemed to be doing ok after they were spotted making out. Now Page Six is reporting that he was seen making out with gorgeous Brazilian supermodel Gisele Bundchen at a club on Saturday Night:
WE may have jumped the gun yesterday when we announced Josh Hartnett was back with on-again, off-again girlfriend Scarlett Johansson. They were seen making out last week, but apparently they are taking Johansson's "open relationship" policy seriously. Hartnett was spotted at Spotted Pig sucking face with supermodel Gisele Bundchen Saturday night. "They were all over each other," said the spy. Reps for Harnett didn't return calls, and a rep for Bundchen would not comment.
Bundchen was known as Leonardo Dicaprio's longterm girlfriend until they broke it off in the fall of 2005. She was linked with surfer Kelly Slater shortly afterwards, but they are said to have split in July of this year.
Hartnett and Johansson have not had a very stable relationship. They have been rumored to have broken up several times, Johansson has said that she's no fan of monogamy, and Hartnet was seen out with an unknown brunette while he was filming in Australia.
I doubt that Josh and Gisele will last. He does seem like the intelligent type like DiCaprio, but he doesn't strike me as a guy who could hold Gisele's interests.
Scarlet and Josh are like Sienna and Jude and will probably keep running back to each other when they're both single. At least they have the sense not to talk about it.
Here are some outtakes from Gisele Bunchen's photoshoots. I have no idea how old they are. They were found on SuperiorPics.