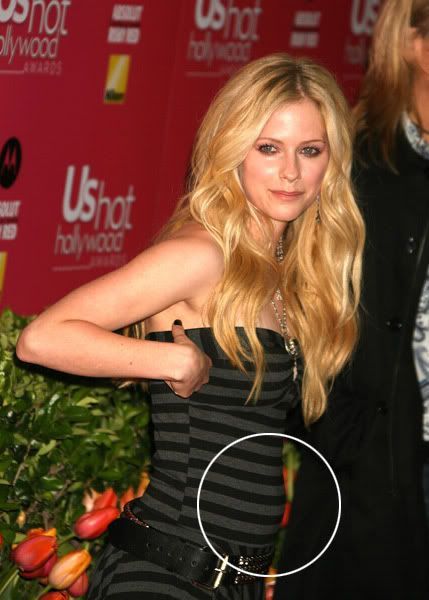 Avril Lavigne wore horizontal stripes again in an attempt to foil the cameras from capturing her growing baby bump at the Hot Hollywood awards. She also wore a horizontally striped top to the earlier "Volvo for Life" awards ceremony on April 12th.
Life and Style speculated that Avril is pregnant over a month ago, and Avril's friends say she wants children right away. She plans to marry her live-in boyfriend, Sum 41 frontman Deryck Whibley, this summer in a traditional church wedding with a rocking reception.
Avril has lent her name to a list of media-savvy artists who are against the recording industry's strongarm tactics to try to "protect" recorded music. She and Deryk have joined the Canadian Music Creators Coalition to speak out against DRM locks on music files, and the practice of suing fans for music distribution.
Here is Avril at the Hot Hollywood Awards on Wednesday night. More pictures from the event are at alavigne.com.br.