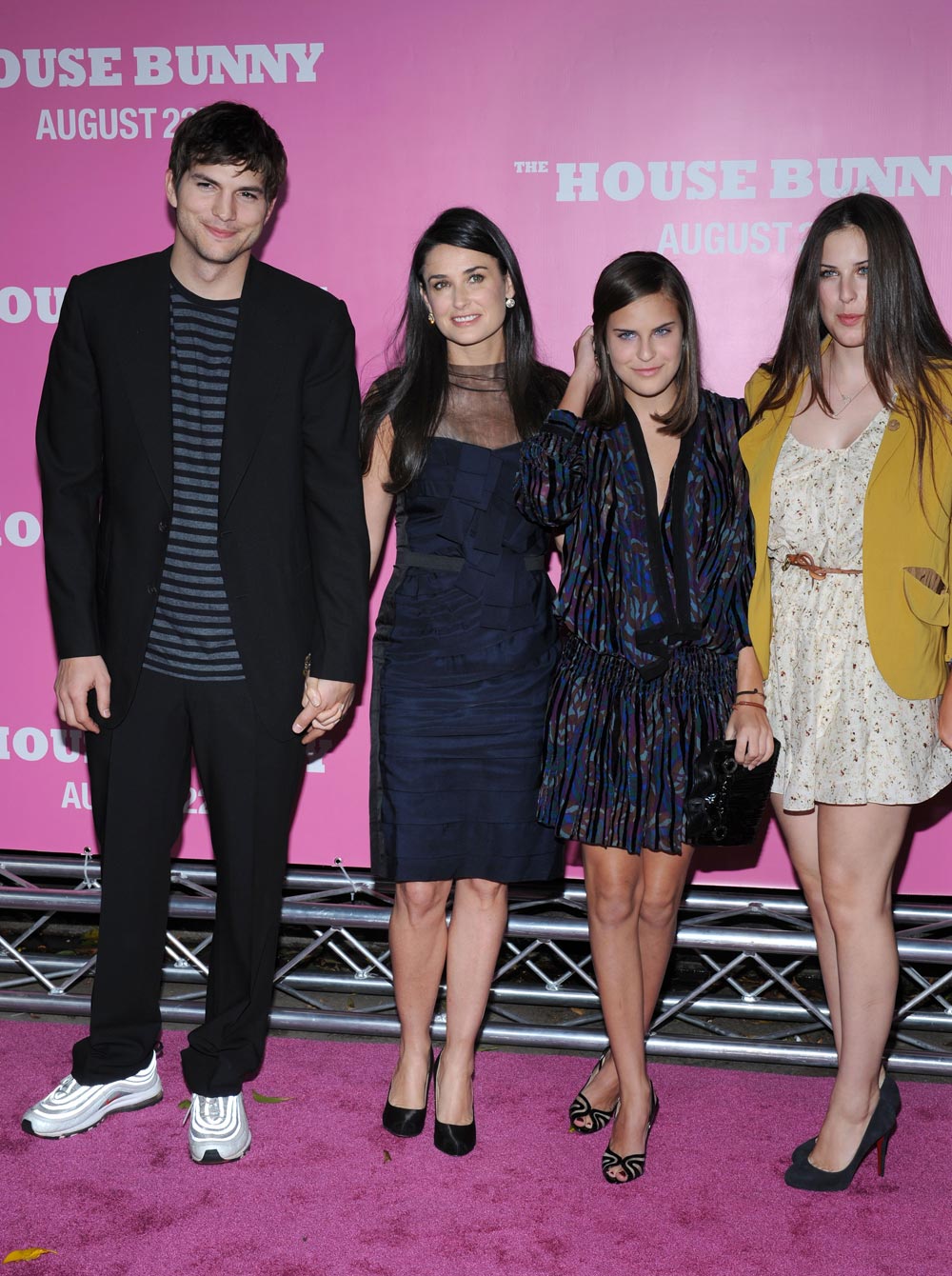 When Aston Kutcher first appeared on the scene, I was a fan. He was hot as hell and his PR machine had him sounding like a super intelligent guy even though his Kelso character was about as dumb as they come. Over the years, though, it's become apparent that Ashton is much more Kelso than the physicist type. If you've been unfortunate to catch any of his recent camera commercials, you know why I really want to shoot him in the back with a potato gun.
So, with the humor that Demi must have learned to tune out like one does with an obnoxious pre-teen class clown, Ashton delivered what has to be the award winning stupid joke of the debutante ball season at Crillon Bal des Débutantes where Demi and Bruce's daughter, Scout LaRue Willis came out.
OF the hundreds of people at Europe's most prestigious debutante ball, the Crillon Bal, Ashton Kutcher seemed the most out of place. As the stepfather of Scout LaRue Willis – one of 23 young beauties from around the world making her debut – Kutcher was congratulated on Scout's "coming out." Appearing utterly confused, Kutcher looked at the dance floor and joked, "As far as I know, she's dancing with boys."
[From NY Post Page Six]
He's stupid, but he's not that stupid. Can you just imagine how embarrassing it must be to be a teenager and have Ashton Kutcher as your step-dad? At first it would seem pretty cool, I mean, he's Ashton Kutcher, right? But then, it all starts sinking in, he's Ashton Kutcher. Kelso is my step-dad. And Kelso is going to be talking about me to the press.
David Patrick Columbia's New York Social Diary describes the debutante affair as "a unique forum for the presentation of the world's most eligible young ladies. The ball is also referred to as the Le Bal de Haute Couture, because it is also a catwalk of the endless creativity of France's top couturiers…" To that end, Scout LaRue Willis, with her sister debs, were in head to toe high couture.
Scout, resplendent in a Christian Lacroix gown, also had her parents on hand, Demi Moore and Bruce Willis, who was with his gorgeous girlfriend Emma Heming. CAA biggie Bryan Lourd watched Billie, his daughter by Carrie Fisher, debut in Chanel while French actor Alain Delon clapped for his girl Anouchka in Elie Saab and Catherine Oxenberg applauded daughter India in J. Mendel.
[From NY Post Page Six]
I'm still trying to figure out how the daughter of two relatively inactive American actors qualified for the "elite" Crillon Bal des Débutantes. Regardless, I'm sure it was a beautiful experience for Scout, stupid step-dad comments aside. I wonder if any of those girls ever ask Demi if they can't just please leave Ashton home this time.
Demi, Bruce, Ashton, Tallulah and Scout are shown below out in Paris on 11/29/08. The header was taken at the House Bunny premiere on 8/20/08, and Scout is shown to the far right. Credit: Bauergriffin