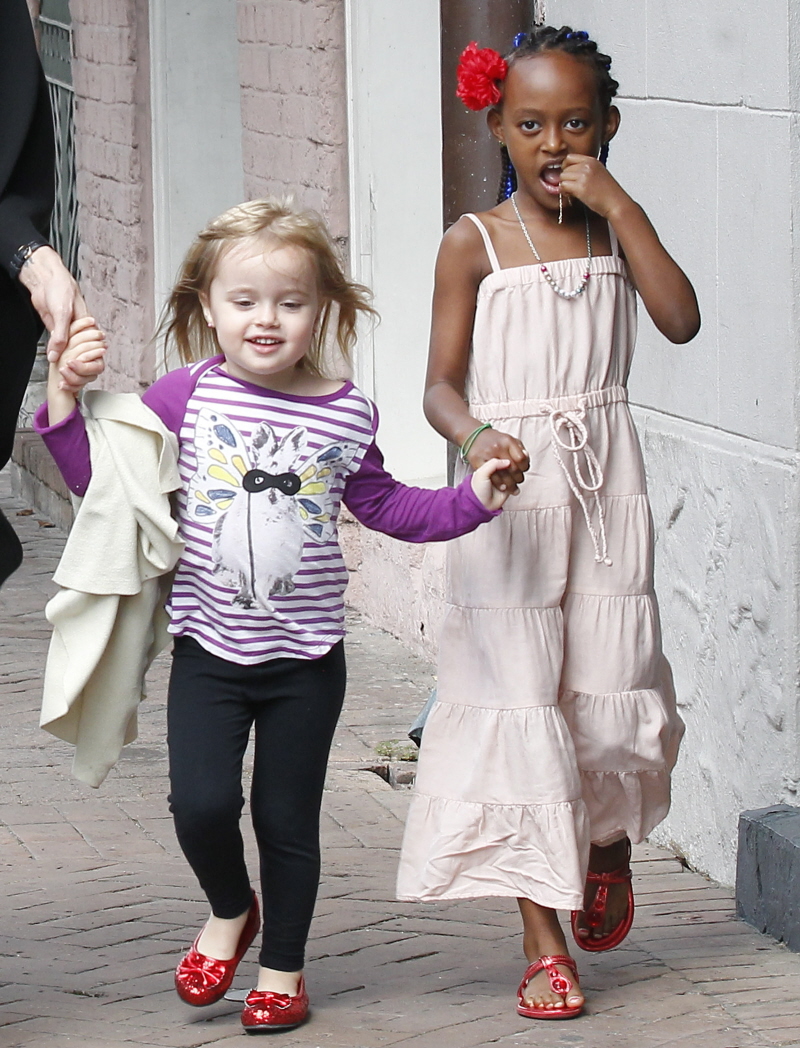 Vivienne Jolie-Pitt is going to be a star!! For real. Vivienne J-P, who is just 4 years old, has just been cast in her mom's movie, Maleficent. This is not the first time a Jolie-Pitt child has worked with one of their parents – when Shiloh was just a baby, she had a small part in The Curious Case of Benjamin Button. But you know what's really sad? No one every tries to give Fax Cannes Jolie-Pitt any movie roles! Tragic. The Forgotten Jolie-Pitt.
Vivienne Jolie-Pitt is ready for her closeup!

The globetrotting tot will make her feature film debut opposite her Academy Award winning mom, Angelina Jolie, in Maleficent, a rep for Walt Disney Studios confirmed to Us Weekly August 22.

Knox's 4-year-old twin sister will play the child version of Elle Fanning's Princess Aurora in the live-action movie, a reimagining of the fairy tale Sleeping Beauty, told from the villainess' perspective.

"It's a really great script, and I'm having a lot of fun. I've already got my horns fitted," Jolie told Entertainment Weekly of her titular role in March. "My kids are very happy."

Jolie's twins were spotted visiting her on set in Buckginhamshire, England, in late June. She and fiance Brad Pitt, 48, are also parents to Maddox, 11, Pax, 8, Zahara, 7, and Shiloh, 6.

Like Jolie, Vivienne is breaking into showbiz at an early age. Jolie appeared onscreen for the first time at age 6 in the 1982 film Lookin' to Get Out. Her father, Jon Voight, 73, starred and co-wrote the movie. But Vivienne isn't the first Jolie-Pitt child to appear on the silver screen: A young Shiloh had a brief role in Pitt's 2008 film The Curious Case of Benjamin Button.

Other cast members in Maleficent include Juno Temple, Sam Riley, Brenton Thwaites, India Eisley, Miranda Richardson and Kenneth Cranham. The film is slated for a March 2014 release.
This is lovely, and I think Vivienne totally looks like a child version of Elle Fanning too. I wonder if the other Jolie-Pitt kids get jealous? You know a film role would fit right into Empress Zahara's world domination plot. Surely one of her parents could get Z a juicy role? Anyway, as for this part – I can't imagine it's some stage-mother situation, or that Vivienne's part is very big. It's probably just some cool little thing that she can do with her mom.
Incidentally, I recently read this cool little quote from Sam Riley, who was discussing working with Angelina on Maleficent. Riley said, "She's approachable but she has an aura of a star, certainly, you want to bow when she comes on set. I do in my character. She's very nice, I know everyone says that about their colleagues but she's very cool." Sweet.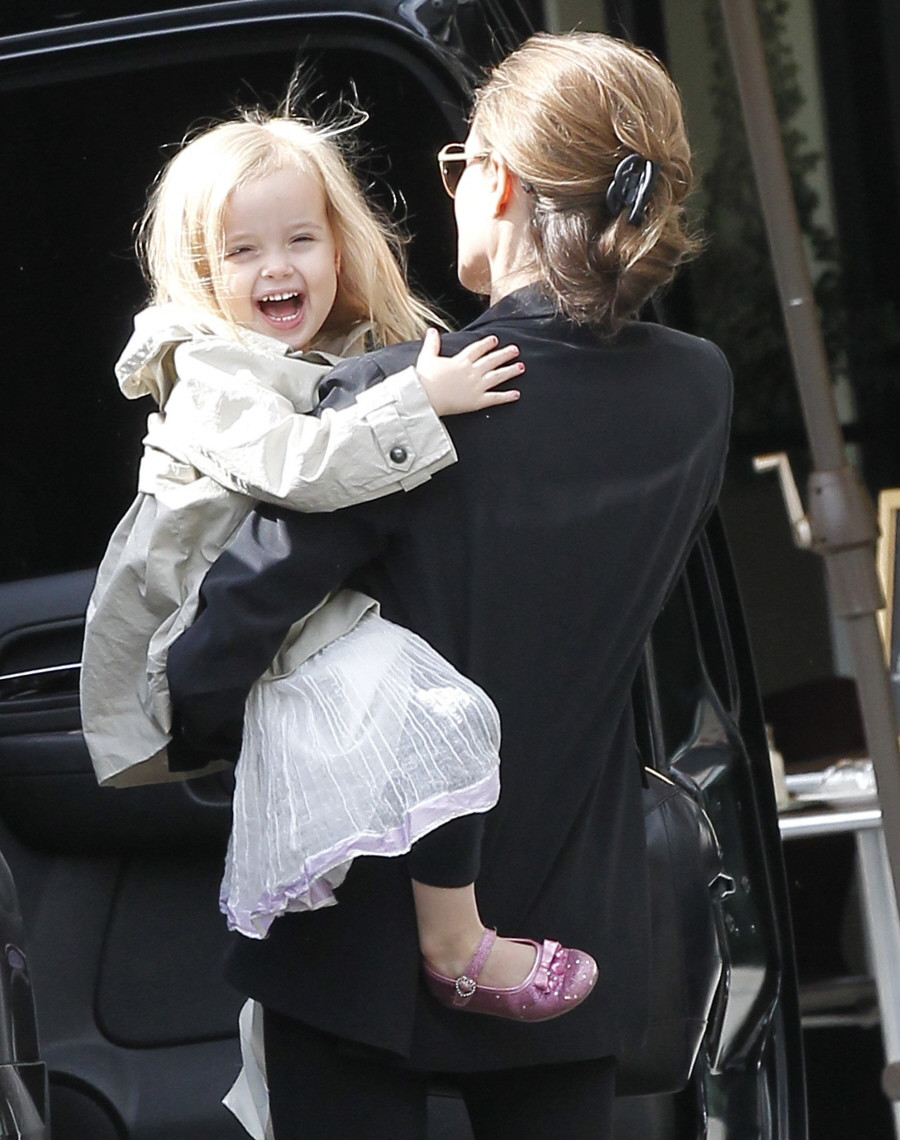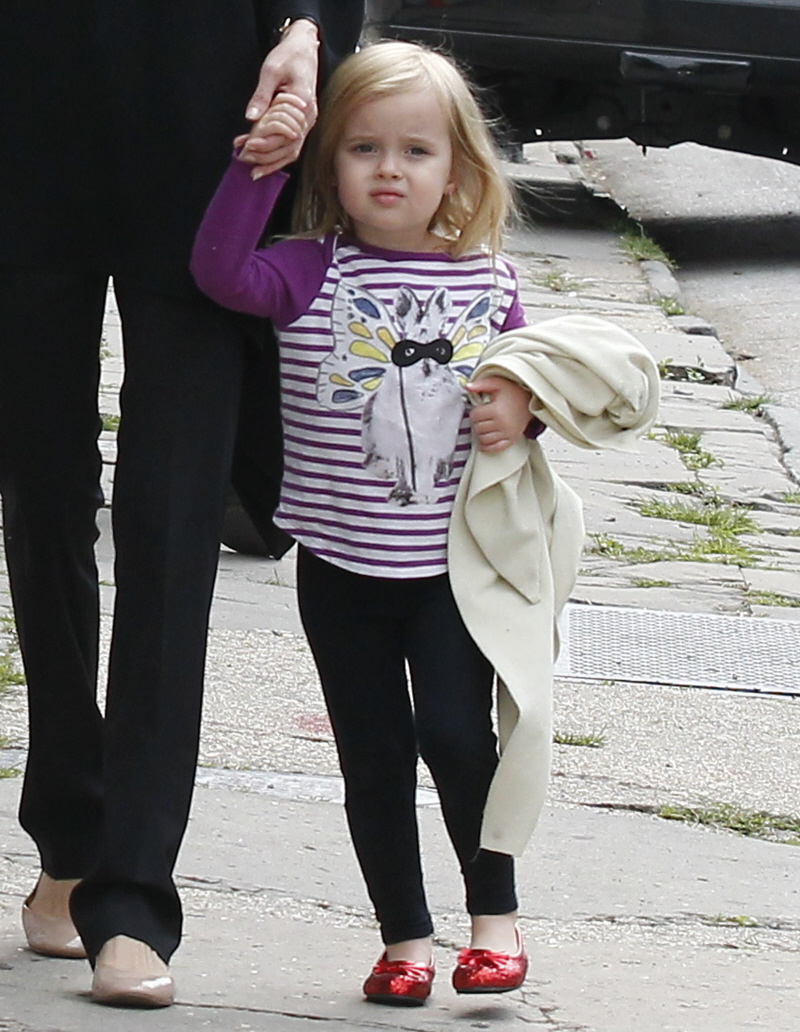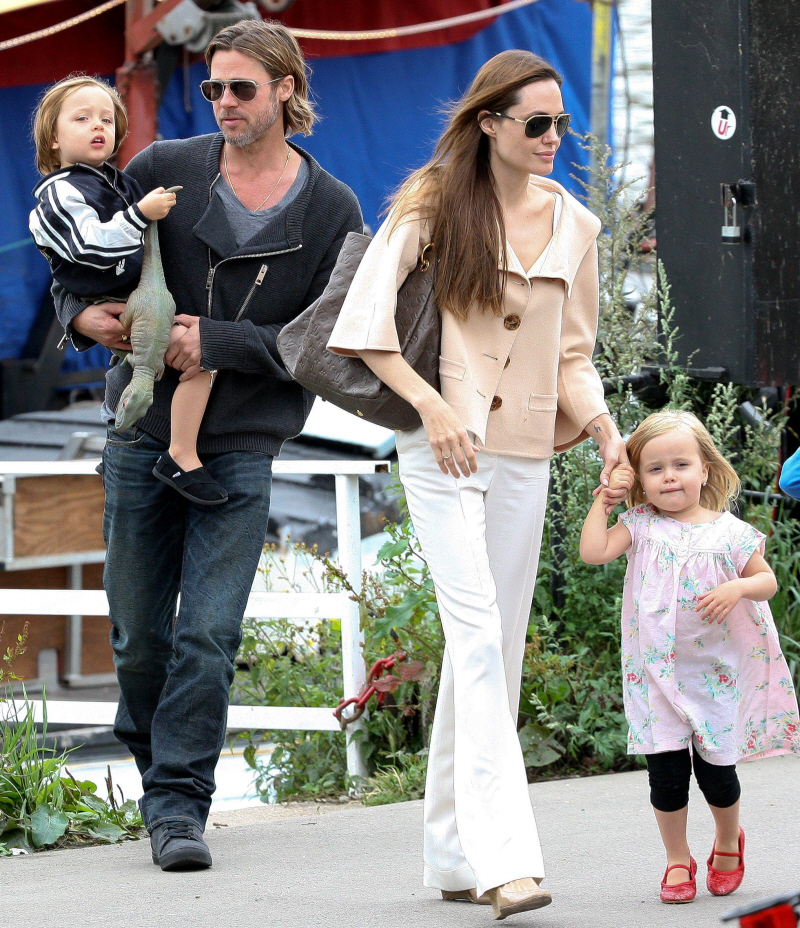 Photos courtesy of Fame/Flynet.