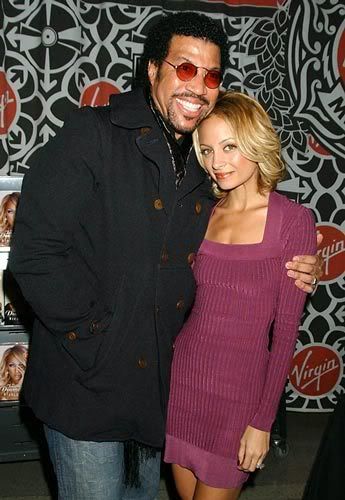 The National Enquirer quotes a supposed insider who claims that Lionel Richie wants his tiny daughter Nicole to spend some time in jail with the hope that she'll be scared straight. Nicole, who claimed her weight was 88 pounds, admitted to police officers that she was under the influence of pot and Vicodin at the time of her arrest for driving the wrong way on the freeway. She later had a friend tell news outlets that she was taking the prescription painkiller for period cramps.
"Lionel's stood behind Nicole through three arrests, drug rehab and her drastic weight loss," a family friend told The ENQUIRER.

"But enough is enough!"

Lionel held an intervention with his pot-smoking daughter last October, begging her to get treatment, said the friend.

"But all she agreed to was some outpatient medical tests. Lionel was incredibly disappointed.

"When he heard of her latest arrest, he sighed to a friend: 'Let her go to jail. It might do her some good. Maybe it will frighten some sense into her.'"
This article makes it seem like the "intervention" Lionel held for Nicole was for drugs, but he admitted taking Nicole to a doctor to be evaluated for a possible eating disorder. The doctor said that Nicole was suffering from stress, which was making her thin.
If Nicole is convicted of DUI, she will be sentenced to a mandatory five days in jail under California law. She pled guilty to a previous DUI offense in 2002, and if she's convicted of another one she'll have to go away for at least five days. Commentor Phin notes that a coworker of his got six months in jail for his second DUI after a lackluster performance in court in front of tough judge. Maybe Nicole should plead guilty and serve her five days. It worked for Martha.