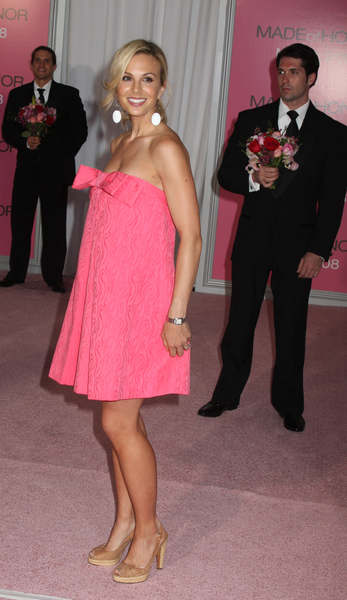 Elisabeth Hasselbeck talked herself into some pretty big trouble on "The View" yesterday. While talking about the Mumbai massacre, she made an offensive reference to Deepak Chopra. Chopra is a popular Indian medical doctor who's focused much of his writing on spirituality. He was recently interviewed by CNN and said the terrorists in Mumbai were trying to get Washington's attention. Hasselbeck's response was to tell him to "Go light a bowl of incense."
Though Elisabeth Hasselbeck has offended many during her tenure on The View, she's never quite had what could be called, in the show parlance, a "Ching Chong" moment. So named for Rosie O'Donnell's Asian language impression in which she shrieked, "Ching Chong Ching Chong!" and stopped just shy of declaring, "That was me, Rosie, playing an Oriental!" the gaffe is the type that incurs the wrath of an entire race, and Hasselbeck may have had her own in this morning's episode.

While attempting to reference Deepak Chopra's recent remarks on the Mumbai massacre (he implied the terrorists had an eye on America), a frustrated Hasselbeck first called him "Glitter Glasses Whatshisface," and then, dismissing his comments as beneath her recognition, muttered, "Go light a bowl of incense." Why stop there, Elisabeth? Tell those minorities how you really feel using the most stereotype-laden kiss-offs you can muster! If your stylist tries to dress you in another pirate shirt? "Oh, go take your AIDS pills!" Joy Behar got you down? Just say, "Whatsa matta, you-a? Something land in your spaghetti? Oh, what-a spicy meatball!" It's fun, easy, and guaranteed to get the letters pouring in!
[From Defamer]
I'd never defend Elizabeth Hasselbeck, but I can't help but wonder if she was stereotyping an entire culture with the incense comment or if she was rudely and ignorantly referring to Chopra's liberal spiritual beliefs. I interpreted it more as a crack about New Age spirituality more than a cultural slam. I could be completely wrong, and either way it's clear Elizabeth's comments were incredibly ignorant, inflammatory, and meant to reduce Chopra – if not an entire culture – to simple stereotypes. She doesn't strike me as the type to apologize, but it seems like a ridiculous, insensitive, personal slam like that sure deserves one.