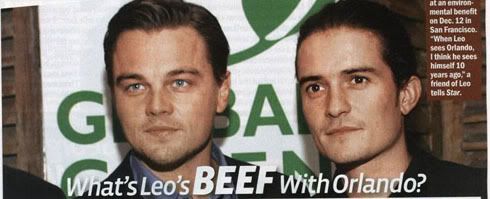 Leonardo DiCaprio is said to have no respect for the way Orland Bloom is handling his career. DiCaprio supposedly sneers at Bloom's attempt to capitalize on his heartthrob status by taking roles as hot studs in all his latest films.
DiCaprio stepped away from his image as a screen idol after Titanic and stuck to more meaty roles that earned him a Golden Globe and two Oscar nominations.
Bloom is content to stick to what works and is earning big box office revenue which may be making DiCaprio kind of jealous:
Although Orlando has struck gold with the Lord of the Rings trilogy and the Pirates of the Caribbean movies, insiders say he hasn't won any respect from Leo. "[After Titanic] Leo turned his back on trying to be marketed as eye candy, and he doesn't hold a lot of love for actorswho go that route," a friend of Leo tells Star. Leo, who's currently starring in the politically loaded thriller Blood Diamond,, "thinks that if someone like Orlando landed his… role, [producers] would have had him unclothed and rolling around in bed in about five seconds," the friend laughs. "Because Orlando's movies have made triple what Leo's movies have made, Leo can't figure out why Orlando won't stand up for himself and demad more serious movies." Adds the friend: "Leo wants to leave a bigger mark on the world than just some guy whose picture hangs on a 13-year-old girl's wall."
[Star magazine print edition, January 1, 2007]
Orlando doesn't demand serious movies because he's making a mint capilatilizing on his sex appeal. It sounds like Leonardo is pissed that he's no longer seen as a young hottie like Orlando. He may have chosen a career of serious films, but he probably misses girls drooling over him like they once did.
Star scan [via]