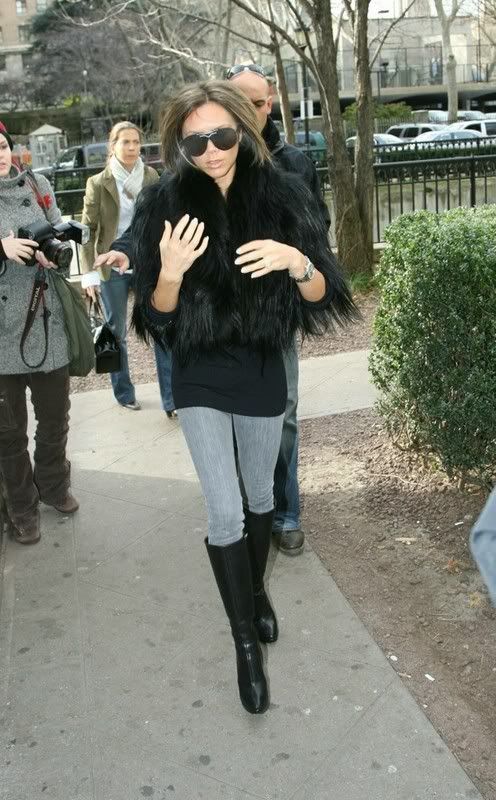 As I sit and stuff my face this holiday season and then try to work it off half-assed on the treadmill, Victoria Beckham reminds us that it's easier to stay thin if you don't eat that junk at all. Her friends say she doesn't exercise and she recently told People magazine that she owes her tiny figure to eating Japanese food and maintaining a strict diet. Damn, I was hoping she at least worked her ass off for it. It's just as hard not to pop that chocolate in your mouth, though. It's sitting all around the house at Christmastime and is so hard to resist.
"I eat really healthy, I love Japanese food, lots of fish, any sort of fish, any sort of vegetable, lots of fruit, that kind of thing," said Beckham, the former Posh Spice, during an appearance recently on the BBC Radio program "Gordon Ramsay's Perfect Christmas Lunch."

Of the speculation in the British press about her having an eating disorder, she said, "I don't really care all that much. We live in Spain. I don't really see a lot of the press, and I don't really hear what's going on. I'm just past caring."

Still, she says, "I think there's a big difference between someone having an eating disorder and someone who is controlled about what they eat. There's a big difference, and every now and then of course I go out and eat what I like. But I do try to be quite disciplined in the way that I eat…"

Beckham, who also said there wouldn't be a Spice Girls reunion, has faced questions about her appearance in the past couple of years. But friends have told PEOPLE she "eats healthily" – yet, "she doesn't exercise at all."

"She eats more than what people would think," a friend insists.
Posh also said that she wasn't too concerned about super thin models, who she called "naturally thin," and thought the young age of some models is more of a concern.
I read a book a while ago called "The Okinawa Diet" that credits longevity in Japanese people living on the island of Okinawa to eating a diet of fish and rice, and stopping eating when they're 80% full. There are more people aged 100 and up on the island of Okinawa than anywhere else in the world, and science has shown that calorie restriction without starvation is tied to a long life in mammals.
I guess what I'm saying is that Victoria Beckham is crazy thin and that doesn't seem healthy to me, but at least she's eating right and is taking care of herself. If she keeps it up without starving too much she's likely to live longer than the rest of us too.
Victoria recently joked that she can't be in the fake Scientology movie because she can't act and wouldn't wear the costumes for the part. They'd probably be too big for her anyway.
Pictures taken in mid December and found on Saving Face Forum.