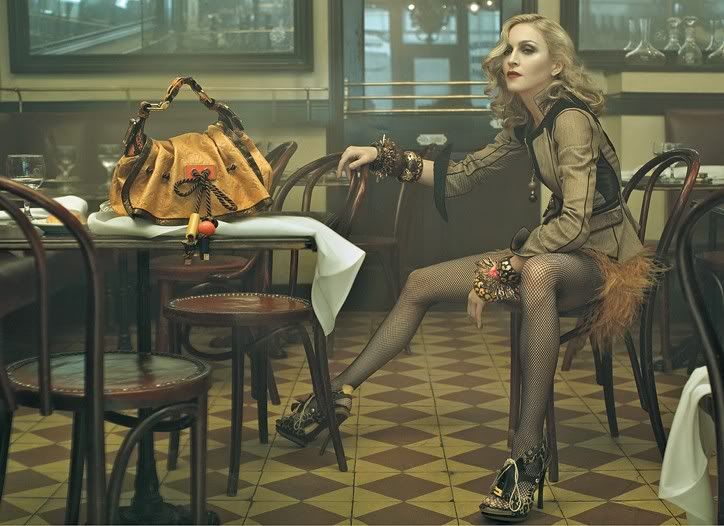 Nothing says you're not over the hill like carrying a purse worth more than most people in the third world will see in a year. It also helps if you spend tens of thousands on plastic surgery, dermatologic maintenance, and personal training sessions. Dressing like a 19 year old with an unlimited budget and poor taste also may help you cling to lost years and snare that boy toy you've been eying to complete your look.
So good job, Louis Vuitton executives, in picking the celebrity model who embodies the consumer you're trying to target. Your ideal customer not be able to lift her leg up over her head or smile in a way that reaches her eyes but she can wield a credit card like a sword.
We can thank creative director Marc Jacobs for picking Madonna as the latest LV spokesperson. He saw the 50 year-old in concert and recommended in a meeting the next day that she be hired. Jacobs tells Women's Wear Daily that Madonna's fee was "way less" than the $10 million that has been reported.
When Marc Jacobs found himself in a meeting on a recent Monday morning to brainstorm about Louis Vuitton's next fashion advertising campaign, inspiration struck. "I just blurted out, 'I think we should do Madonna,'" said the designer, Vuitton's creative director, mentioning he'd attended a concert by the pop icon the night before in Paris. "I was totally just blown away by it, and moved by her performance, by what she had to say, and her energy."

As the meeting went on, Jacobs tapped out a message to Madonna on his BlackBerry, and within about five minutes came the reply: "I'd love to."

The result is six atmospheric pictures of a smoldering Madonna by Steven Meisel that will break in a range of fashion magazines in February. "It's a big change from what we were doing. It tells a story," said Antoine Arnault, Vuitton's director of communications. "This I think is an amazing coup, but more than that, there's real logic behind it. It's very linked to Marc's fashion show."

Although Arnault declined to give figures, he said media budgets for the fashion campaign would be on par with a year ago. And he dismissed as "absurd" reports pegging Madonna's fees at $10 million. "It's very far away from that," he assured…

The shoot wrapped up in less than a day and without incident, although Jacobs said hordes of paparazzi literally "appeared out of the bushes" the moment Madonna arrived. "It went from a quiet street to complete chaos," he said.

The designer also marveled at the singer's incredible fitness that allowed her to recline, her back arched, on bentwood chairs, or shoot a leg straight up in the air, no sweat. "She's so sure of herself as an icon and as a woman. It was her idea to do the fishnets," Jacobs said. "What fascinates me the most about her is her never-ending energy, and the idea of becoming and changing. She's an artist who's unafraid to use her voice."
Madonna isn't the only older star to appear in recent Louis Vuitton ads. Sean Connery, 78, will shill for the high end brand as well. At least they know who can afford the stuff.