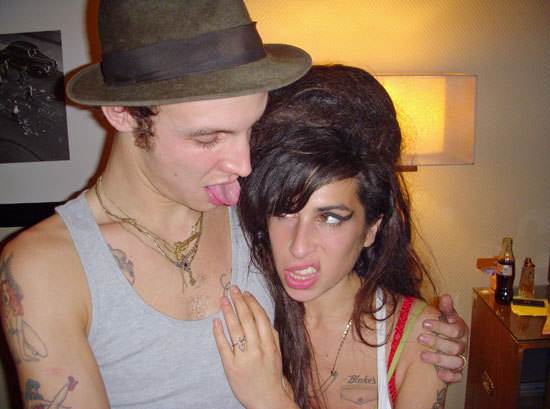 Blake and Amy in a file photo from early 2007. Credit: Bauergriffin
The other day my twitter friend MK from popbytes said that he was grossed out at the thought of Madonna and A-Rod having sex. I responded that he was to blame for putting that creepy image in my head, which was not unlike Tonya Harding's athletic wedding night video. Now we can point fingers at The Sun for revealing Blake's motivation for rushing to the hospital bedside of his wife before being sent back to prison. Blake failed a drug test in rehab and must now serve out the remainder of his sentence behind bars, where he could remain until early 2010. Blake recently admitted to introducing Amy to crack and heroin and said he needed to break it off with her for her own health and well being. He's not above running back to her for his last chance at sex with a female in the next year, though:
SINGER AMY WINEHOUSE gave junkie hubby BLAKE FIELDER-CIVIL a "farewell bonk" in hospital before he returned to jail, pals said last night.
The Sun revealed yesterday that Fielder-Civil, 26, dashed to the ailing star's bedside on Tuesday night after failing a drug test in rehab.

And last night a source said he persuaded her reluctant inner-circle to give him one hour alone with her on his final night of freedom.

He told Amy, 25, how sexy she looked – and unlike the line from her hit Rehab, she could not say "No, no, no".

The source added: "It was obvious what went on."

Fielder-Civil then left the London Clinic and handed himself in to cops in Shoreditch, East London.

He is likely to continue his 27-month sentence for assault and trial-fixing after breaking the terms of his early release.

Amy has been in hospital for ten days after collapsing.
[From The Sun]
Now that my mind has gone there, it's consoling itself with thoughts that these two were rarely sober enough to do it while they were together. Hopefully Winehouse wasn't ovulating when she had a last romp with Blake. That thought is even scarier than the deed itself.