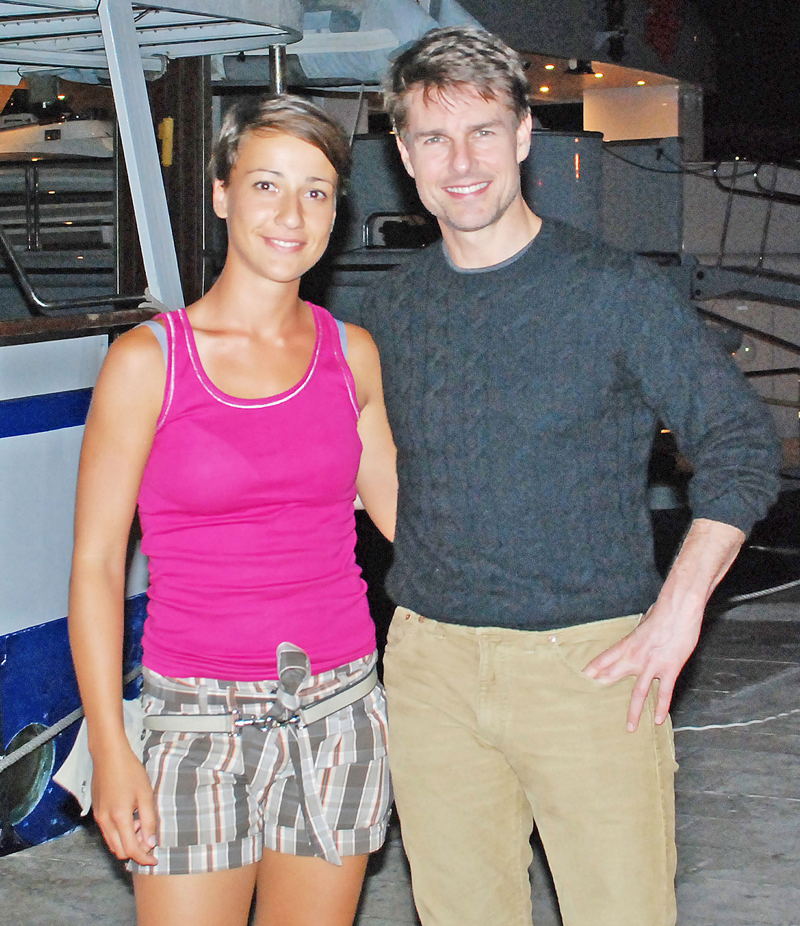 Tom Cruise is still cruising for da ladies, and here's another rather hilarious photo of Tom posing next to a lovely young girl on the Croatian Island of Hvar like he's been doing for days in an effort to convince the world that he is still hip, young, and funky. Oh and suck it, Katie. Or something like that. At this point, Cruise has departed from the island (how sad), but while he was there, he stayed on this superyacht, Lady S, which was undoubtedly crawling with Scientologists hoping to interview these ladies and see what they really think of Tom Cruise. Just like the whole mess that went down (and was confirmed by Vanity Fair for its October issue) before Katie Holmes was recruited as his third wife. Nice little boat, right?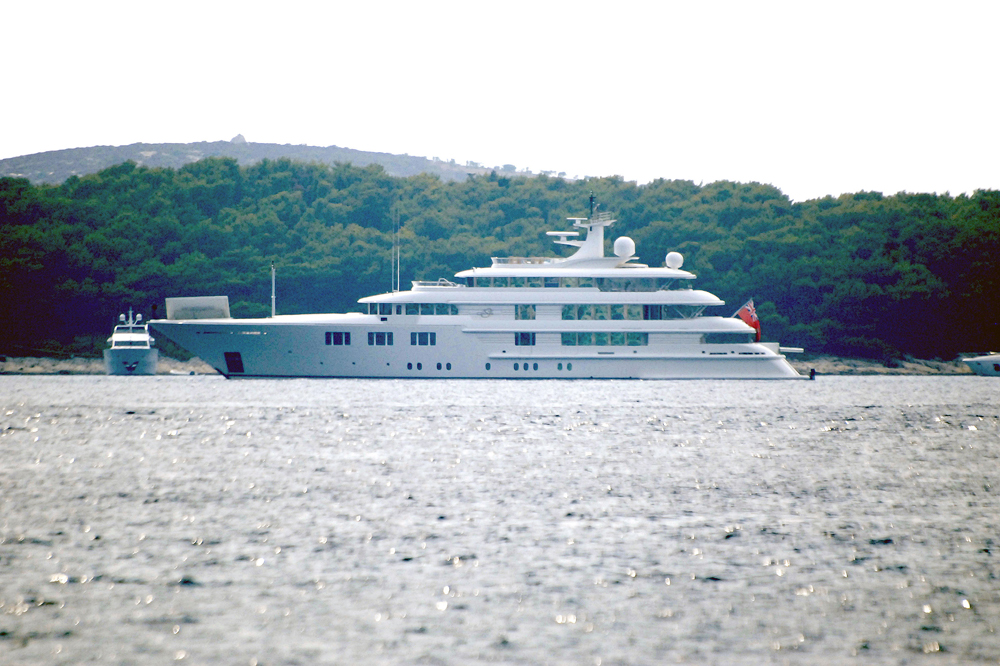 Naturally, Tom is said to be very angry over this Vanity Fair story, which detailed the horrific experience of Nazanin Boniad, who functioned as The Chosen One for a few months before Tom realized he wanted a famous wife. That was the official excuse given to Nazanin anyway, but her story was that she accidentally offended a mumbling David Miscavage in front of Tom, who then stopped talking to her even though they were living under the same roof. After Nazanin was given the boot, she made the mistake of confiding in a fellow Scientologist, who reported her (because that's what they do), and Naz spent the next few years atoning for her "crimes" by doing hard labor and undergoing endless auditing sessions. Well, Tom is angry that this story leaked, and his rep has issued a statement: "Lies in a different font are still lies – designed to sell magazines."
So Tom's denying the entire notion of a wife audition process, which is no surprise. Tom Cruise doesn't need an arranged marriage! He's a ladies man, don't you know? Whatever. It's already been confirmed that Tom has a longtime policy of willingly accepting CO$ slave labor services, so it's no stretch to believe that he'd accept a slave wife from the CO$ as well.
Now here's a followup to the Vanity Fair story, and it comes from director Paul Haggis, who became the most high profile person to leave the CO$ a few years ago (and he wrote a delightfully scathing letter that focused upon the cult's public opposition to Prop 8). Haggis not only knew Nazanin for a number of years through Scientology but they've worked together too. Most recently, Nazanin had a small role in 2010's The Next Three Days — which Haggis wrote, produced, and directed — and I imagine they've bonded quite heavily over leaving the CO$ as well. In an email to Showbiz411, Haggis confirms Naz's story and says, "I'm appalled that any church would treat its parishioners this way." He also has a lot more to say too, of course: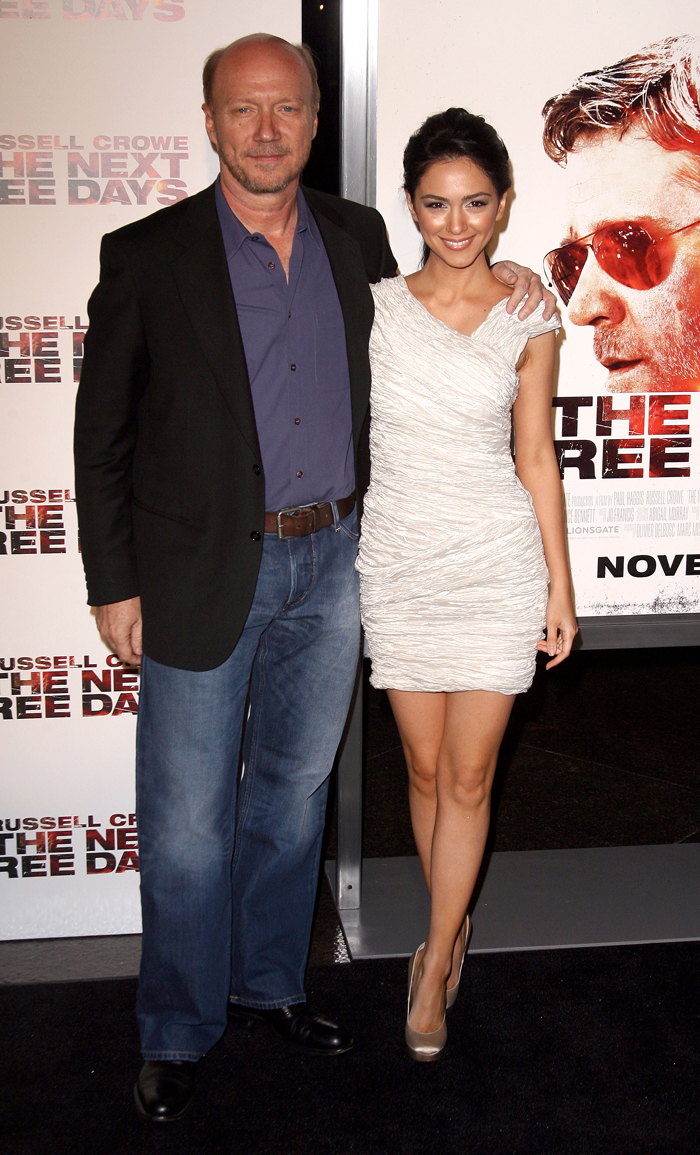 "I've known Nazanin for about three years. I met her through a mutual friend when I was doing my own personal research into the allegations against Scientology, before I wrote my letter of resignation. Naz was embarrassed by her unwitting involvement in this incident and never wanted it to come out, so I kept silent. However I was deeply disturbed by how the highest ranking members of a church could so easily justify using one of their members; how they so callously punished her and then so effectively silenced her when it was done. It wasn't just the threats; they actually made her feel ashamed, when all she had been was human and trusting.

After I wrote my resignation letter, a dozen or more "friends"and officials of the church repeatedly descended on me to demand that I destroy the letter and resign quietly. I told them that wasn't an option for me. I also told them that I had more sources of information about the troubling nature of the organization then I was at liberty to divulge. This was one.

I've met quite a number of people who have been treated shamefully but are afraid to speak out. This story will draw attention because of our fascination with celebrity. Most of the others are just ordinary people whose stories, if told, would not appear in a magazine. They live in fear of retribution, legal, financial or personal, even some famous ones. They fear an incredibly wealthy organization that boasts that it seeks truth, empowers people, brings families together, encourages independent thought and free speech, and champions human rights. I would like to say that I don't know how its members, many of them good and intelligent people, can remain so purposely blind when they are faced with evidence like this every day, but then I am no one to talk. I was happily blind for many years, so I know the shame that Naz feels.

In Naz's case, she has no right to feel ashamed. She is not only a terrific actress at the beginning of a very promising career, she is a dedicated human rights activist and a truly lovely and caring person. The last thing she wanted or needed is this kind of publicity, but here it is, and I am sure she will deal with it with the same grace and dignity she exudes in her daily life. I'm appalled that any church would treat its parishioners this way, but Naz has never cast herself as a victim. She is strong and resilient and I am very proud to call her a friend."
[From Showbiz411]
Haggis also added that Nazanin resigned from the CO$ as of a few years ago in large part because she tried to "handle this injustice internally, to no avail." Of course the cult did nothing to help her. In their eyes, she was the one who did wrong for severely displeasing their golden Gollum goose.
By the way, we've known for several years that Tom lets the CO$ do all of his dirty work (literally, even the people who clean his toilets are Scientologists), but he can't even manage to break up with a girlfriend on his own? Like, he has to have his "church" dump her. What a petulant little monster boy. I bet this is pretty much what happened to Penelope Cruz after she and Tom "dated" for two years (immediately after he and Nicole Kidman split). You know there's got to be one hell of a story there, but Penny won't be talking. Like Naz, Penelope undoubtedly was required to sign confidentiality agreements. The difference though, is this Penelope's now an Oscar winner and fully entrenched in the Hollywood machine — unlike Naz, who probably figured she had nothing to lose by sharing her story with Vanity Fair. Also, Penelope may have dabbled in the CO$ while she was dating Tom (in fact, they went as a couple in 2003 to lobby Vice President Chief of Staff Scooter Libby for the cult), but she was never a hardcore member. Once Cruise was done with Cruz, she was done with the CO$, whereas Naz was a longtime member who now wants to see the cult's undoing. Good for her. And she really dodged a bullet by not marrying Tom.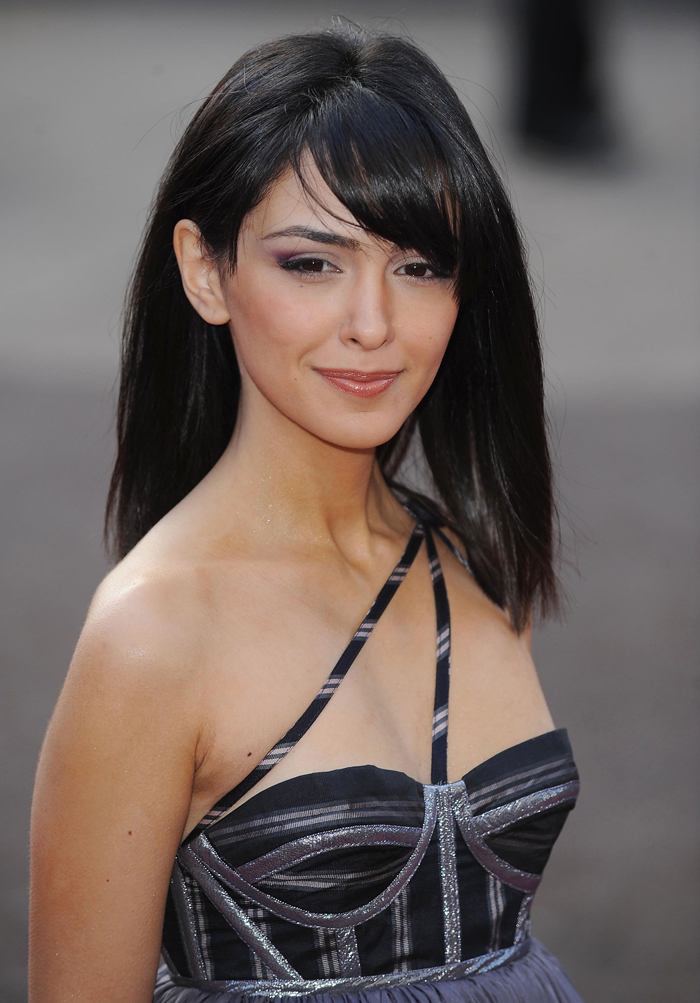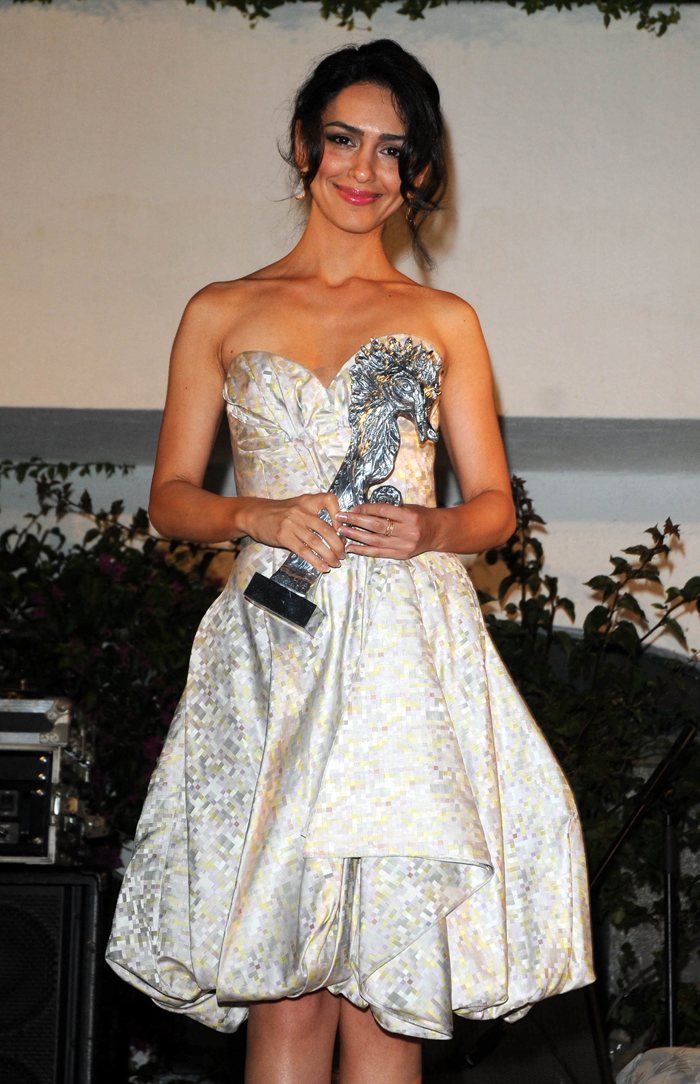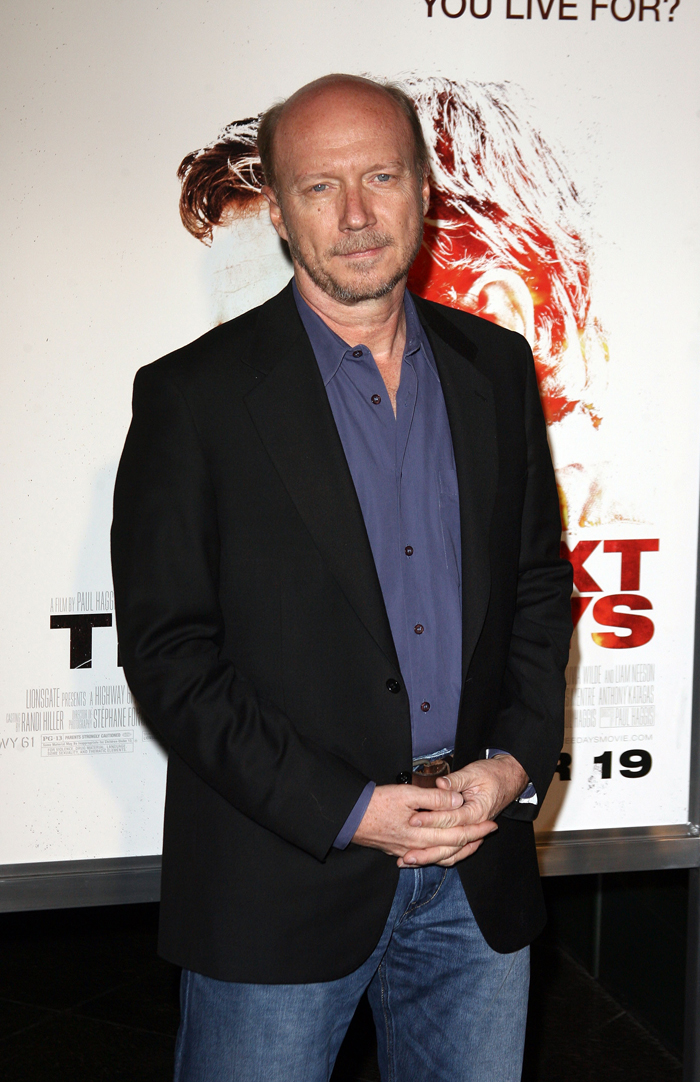 Photos courtesy of Fame/Flynet and WENN