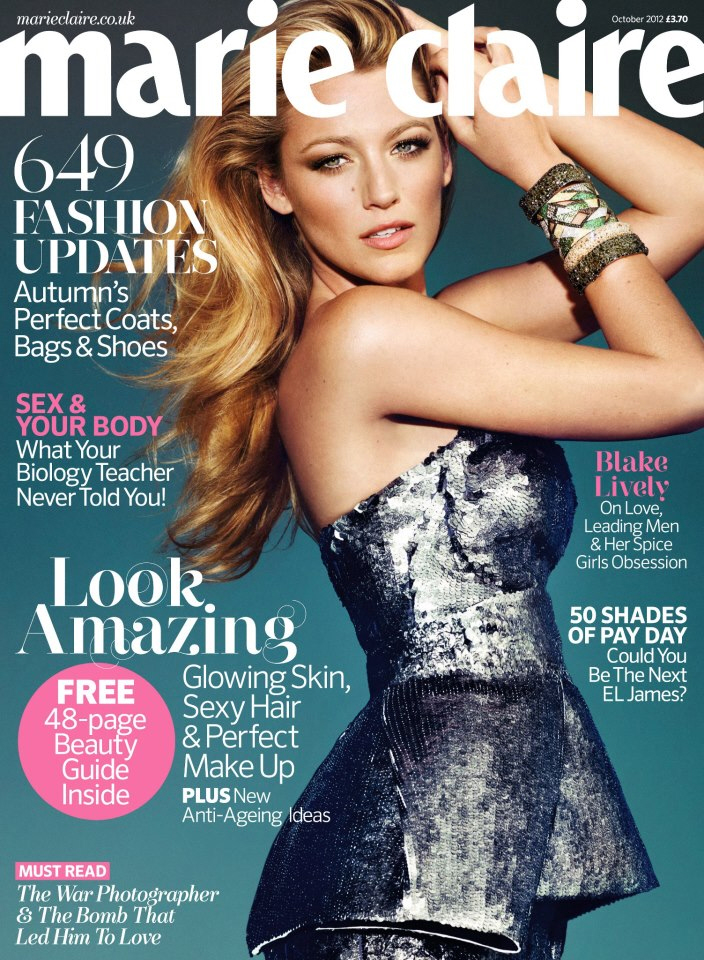 Blake Lively covers the October issue of Marie Claire UK, probably to promote Savages, which already came out a month ago in America. But she seems to be discussing the Oliver Stone film in the interview, which makes me think that the magazine cover story is more about Savages and less about Gossip Girl. Just FYI, Blake also covers the October issue of Allure, but that cover and photo shoot hasn't been released yet. You can see MC UK's slideshow here, and here are some highlights from her interview – note: I'm including some recent, random Blake quotes from other sources too (which we haven't covered yet):
She was obsessed with the Spice Girls: "When I was a child I probably should have been medicated about my obsession with the Spice Girls. I had the Buffalo shoes, a customised Baby Spice necklace –when I say custom made it was made out of plastic from the local mall – and a union jack dress."

She loves fashion: 'I love fashion. It's such an expression of self.' Before adding: 'There's no designer I don't have access to.'

She plays dark characters: 'Time and again I play drug addicts with sexual issues. I never knew I had a dark side, but this is clearly where I get it out of my system.'

She's totally sober: "I don't drink. I've never tried a drug."

Indulgences: "I'd rather have a bit of cellulite and go do a food trip and try every ice cream place in the South."

She cooks: 'I'm in a big cooking phase,' she said. 'If you went to my house you would not think it belonged to an actress. There's no memorabilia from my career, no showbizzy pictures on the wall. You would think it was the house of a cooking obsessive.'

Styling herself: "Styling is a lot of work! I guess I would consider [getting a stylist] in the future. 'If I had a family and I was going on a press tour, I would not be spending my time [researching fashion] – I'd be getting my kids their Cheerios. 'But I love it so much, it's a good outlet for my creativity. If you make a mistake [when you don't have a stylist] at least it's your own mistake."

Fashion regrets: "The only time I really felt a lot of regret is when it was something that I didn't want to wear – something somebody had made for me and it didn't turn out right. I never got to meet the designer and there was a lot Lost In Translation. 'I just felt bad because it didn't look right on me, but I wore it anyway as I didn't want to hurt people's feelings."
[Via Hollywood Life, Marie Claire UK, Allure and Contact Music]
Can this girl talk about anything other than how she styles herself (like that's so f—king epic) and how much she loves to cook? We get it, Blake. Maybe spend less time in the kitchen and more time with a book? Or picking up some other hobby? Sure, she loves to cook and that's great and she's SO DIFFERENT than all of the other starlets who just sit around, not eating and not even able to look at food. But there's a bit of smugness to it too, a bit of bragging. "I can do it all, I can eat real food and style myself and I never have to work out and OMG I'M SO AWESOME."
Oh, and I don't think I buy the idea that she doesn't drink. I don't think she's a boozehound or anything, but I find it hard to believe she doesn't have a glass of wine when she sits down to eat her homemade beef bourguignon or whatever.
Is this photo shoot a repeat or are all of Blake's shoots really boring? Let me check… ah, I see. Some of these shots ARE repeats from Blake's June cover shoot with the American MC edition.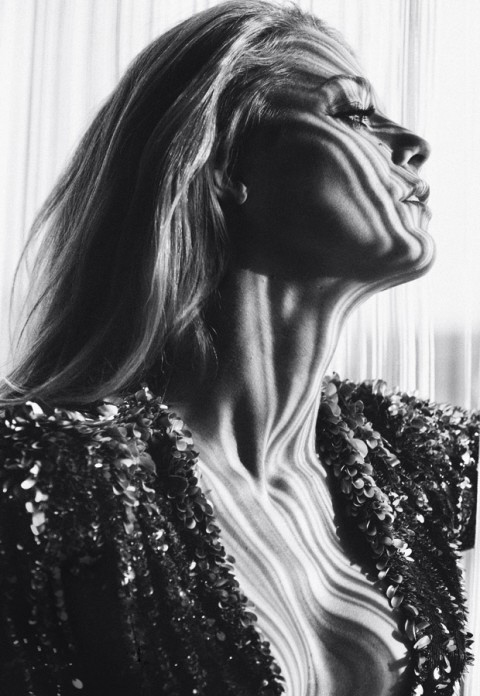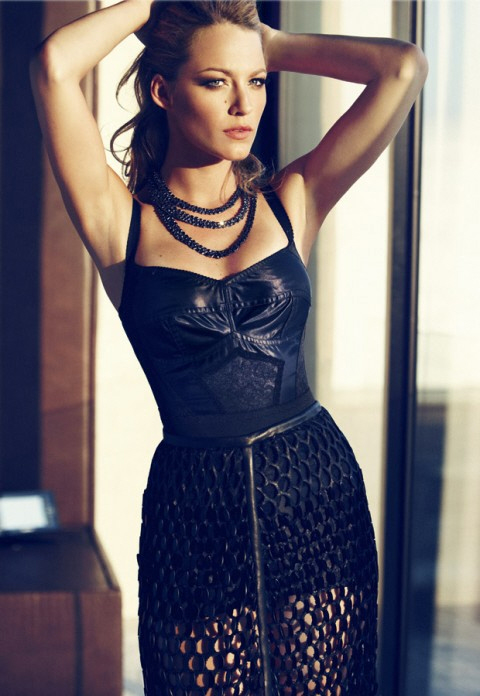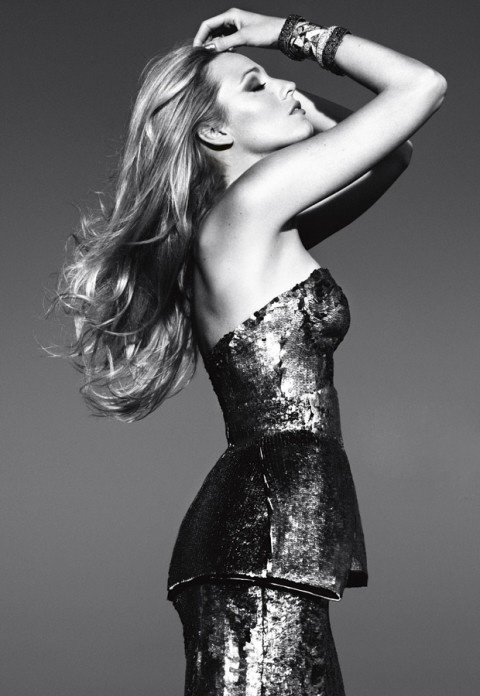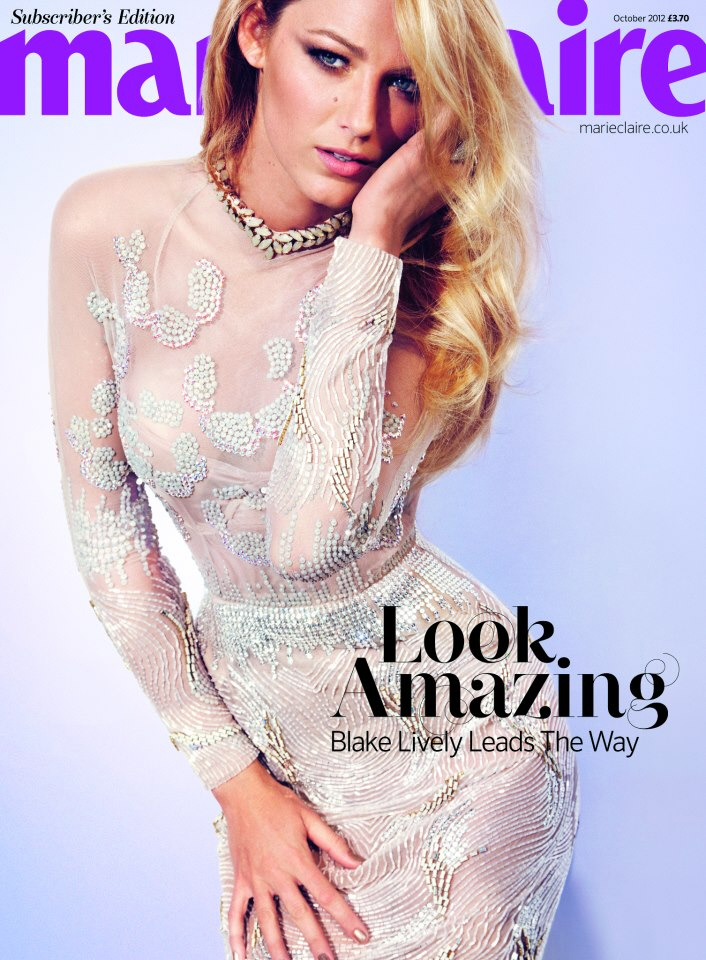 Photos courtesy of Marie Claire UK.