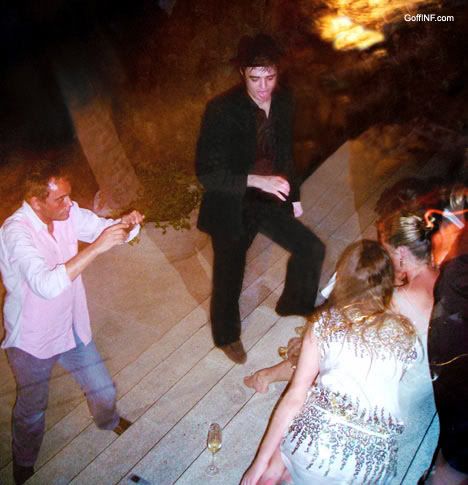 I guess that report I was making fun of this morning was accurate, because The Daily Mail reports that Kate Moss and Pete Doherty really did get married on the Thai island of Phuket today. I won't be the only one pointing out how apt the name of the location seems to be.
There is no word as to whether the wedding was legal or just a Anna Nicole-style play ceremony, but speculation is that it was real since her family and personal assistant were there. It would serve Kate right if her junkie husband ended up with half of the assets she's earned for selling stuff by being skinny.
Kate Moss has married her drug addict fiancé Pete Doherty in a private New Year's Day ceremony on the Thai island of Phuket.

The couple exchanged vows before a select few friends and family members in a forty minute ceremony held at their six star hotel villa overlooking the sea.

News of the wedding has sent shock waves through Miss Moss's circle of friends concerned that a legally binding union may give the poverty-stricken heroin and crack cocaine addict the right to half the estimated £25 million fortune Miss Moss has amassed during her extraordinarily successful 16-year modelling career.

It is yet to be confirmed whether the wedding was a Thai Buddist-style 'marriage blessing' or a formal legal wedding, the latter of which is often tied up in weeks of beaurocratic red tape. Thai Buddhist-style blessings conducted by monks are usually taken in conjunction with formal weddings in a couple's home country.

The presence of Miss Moss's personal assistant perhaps to help plough through beaurocratic red tape – and Kate's mother Linda and brother Nick being at the ceremony in Phuket – are being seen as an indication that a formal legally-binding ceremony took place.
Kate and Pete have been lent a friend's helicopter that will transport them to another Thai island for their honeymoon.
This is kind of shocking to me because I was getting used to the wedding rumors, and figured they'd eventually break up before making it official. These two are not known for their great decision-making skills and watching their trainwreck of a marriage will be amusing for a while. If they wanted the tax break they should have scheduled it for the end of the year, not the beginning. Maybe Kate is pregnant and that's why they're doing it now.
Header picture from Seriously? OMG! WTF?