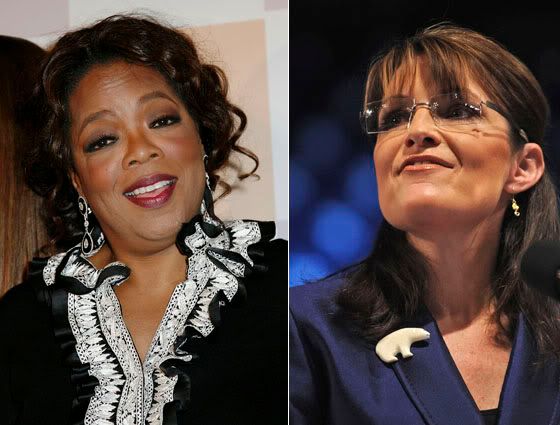 Oprah Winfrey publicly supported her hometown candidate Barack Obama's bid for Presidency and has since become friends with the President Elect and his wife. In September Republican Vice Presidential Candidate Sarah Palin was new on the scene and highly sought after by the media. Oprah was rumored at the time to have told staff she wouldn't have Palin on her show. The talk show queen claimed that wasn't true though, and issued a statement that "There has been absolutely no discussion about having Sarah Palin on my show." Oprah also said that she made the decision at the start of the election not to have either candidate on despite the fact that she was campaigning for Obama.
Now that the election is over, Oprah said she tried to court Palin for an interview, but the former VP candidate wouldn't talk to her and chose to speak to other outlets instead. Palin will soon have a book to promote however, and Oprah is hoping she'll go on the show at that point:
It's not Oprah Winfrey's fault that former Vice Presidential candidate Sarah Palin hasn't been a guest on her talk show yet! Winfrey declared, "I said I would be happy to talk to Sarah Palin when the election was over… I went and tried to talk to Sarah Palin and instead she talked to Greta [Van Susteren]. She talked to Matt [Lauer]. She talked to Larry [King]. But she didn't talk to me. But maybe she'll talk to me now that she has a [multi-million dollar] book deal."

When asked if Oprah will have Barack Obama on the show, she responded, "There's always an open invitation for the president-elect and first lady."
[From Extra! via Huffington Post]
There have been rumors that Oprah is moving her show to Washington for the week of Obama's inauguration and is planning to broadcast at least three shows on location. She's not sure she's having a inauguration party, though, and also told Extra! that people are calling her about it but it's news to her and nothing is planned.
This week's Star Magazine claims Oprah is saying she'd gladly lend the future first lady any jewelry she needs for the inauguration ball or for any purpose. They quote an insider who says "Oprah has everything from simple diamond stud earrings to necklaces worth millions." Michelle Obama can borrow "whatever [jewelry] she wants [from Oprah], whenever she wants it."
You can see how Palin would be wary of Oprah given her connection to Obama. Once Palin has a book to promote she'll probably realize that she should swallow her pride and go. on the show. Even at Palin's level of fame, an appearance on Oprah can only help book sales.