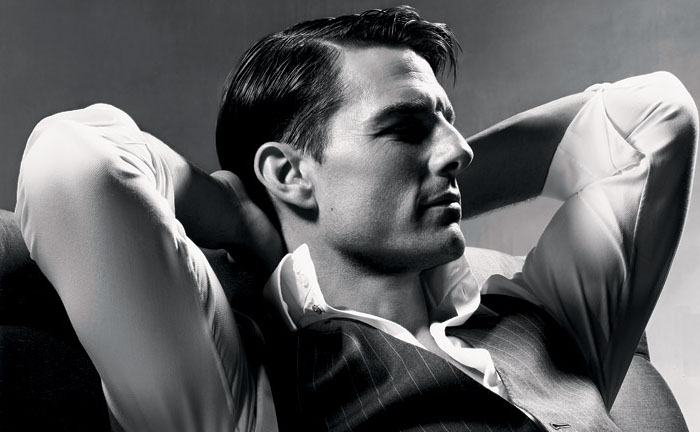 I'm a firm believer in love at first sight, I knew within hours of meeting my husband that we were "meant to be," but for some reason, despite the eternal, hopeless romantic in me, I just can't jump on the fairytale train Tom Cruise and Katie Holmes are trying to sell tickets for. In an upcoming interview with the NY Times Style Magazine, Tom once again gushes about his "Kate". And spins the yarn of their first meeting date, and how he went out and bought an engagement ring before the second one.
When Holmes confessed to him that she dreamed of marrying him as a little girl, "I said I wouldn't want to disappoint her," Cruise says.

So, the actor says, he bought Holmes an engagement ring shortly after their first date in 2005.

"At one point, I thought she was going to ask me to marry her first and I put her off by changing the subject," Cruise adds. "I wanted to ask her."

In a separate interview, Holmes — who says she "admired him growing up" — admits she also was "completely in love" after their first meeting.

"He was so warm, and I thought, 'Wow,'" says the star. "I thought, 'You can be a superstar and a human being.'

"He made me feel so amazing," adds the actress, who welcomed their daughter Suri in 2006.
[From US Magazine]
First, a gift suggestion for anyone close to Katie Holmes, please buy the girl a thesaurus. If I hear "amazing" one more time from her I'm bound to send her one myself. There really are a vast number of words to describe something you're fond of, Katie, please think about improving your vocabulary.
Is it just me or does everything Tom Cruise says anymore sound like dialogue from a corny movie? It doesn't matter what he's talking about it comes across as lines he's been given. But it increases tenfold when he's talking about Katie or Suri. I mean, when she told him she used to dream of marrying him when she was a little girl, he said he wouldn't want to disappoint her? I see the clapper board and hear the director yelling cut after every line Cruise delivers. Maybe he's writing a screenplay by acting it out as he goes along.
The thing is, though, they both seem to enjoy living their lives as a movie. Maybe these two crazy, and I mean that in the most literal sense of the word, people really are made for each other and will stand the test of time. They may even end up negotiating an extention on the contract.
Photos by Solve Sundsbo for the NY Times