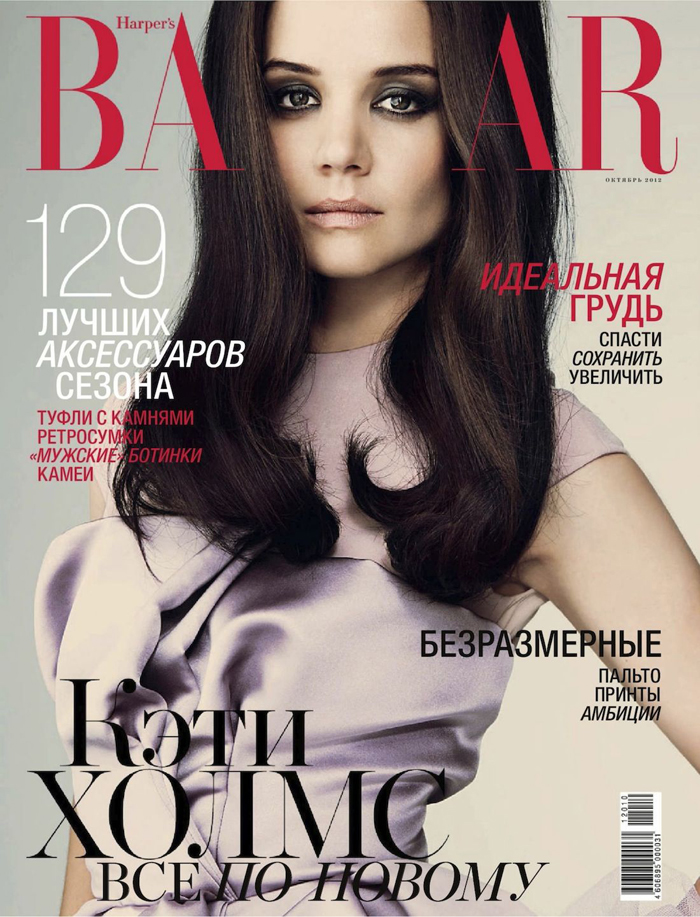 Katie Holmes covers the October issue of Harper's Bazaar Russia, and Us Weekly is hilariously calling this Katie Holmes v. 3.0. Honestly? The photoshoot inside the magazine is very pretty, but the cover is awful. Katie looks very photoshopped here and her cheeks look very hollow. Plus, her nose looks kind of different than usual, and that hair looks like it was painted into the picture. Why did they do this to her and make it the cover shot? She looks much better in the below picture, right? Cute Joey Potter is almost back!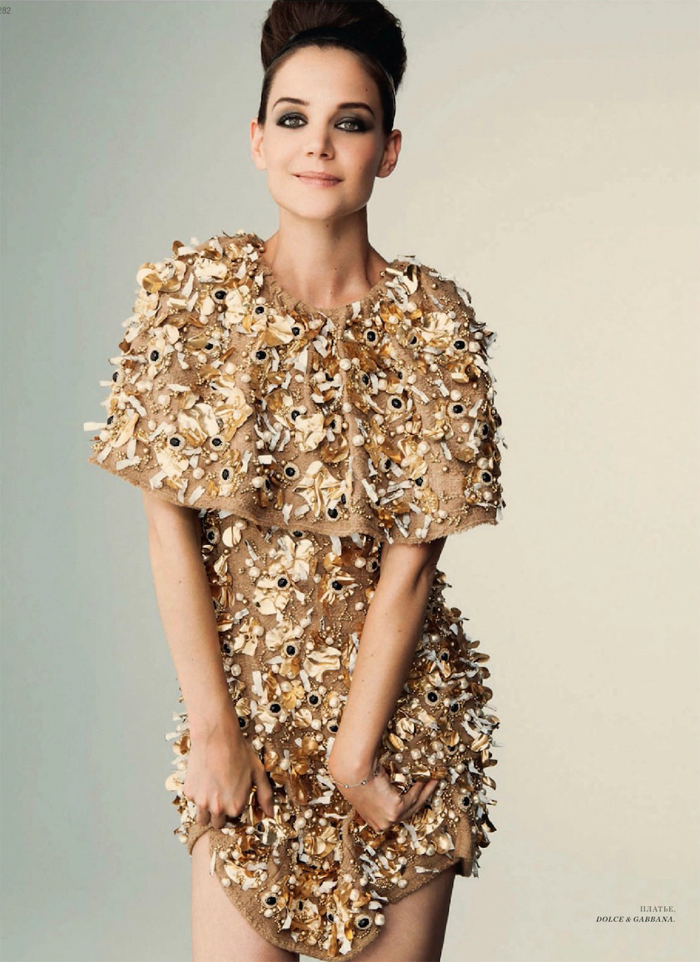 Otherwise, the clothes are cute, and Katie looks like she's getting back to her old self again. Katie's been laying low since her NYFW debut of the slightly improved Holmes & Yang line, but there's been a bit of amusing news about her concerning an advance screening invite to The Master. The Weinstein Co. tried to summon her for their own publicity purposes, and Katie politely declined. Can you blame her?
Glowing reviews and powerhouse performances from Joaquin Phoenix, Philip Seymour Hoffman and Amy Adams have made Paul Thomas Anderson's The Master a hot ticket among actors and industry operatives — with the exception of Tom Cruise's ex-wife Katie Holmes.

Celebrity spotters tell us that Andrew Garfield and Emma Stone, Jason Sudeikis, Steve Martin, Sam Rockwell, and filmmakers Spike Jonze and Quentin Tarantino are among the famous faces who've caught the movie during its limited release in New York and Los Angeles. Susan Sarandon was also in the crowd at the film's 70-millimeter screening at the Ziegfeld Theater on Sept. 11.On Sept. 16, "One Tree Hill" actress Sophia Bush tweeted: "If you don't go see The Master, there is officially no chance we'll ever [be] friends. What. A. Movie! Brilliant performances."

That same day, Hello I Must Be Going cast member Melanie Lynskey tweeted "Joaquin Phoenix's performance in The Master makes me want to quit acting, keep acting, destroy things, kiss his face, cry for a day."

One interesting footnote to the high celebrity demand to see The Master: A source close to the Sept. 11 Ziegfeld screening says Katie Holmes was invited to screening but sent her regrets. Her spokeswoman Leslie Sloane did not respond to Movieline's request for comment on speculation that Holmes did not attend because her appearance would have created a media feeding frenzy that could have riled her ex-husband, Scientologist actor Tom Cruise.
[From Movieline]
I think Katie played it safe by not attending The Master because you know the media would have been all over that. Beyond the fact that Tom might have thrown a hissy fit about her attendance, I think it's just a case of "too soon" where Katie's enjoyment of the movie would be concerned. I mean, she just checked out of a six-year nightmare during which she was securely under the thumb of the unhinged, lift-wearing midget himself. Then there was the whole matter of seeing her face on a Vanity Fair cover that contained a detailed account of Tom's wife audition process. Maybe a few years down the road, Katie will be able to Netflix The Master, but right now? Give the girl a break.
Now let's get back to this photoshoot. Katie looks adventurous and happy in some of these photos. I also love those smoky eyes and wish I could wear that kind of makeup without feeling overdone.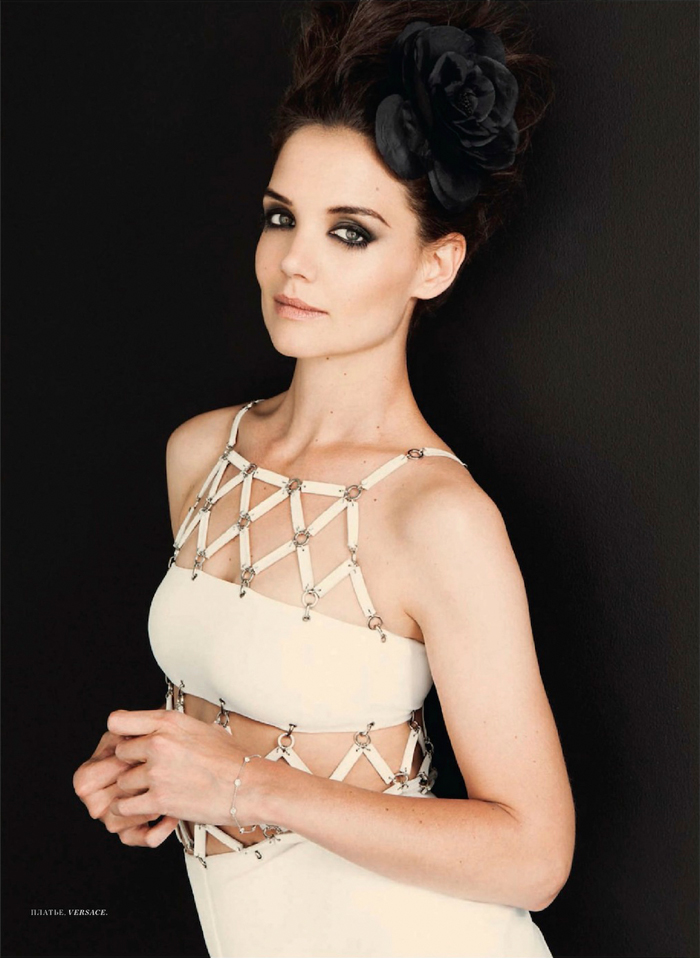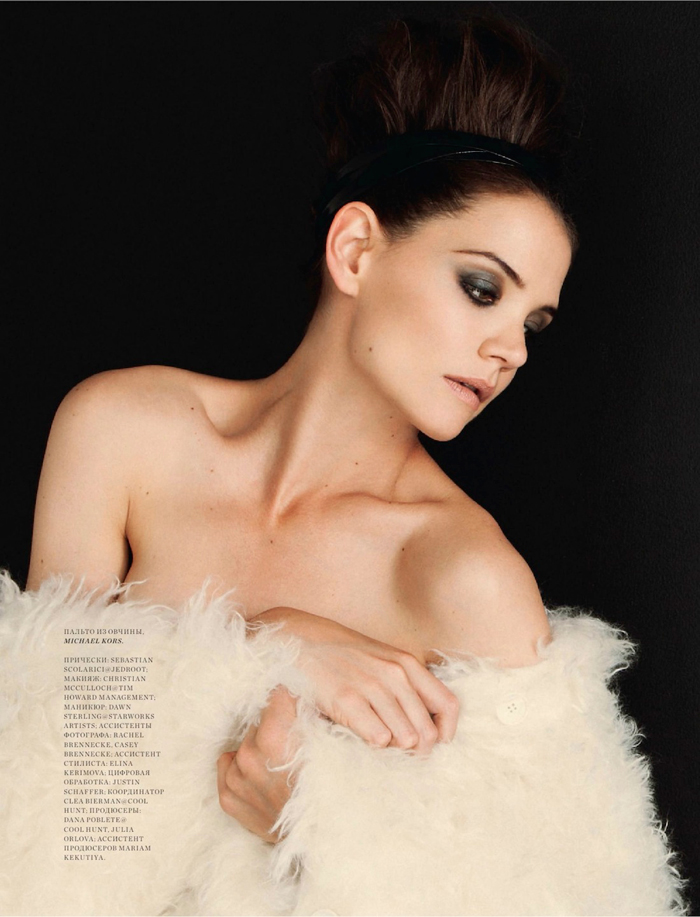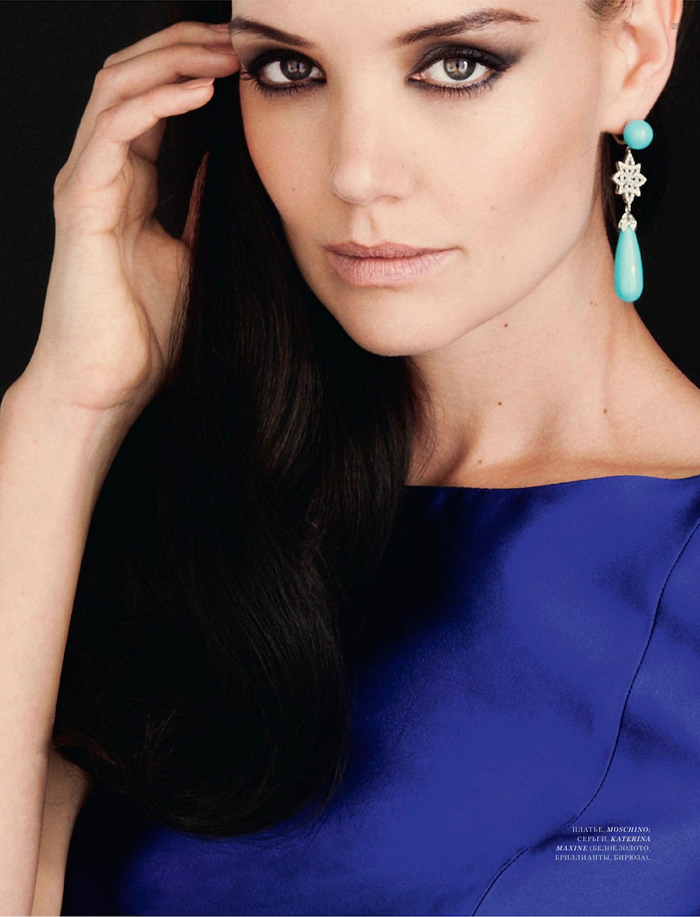 Photos courtesy of Harper's Bazaar Russia