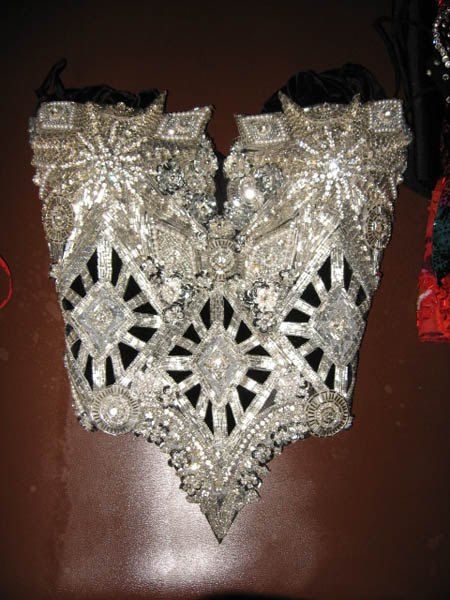 Whitney Houston is holding an auction of her personal effects in what is thought to be an attempt to save the New Jersey mansion she once shared with Bobby Brown. The singer fought a public battle with a crack cocaine addiction after her sister-in-law sold pictures of her dirty drug-strewn bathroom to The Enquirer in late March. Among the details that came out in the article was Whitney's sister's claim that she spent hours holed up in her bedroom high and pleasuring herself with a large collection of sex toys.
After that public scandal and a divorce from Bobby, Whitney made a comeback of sorts and showed up at some events appearing well put together. She now owes tens of thousands in back taxes on her $6 million property, which faces foreclosure if she doesn't pay up.
Her publicist claims she's just cleaning house and doesn't need the money to save her home. Goodies like leopard print bustiers and colorful stage props are expected to be snatched up by divas with cash in hand:
In an embarrassing financial scare last year, Houston – who's been in rehab for drugs and recently filed for divorce from Bobby Brown – nearly lost her spectacular $6 million, 10-acre estate in Morris County because she owed tens of thousands of dollars in back taxes. But Tuesday's sale by A.J. Willner Auctions should be a small windfall for Houston, thanks to hundreds of her fans, as well as a number of impersonators, who are expected to whip the bidding into a frenzy.

Among the items on the block are 13 of Houston's Dolce & Gabbana bustier bras adorned with animal prints and sequins; four velvet bodysuits with "WH" logos; six black stretch pants; several gold, black, white and red evening dresses; and 16 wardrobe cases.

In addition, Houston is selling off musical instruments and props used in her stage shows over the years, including pianos, keyboards, drums, synthesizers, speakers and amplifiers. Among the more unusual items are a slot machine, a leather whip and a chair described as "Whitney's throne."

Some of her soon-to-be ex's possessions are also on the block, including "16 assorted Bobby Brown music awards."
The article seemed unclear as to whether it was at Whitney's home, but according to the website of the auction company, A.J. Wilner, they do onsite liquidations. That means it's probably at Houston's mansion and we'll get some great pictures of the inside of her house.
Here are the details:
Whitney Houston's Sound, Wardrobe, Instruments
Address:
84 Coit Street
Irvington, NJ 07111
Auction Date(s):
Tuesday, January 9, 2007
Time: 11:00 AM
And here are some pictures of her stuff that's on sale, found on the auction website. It's mostly musical instruments and costumes and there are none of Bobby Brown's music awards in the listing, as the article from Page Six mentions. Her 80s costumes look kind of sad and haggard just hanging there.