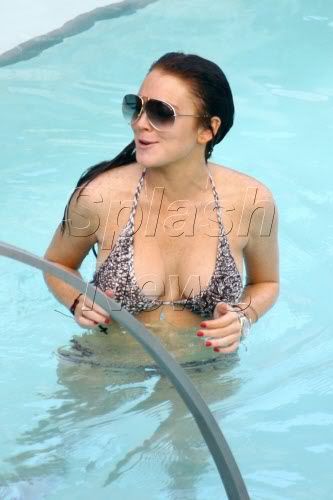 There are tons of Lindsay Lohan bikini pictures from last summer, but she's in the water in these latest candids in a poll in Miami and doesn't seem too eager to get out and show off her body. Lohan is just a little heavier than usual, and although she still looks great she's not as fit as she once was and can't pull off wearing a shirt as a belted dress. (Although no one could pull off that look, so that's not a fair assessment.)
England's Mirror claims that Lohan was spotted down in Miami going for a jog with a cigarette in hand. At least she's doing something healthy instead of just shopping and going out to clubs, even if she's sabotaging her health at the same time.
HATS off to Lindsay Lohan whose New Year resolution is to take more exercise – though obviously not to quit smoking!

The actress was snapped in revealing sportswear, fag in paw, on a jog in Miami. Last year the wildchild actress was anything but healthy so it's nice to see her back on track.

A pal said: "Lindsay is getting into shape after complaining that she's been looking bloated after the festive season." Not too bloated from here.
Yeah, all they did was see some pictures and make up that quote.
Lohan was spotted chatting with her ex, cad Wilmer Valderrama, on New Year's Day, fueling speculation that they might get back together. Rumor has it that Wilmer is back with cutie Mandy Moore, though, and chances are he was just being friendly with Lindsay.
Pictures from Splash News
Update high res pictures replaced with watermarked versions from the photo agency.