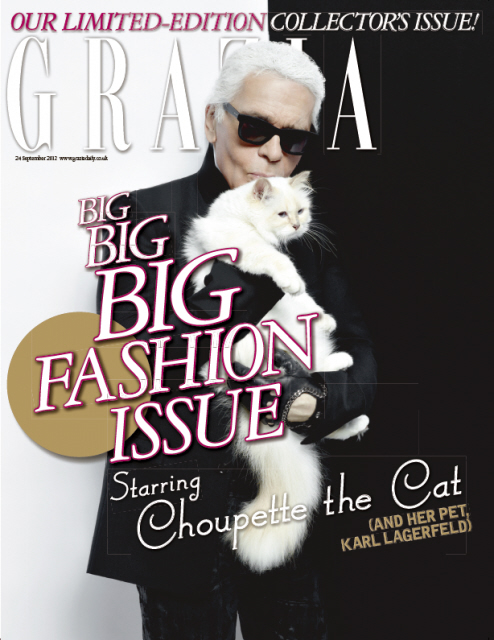 Good news! Choupette Lagerfeld scored yet another magazine pictorial with her daddy, Karl Lagerfeld. Bad news: you know Kim Kardashian is going to try to arrange a magazine photo shoot with her fluffy white kitten, Mercy. Poor Mercy. Mercy will never have the grand life that Choupette Lagerfeld has. Of course, NONE of us will have the grand life that Choupette has. Choupette is living the dream. Choupette is the love of her daddy's life. And it's amazing! Anyway, Karl and Choupette cover the new issue of Grazia, which is pretty downmarket for Karl (and for Choupette). But the mag promises a huge Choupette photo shoot, plus a great interview with Karl. In the early excerpt, Karl even tries to take back what he said about Pippa Middleton ("I don't like her face…she should only show her back") by complimenting the other Middletons.
When Grazia last met the genius who is Mr Lagerfeld, he had some rather strong opinions on one Miss Pippa Middleton, if you remember. So when we hot-footed it to Paris last week to interview Karl (no biggie) about Mon Shu Girl, his new collaboration with Japanese beauty brand Shu Uemura, we thought it was our fashion duty to chat about the other Middleton ladies. Oh you know, that Kate who'll one day be Queen. Turns out she's the person Karl would most like to wear his kooky cosmetics collection, featuring cute nail decals to gorgeous eyeshadow palettes. 'Kate Middleton! I love Kate Middleton! She can try anything. For make-up she has no limits!' he told us exclusively.

And if that clears up how he feels about our beloved Duchess of Cambridge, he'd like to clear up those less-than-complimentary comments about her sister too, it seems. (You may recall Karl recently said 'I don't like her face…she should only show her back.') Now he insists, 'I didn't mean that! I only meant I don't think her make-up is right; she has a roundish face and round eyes and she should pick another make-up for the eyes.'

But who does think is the sexiest of the Middleton crew? His answer might surprise. 'I think Carole is very sexy. I think the mother is sexier than the daughters. There is something full of life about her. For a woman who must be 50 or so I think she's great. Full of energy.' Weeeeell… something tells us Carole won't be sad to hear that one!

As talk returned to the cherry red lipstick and nail polish in his Mon Shu Girl collection, Agent Grazia also inadvertently solved one of Fashion's Greatest Myssssteries: why does Karl Lagerfeld wear those fingerless leather gloves? (You thought it was just *His Look*, didn't you?) Well, yes and no. It seems that the fingerless gloves allow the Godfather of Fashion easy access to his diamond vault. Oh, yes. Casually enquiring in a not-at-all-burglary-focused manner as to where Monsieur Lagerfeld keeps all his jewellery, the designer was happy to reveal the bling is discreetly stashed away behind a certain objet at Lagerfeld Towers. And the secret combination? Why, it's one of Karl's own unique fingerprints! So naturally those fingerless gloves are essential for making sure no one else gets their mitts on the rocks. (Grazia Daily grabbed Karl's Diet Coke glass on the way out).
So when he said "I don't like her face" about Pippa, he was just talking about Pippa's makeup job? Hahahaha. I love Karl. There's nothing better than Karl Lagerfeld trying to backtrack on some bitchy thing he said. He did that with Adele too, after he called her "a little bit fat" – Karl basically groveled for Adele's forgiveness and talked about how much he loved her. Sometimes I wish Karl would just own his bitchy statements, but other times… well, I just love when we have new Karl comments.
CHOUPETTE!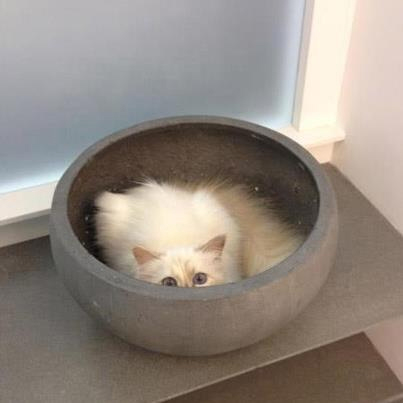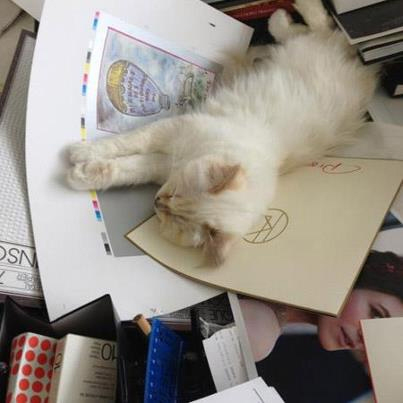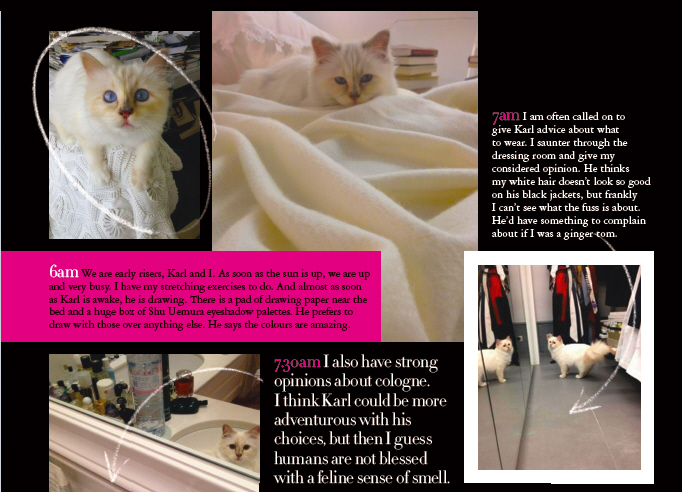 Photos courtesy of Grazia.