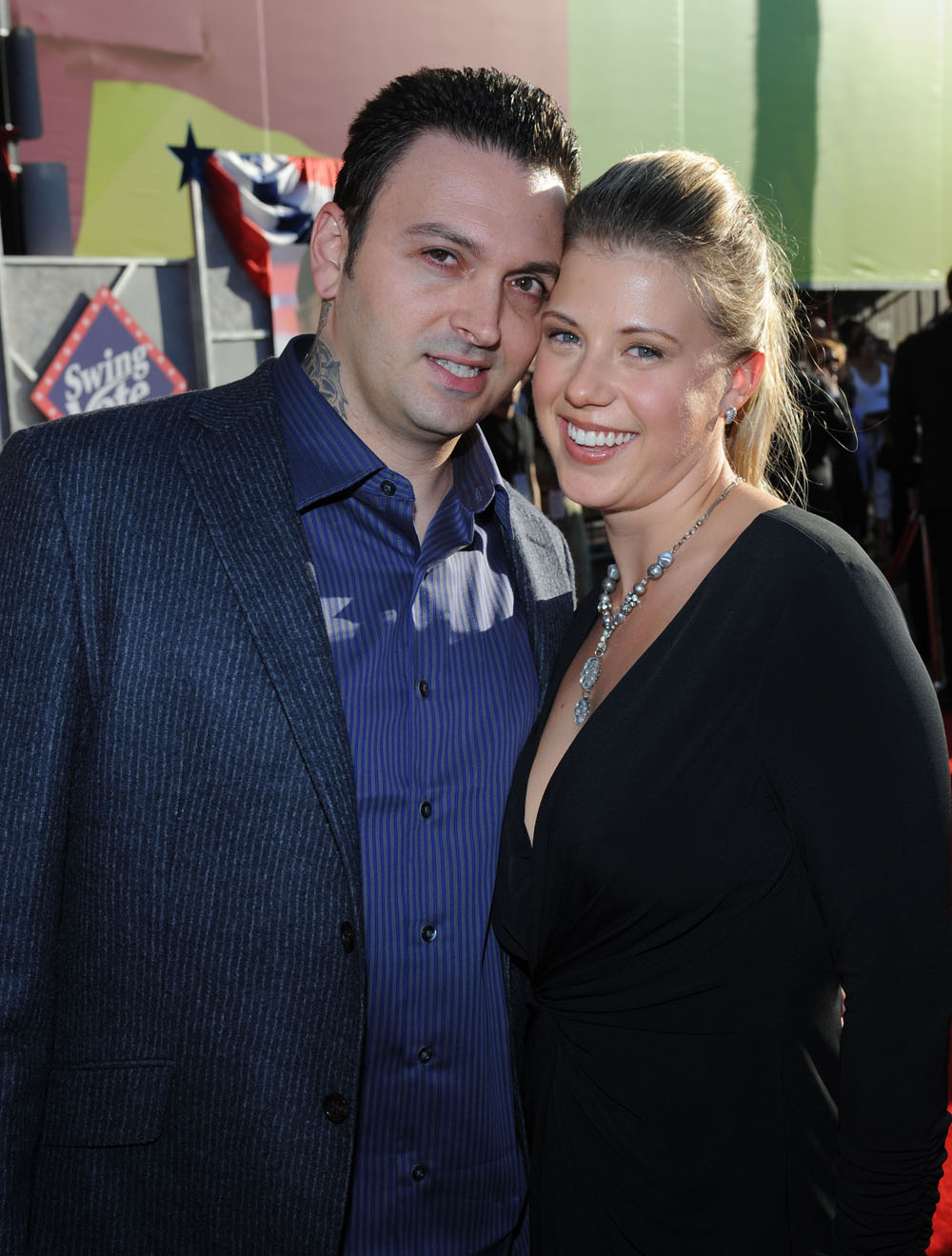 "Full House" actress, former meth addict, and new mother Jodie Sweetin abruptly left her husband Cody Herpin in November, taking their daughter with her. He publicly pleaded with her to come back, saying that he was worried for the safety of daughter Zoie. He also claimed that Jodie took almost all of their money when she hightailed it – and that he had absolutely no clue why she left. While Herpin still seems totally clueless, Jodie filed court papers that gave an idea as to the couple's troubles – including the fact that their home is in foreclosure.
"Our house is in foreclosure, our water has been shut off twice. Currently, all of our other utilities are overdue," the actress says in papers filed Nov. 19 in an Orange County, Calif., court, describing the 16-month union as "rocky." Herpin, a driver and transportation coordinator in the film industry, stopped working after they got married, Sweetin alleges. "[He] kept finding one excuse after another for his failure to even attempt to find employment," she says.

Sweetin, 26, claims the couple were kept afloat financially with Full House residuals and help from their parents. The actress filed for legal separation from Herpin, 31, last month. The latest documents are a request for a court order allowing her to retrieve her belongings, as well as clothing and toys for their 7-month-old daughter, Zoie, in the event Herpin "prevents [her] from peacefully taking these items." Sweetin claims she worries Herpin "will become very emotional and possibly erratic."

Reached for comment, Herpin tells PEOPLE that Sweetin has returned home four times since the above filing, but "she won't talk to me," he says, and his emails to her have gone unanswered. "I still have no idea what this is about. None of this makes sense."

As for his lack of employment, "I was the stay-at-home dad, my job was taking care of Zoie," due to Sweetin's busy schedule, Herpin says. He is seeking sole legal and physical custody of the couple's daughter and spousal support from Sweetin.
[From People]
Jodie also claims there was an "angry incident" the day before she left Cody in which he told her she couldn't take Zoie if she left him, and if she tried he would call the police. According to her, he then grabbed the baby off the floor, but cooled down and went for a walk. It must have been more dramatic than it comes off in the simple retelling, because right after that Sweetin took the baby and dog and moved in with her parents. She also said in court papers, "'I would never deprive [Herpin] of seeing our daughter … However, I believe he is going to try to prevent me from seeing [her].'" So it sounds like she's afraid Cody will kidnap Zoie or something.
Cody still claims he's utterly clueless about any problems in their marriage, but clearly there was at least a good deal of financial stress put on a fairly young couple. A home in foreclosure is a big deal, and I doubt anyone going through it would be happy and their relationship wouldn't be affected. It sounds like the fight was the straw that broke the camel's back and Jodie was already wanting to leave.
Here's Jodie at the Lint Roller Party for the Best Friends Animal Society in Hollywood on November 13th. Images thanks to WENN. Header of Jodie and Cody together at the "Swing Vote" premiere in July. Image thanks to Bauer-Griffin.