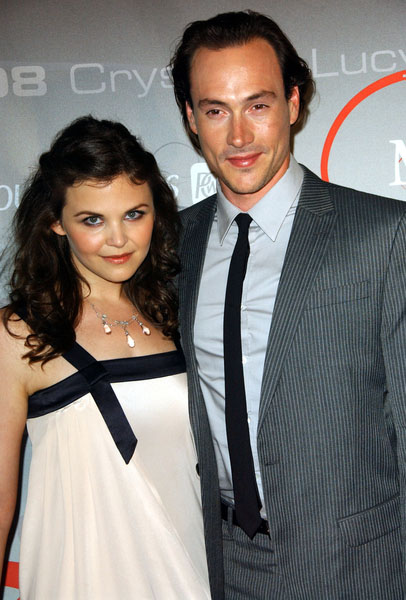 Two people who you may only marginally care about or have any interest in have broken up. Big Love star Ginnifer Goodwin, 30, and douche Chris Klein, 29, called it quits after two years. Someone confirmed the news to People, and I would bet it was Goodwin, who finally realized she could do better:
A Goodwin pal tells PEOPLE that the split was mutual and amicable. "They realized they wanted different things," says the friend. "In the long run, the relationship wasn't going to work."

With a busy winter ahead for Goodwin, 30, who returns to HBO's Big Love in January and stars in He's Just Not That Into You, opening in February, the actress plans to enjoy the single life for the time being, says her friend: "She's not interested in dating anyone just yet."

Klein, 29, is also busy with work, returning to big screen in Street Fighter in February.
[From People]
Chris Klein had an interview with Elle published in late 2005 which reads like a parody of something an obnoxious high school quarterback would say before losing his girlfriend to a romantic nerd in a teen movie. It's apparently legitimate, though, and makes you hope he was just talking crap and wasn't serious:
ELLE: Are you cool with it if a woman you like gains a few pounds?

CK: I'm not tolerant of that at all.

ELLE: So do you tell them to lose weight?

CK: When a woman isn't feeling good about herself and you combine that with her period, eventually she'll ask you if you like her body. You have to say no.

ELLE: Don't you think they're just looking for you to say, "You look beautiful to me, honey."

CK: If they do, it's placating. I don't placate.
[Elle via lumana.com, confirmed at PopSugar]
As for his thoughts on marriage, Klein compared it to getting sucker punched:
ELLE: If you had to commit to the number of women you'd like to sleep with before you marry, how many would it be?

CK: I think that for every dude the number is massive, and it just takes that one chick to punch you in the face, and all of a sudden you're walking down the aisle, whether you like it or not.
What kind of self esteem does a woman have to have to stick around for two years of that? I guess we know why Katie Holmes could think Tom Cruise is so "amazing" after having to deal with that kind of misogyny.
There's one consolation – Klein is losing his hair and maybe along with it his manufactured mojo, too. A lot of guys gain hotness when balding sets in by working with it and shaving their heads. Klein is clinging to the past by growing his thinning hair long, though, and is gradually losing what little appeal he did have before he opened his mouth.
Ginnifer Goodwin and Chris Klein are shown on 6/17/08 in the header. Credit: PRPhotos. He is shown below on 11/16/08. What a difference. Credit: WENN