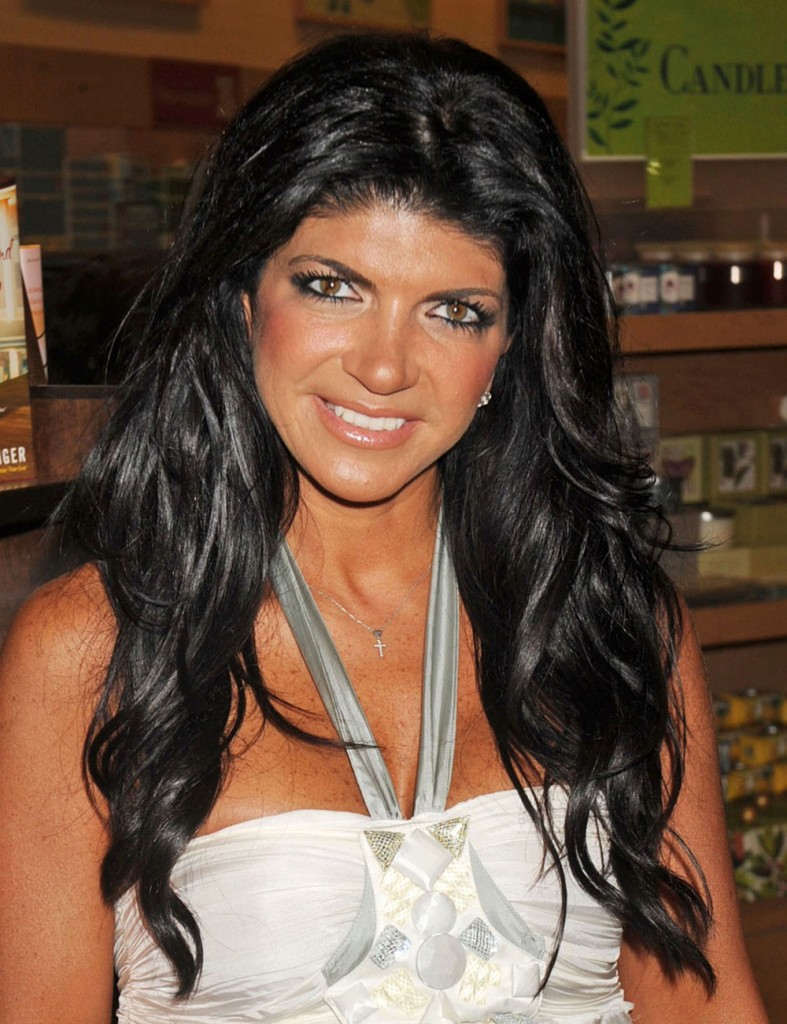 This story came out a couple of days ago, and we considered covering it then. I kind of pushed it to the back of my mind and in the interim I've seen a ton of stories about Teresa. She seems to be everywhere, and she's still earning tabloid covers that I'm convinced are bought and paid for by Bravo. (Full disclosure: none of us watched the current fourth season of RHONJ. I have seen the first season and part of the second.)
As you may know, Teresa was in a feud with her sister-in-law, Melissa Gorga, after Teresa tried to claim Melissa used to be a stripper. I feel like we've been hearing this story for months, and we basically have, but the episode finally aired where Teresa confronted Melissa. (Supposedly Melissa did work at a gentleman's club but just as a bartender for a week only.) That was the season finale on Sunday and we still have the crazy screaming reunion to look forward to. So now Melissa and Teresa hate each other more than they used to. Teresa is also fighting with fellow castmember Jacqueline Laurita, I guess over this whole strippergate fiasco along with the fact that Teresa is a narcissistic combative bitch. Teresa told Anderson Cooper that Jacqueline is texting her so much lately she may "go to the cops" while Jacqueline tweeted in response that "Teresa shouldn't go on TV to say I'm threatening her unless she wants a defamation suit against her." Jacqueline later backed down and tweeted that she was "having a moment. It's all good now."
So what is going to happen with Teresa, the one who freaks out and schemes and fights the most? The one whose husband is basically a mobster, who has served jailtime, who cheats on her, and who has defrauded creditors by filing for bankruptcy and hiding assets while continuing to live large? She'll probably get a spin off of course, since she knows how to bring the drama:
Teresa Giudice is the one you love to hate or hate to love on The Real Housewives of New Jersey, so brace yourselves, because RadarOnline.com has exclusively learned the Giudice family could be getting their own breakout show on Bravo.

Always feuding with someone — most recently fingered by Jacqueline Laurita for exposing Teresa's sister-in-law Melissa Gorga's alleged stripper past — Teresa and her husband Joe have tackled run-ins with the law, bankruptcy, cheating scandals and plenty of public backlash.

"All the drama and crazy things that Teresa and Joe have done is what makes them perfect candidates for their own breakout show," a source close to the situation exclusively tells RadarOnline.com.

"They're in talks right now and the show would include the whole Giudice side of the family, which would explain why we saw more of Joe's brother Pete and his wife Sheila in last Housewives season."

However, the source notes one large hiccup that could put a kink in the Giudice's plan; Joe's impending fraud charges that he's facing up to 10 years in prison for.

Joe will stand trial for fraudulently obtaining a phony driver's license after he was accused of using his brother's identification to get a new license when his own was suspended due to a DUI.

"With Joe's possible jail time they're trying to iron out how this show would work, but they're definitely pushing forward on it," the insider said.

The source says Bravo has exhausted all the drama they can get out of the current New Jersey cast, so their best option is a spin-off with the popular characters.

"People are starting to bore with the same old cat fights every episode so they need to change it up," the source said.

"And those Giudices will do anything to earn a dollar!!!"
I could go into all the reasons why this is wrong, but I pretty much explained it all in the intro. Hopefully this will fall through and the Giudice's infamy will run its course. These shows wouldn't exist and we wouldn't talk about them without people like Teresa. I'm surprised to know they exist.
There is plenty more news about Teresa and RHONJ, particularly about the reunion show that promises to be explosive. I won't get into all that except to share this video preview. I love how crazy Teresa looks when she tries to screw up her face. (In the first video at :45, and Radar has a priceless photo here.) She's had so much Botox she looks like a lizard.
Reunion preview.

Clip: Teresa and Jacqueline argue about strippergate

Clip: Teresa calls Caroline fat