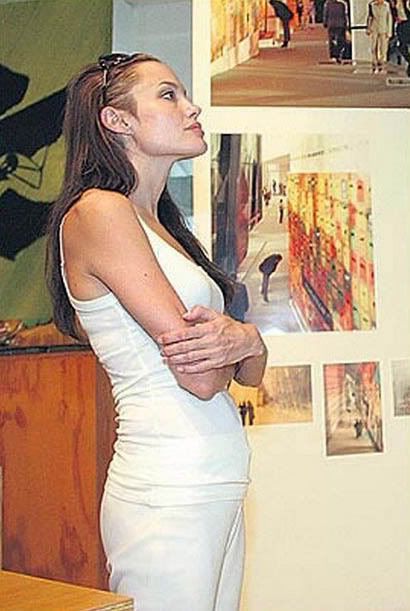 Angelina Jolie could not have spelled it out clearer when she said she's not pregnant and that she's on the pill. Everyone said it was TMI from Angelina, and I was pretty surprised that she revealed so much of her personal life during her interviews promoting the super-boring Good Shepherd movie.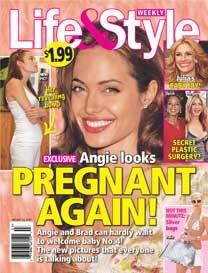 I was making fun of this picture for looking like it was posed. Some commentors said she was just looking at something high up in this candid taken while she was touring the Panama Canal, but I thought she was trying to look studious for the paparazzi. No matter, I know I would be posing all over the place if cameras followed me every day.
One thing I was pretty oblivious to was the little tiny supposed "bump" that Angelina is sporting. She looks damn good to me, but if you squint you can see a small roundness that could be mistaken for a baby bump by an imaginative gossip journalist on a slow news day.
Commentor kailie2 said "her pose will surely send the tabloids into a 'baby bump' frenzy." Life & Style is all over that:
At a museum in Panama on Dec. 28, Angelina Jolie held Brad Pitt's hand and gazed at the works of art on the walls. But the most eye-catching image was Angie herself: Wearing a dreamy smile and white jeans and a tank top, she revealed a definitive belly bump — the first telltale sign of pregnancy!

To read more about how Angie's hiding her bump and adjusting her diet, pick up this week's issue of Life & Style on sale now!
Some people commenting on the Life & Style site say she does look pregnant, but many people are saying she's just leaning backwards and it's pushing her little stomach forward. It's no wonder these celebrities are so thin when their bodies are scrutinized just to give us more crap to gossip about.