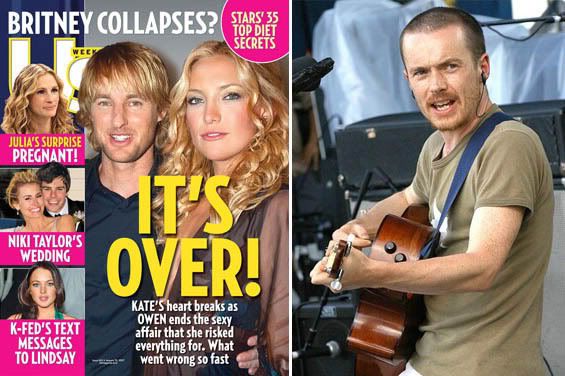 Kate Hudson and Owen Wilson are no longer together, according to a new cover story in US Magazine. These two were low-key with their relationship and were only spotted out together a few times in the past few months. Kate threw a big New Year's party and Owen wasn't there. It looks like Wilson is going back to his girl-chasing ways while Hudson is dating hot Irish singer Damien Rice. She must love those musicians.
When Kate Hudson, 27, threw a raucous New Year's Eve party at her home in L.A.'s Pacific Palisades, guests such as Justin Timberlake, Ryan Phillippe and Eva Mendes showed up to party their way into 2007.

Conspicuously absent from the bash? Actor Owen Wilson, 38, whose torrid affair with Hudson resulted in the actress' separation from husband of nearly six years, Black Crowes frontman Chris Robinson.

"They have definitely cooled off," a source close to the actress tells Us of Hudson and Wilson's summer fling. "She adores him and wishes it had worked out. But it didn't."

Seconds a Wilson source, "Owen is calling girlfriends to tell them he is single."

The actress, meanwhile, is back to dating musicians. She brought Irish singer Damien Rice (whose haunting song "The Blower's Daughter" was the theme of 2004's Closer) to a December 9 birthday party for director Brett Ratner. A Hudson pal assures, "She is exploring everything while trying to get over Owen."
The article says that Kate's ex, Chris Robinson, is dating a woman that has dated Matthew McConaughey. It also seems like Kate is on good terms with her ex. I read an article in The Enquirer a short time ago that claimed that they were renting houses next to each other in Australia while Kate was filming Fool's Gold, and that they were visiting each other six times a day. Their three year old son, Ryder, must love being around his dad and mom together, and I bet their still-close relationship had something to do with Kate and Owen's breakup.