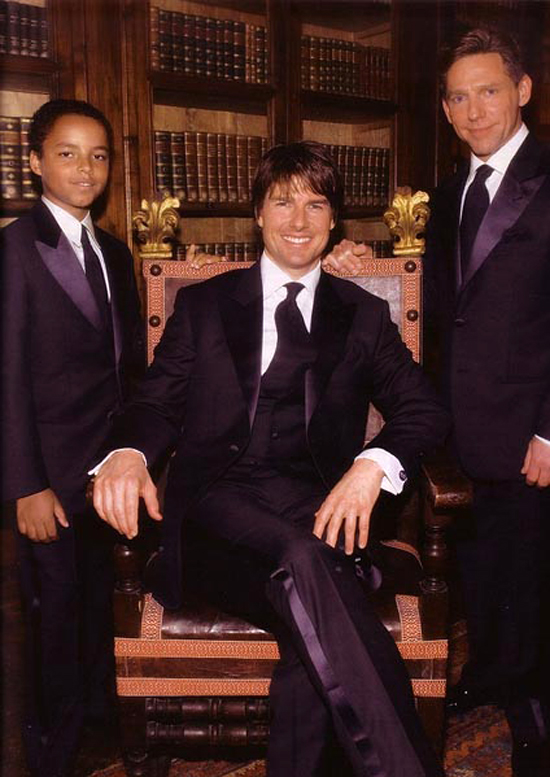 This is a pretty amusing story because it seems like a pretty big step for the Hollywood Reporter, which remains one of the leading showbiz trades (although there aren't many left), to call out Tom Cruise and David Miscavige's relationship as "the most intense bromance in history." Really though, that sort of mainstream declaration is almost overdue, for amidst all of the horror stories that come forth from former Scientology parishioners, there's one constant — Dave and Tom are thick as lift-adorned thieves, and they are so cute together with their little thrones and motorcycles.
That's the gist of it and why Tom won't ever leave the CO$. Dave understands Tom, you see. Nobody else cares about Tom enough to spy on him for years in order to oust a difficult wife (i.e., Nicole Kidman) and bring him back into the fold. No one else comprehends Tom enough to be literally "obsessed" with him and give him all sorts of shiny, slave-labor made toys. No one else cares enough to put Tom's video-recorded audit tapes on instant replay. Quite simply, no one does it for Tom like Dave does. So what about this claim that Dave wouldn't hesistate to throw Tom under the bus if he left the cult? Tom doesn't need to worry about that because Tom's not going anywhere and knows nothing of a so-called crisis of faith. Here are some excerpts from the Hollywood Reporter article, which is worth reading in full, but here are the relevant parts: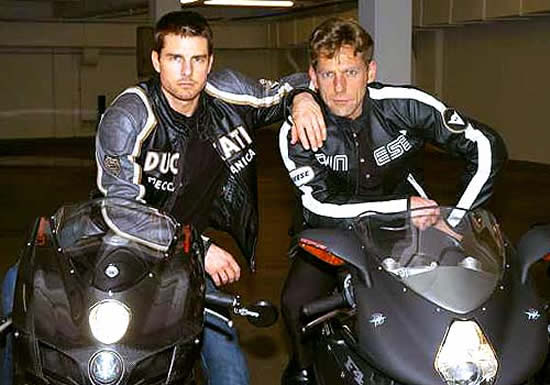 Tom Cruise barely had a breather between what had to be one of the worst summers of his life and the smash opening of the Scientology-inspired movie The Master in New York and Los Angeles. The movie, which director Paul Thomas Anderson screened in advance for Cruise, comes on the heels of the actor abruptly being dumped by his third wife, Katie Holmes, in July and subjected to a humiliating media feeding frenzy, some of which included speculation about Cruise's close relationship with Scientology's powerful and controversial chairman, David Miscavige. Ex-Scientologist Marc Headley, who says he worked closely with Miscavige for 15 years during his long tenure with the church, calls it "the most intense, expensive bromance in history."

The church's star member could become a liability, much the same way Phoenix eventually becomes a source of trouble for "the Master." Holmes' divorce action against Cruise resulted in intense coverage of the church's controversial inner workings — including Vanity Fair's September cover story. (Karin Pouw, a representative for Scientology, wrote to The Hollywood Reporter that the recent attention is merely the work of "anti-Scientologists who were kicked out of the Church by Mr. Miscavige, most over eight years ago, [who] used Mr. Cruise's divorce to further smear the Church with lies so they could promote themselves." Nevertheless, she writes: "More people have accessed our websites and come in to our Churches over the summer than ever in our history. [The coverage] is having a very positive affect [sic] on people wanting to get accurate information about Scientology for themselves."

Some people, both in Hollywood and within the circle of former church members, wonder whether Cruise might leave Scientology — as a smart career move if nothing else. But some insiders insist he'd never defect.

"Why should he?" asks veteran publicist Howard Bragman. "You've got to realize the difference between a crisis and a controversy in Hollywood. For most people, this is a controversy. It's not necessarily going to impact his career."

According to Mike Rinder, who says he was the chief spokesman for Scientology before leaving the organization in 2007, people in Hollywood seem content to look the other way as long as Cruise is making hit movies. "But they act as if his association with Scientology is as harmless as Madonna spending time with the Kabbalah people," he says. "They don't realize Tom Cruise is hanging out with someone who is the emotional equivalent of Jeffrey Dahmer."

"There's a point of no return, and I think Tom has crossed it," says [former Scientologist Steve] Hall, who worked closely with Miscavige and knew Cruise slightly. "The time for him to leave was a long time ago. The lines between him and Miscavige are so blurred now."

The consensus from interviews conducted during the past two months with dozens of former Scientology members who freely divulge church secrets was that Cruise's relationship with Miscavige was symbiotic. Rinder says Cruise was a "really nice guy" when he first joined the church but, over time, took on more and more of Miscavige's personality traits. "In Scientology, it's called being in someone's valence," says Rinder. "Cruise has assumed a lot of Miscavige's qualities."

Church literature defines the concept of valence in part as "another's identity assumed by a person unknowingly; a valence is a substitute self taken on after the fact of lost confidence in self or a failed valence or as a solution to a problem."

Karen De La Carriere, who says she was one of Scientology's most well-known and respected auditors until she left in 2010, notes that Cruise was "practically channeling" Miscavige during his infamous interview with Matt Lauer on Today in 2010. "The way he lit into Matt Lauer, calling him glib and attacking him — that was exactly how David Miscavige deals with people," says De La Carriere. "That was the purest example of how Tom is in Miscavige's valence. It's a scary thing to watch."

If true, being in Miscavige's valence might be why Cruise remains so devoted to him despite what former Scientologists say are Miscavige's frequent betrayals of him.

Former Scientologists told Vanity Fair as well as THR that Miscavige openly mocked Cruise behind his back. Several sources have told THR that they witnessed Miscavige reading personal details from auditing files aloud. Because Scientologists at every level reportedly are discouraged from reading newspaper articles about the church or watching TV news reports, Cruise might not know of the recent allegations that Miscavige disparaged him behind his back.

But if he ever did find out, watch out: "If the dupe ever links up," says Rinder, using church jargon — meaning, if Cruise ever realizes Miscavige might have been disloyal — "I don't think he'll try to take over the church, but I do think he'd turn on Miscavige like a rabid dog."

Evidence exists that Cruise has been aware of claims against Miscavige in the past. In a letter sent to ABC News' Nightline on Oct. 22, 2009, Cruise's attorney Bert Fields called the actor "a man of spirit, intelligence and independence." He said, "Mr. Cruise is aware of the claims made against Mr. Miscavige by former members of the Church of Scientology. He does not believe them."
[From Hollywood Reporter]
Many issues come to the forefront in this article, but what sticks out the most for me at the moment is the notion that Kabbalah isn't a dangerous cult too. It absolutely is a cult, and there are several resources out there, including this one, that detail ongoings of slave labor and mind control at the centers. Still, Kabbalah is not as flashy of a cult towards which to point fingers, and red bracelets don't make headlines like couch jumping and e-meters do, so I guess that's why people will show interest in Scientology exposés whereas talk of Kabbalah generally inspires yawns.
Ultimately, I do agree that Tom will never leave Scientology even if he does truly experience a crisis of faith. This is a shame because it would do so much if Tom had the guts to leave and then give a very public discussion of renouncing the cult. Even if the "church" then leaked his confidential audit files, I think the public would be on his side. Besides, what has Tom told the tin cans that would be worse than what we already know? I find it hard to believe that Tom possesses any secrets that are worse than his love of slave labor or acceptance of a mail-order wife. Bring it on, I say. Tom Cruise could win this battle and maybe even the war itself, but he'd rather just hang with Dave.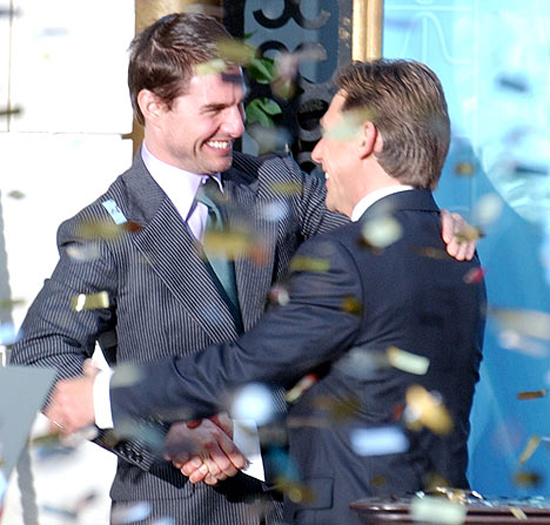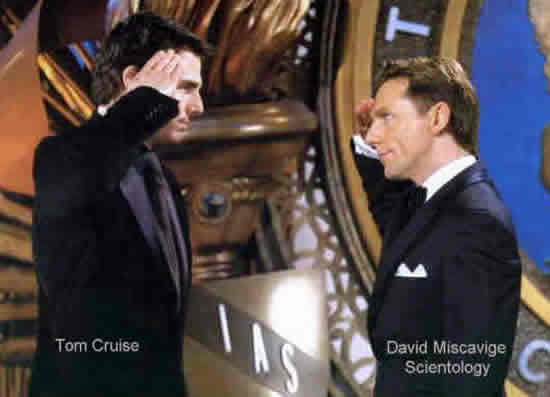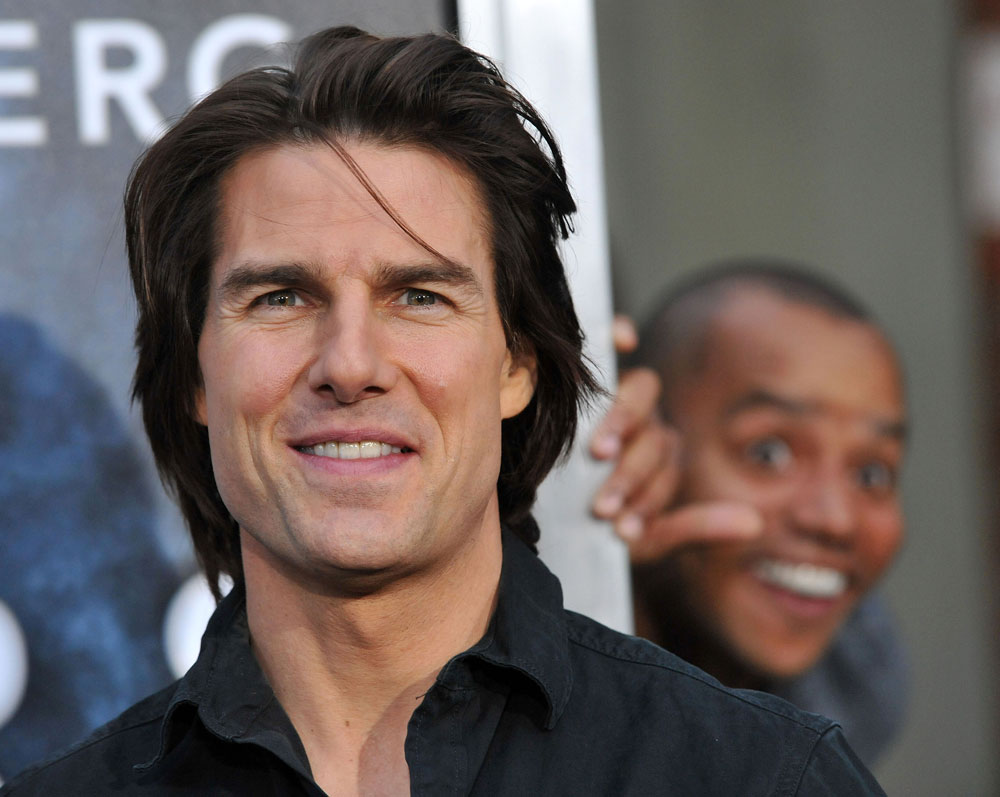 Photos courtesy of Freedom magazine and WENN