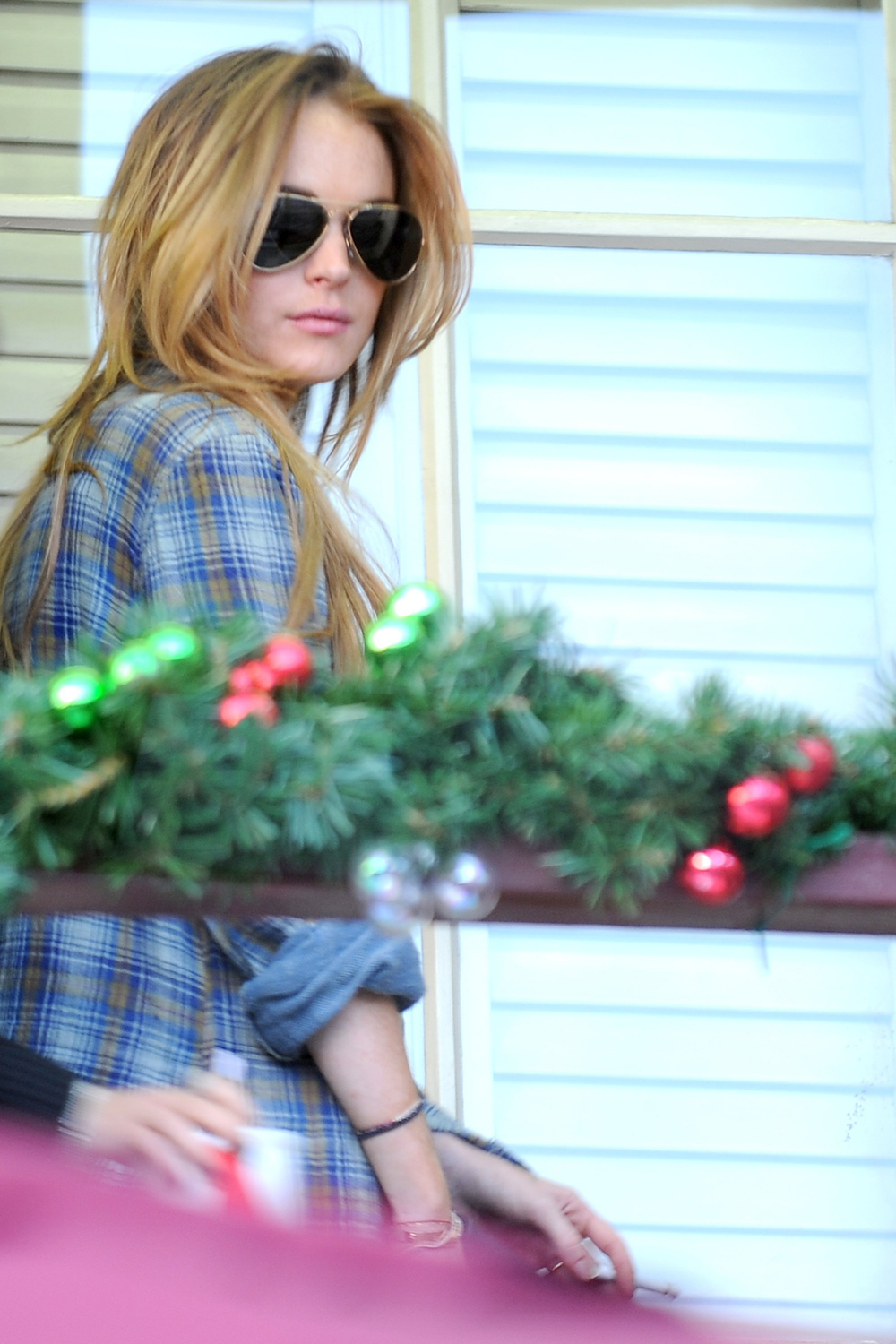 Though Lindsay Lohan claims she and girlfriend Samantha Ronson are doing fine as always, she's still flirting it up with men, including Sean Penn. According to Fox News, Lindsay recently got super close to Penn at a party, going so far as to "nuzzle" him. Never before has "nuzzle" sounded like such a dirty word to me. And she seems to have done it with all the class and subtly you'd expect of a Lohan.
Lindsay Lohan likes Milk. Anyway, she likes the star of Gus Van Sant's longish take on the life and times of gay activist Harvey Milk.

At Sean Penn's private dinner for Milk last week at downtown/far west eatery The John Dory — in which the former Jeff Spicoli has invested — Lohan showed up sans partner Samantha Ronson. Sources say she immediately sidled up to Penn, who took her under his wing, so to speak. "They nuzzled," says my observer, before taking off for an after party somewhere in the bowels of Chelsea, no doubt.
[From Fox News]
Maybe Lohan has casual nuzzles. She has casual other things, so maybe she's a nuzzle slut. Lindsay's had to deny that she has any problems in her relationship because she and Samantha haven't been out together much lately. Lohan has said that the pair are together and fine, and if they ever did break up she'd announce it on MySpace. Classy.
"today i was out with my friend Jamie and paparazzi wouldn't stop asking me where samantha was," Lindsay wrote in her usual style of writing that ignores most punctuation and rules of grammar. "and i'm not writing this blog because i feel like i need to prove that i'm with my girl to anyone at all. but because it's just annoying. and i want to vent."

"and i love myspace because it allows me to vent without having to deal with the noise of the 'tabloids' and 'stalkerazzi's'" she continued.
In fact, the actress loves the social networking Web site so much, that she said it would be the first place she would announce a split from her celebrity DJ girlfriend, if it were to ever happen.

"all in all-they should just stop asking altogether, once and for all if she and i are broken up because frankly, if we ever ever did…. i would say it before they could even think of asking. i'd say it here probably… i say everything here on myspace."
Lindsay goes on to say that she hopes the publications and gossip blogs perpetuating the rumors are reading her blog in order to get the story straight.
"okay. well, i hope that all the gossip magazines and sites, and lurkers read this cuz it's not true," the actress wrote. "ahh! i love myspace because i can just write, and i love writing, and i can prove all the liars wrong."
"wow- the people that make s*** up must really feel silly, embarrassed, out of stories, s******, f*****, punk'd, and so much more. because, i can use myspace and just let everyone know what's really going on," Lindsay added. "which is so much more fun! cuz now, people can get to know the REAL me. yay!"
[From Access Hollywood]
Why even bother having PR people when you have your eloquent words and MySpace to do all your talking? Lindsay is just trash, and anytime people start thinking otherwise, she manages to write a blog that clarifies just how classless she is. It's also pretty obvious from her writing that she really gets off on the drama. Not that it's news to anyone. I'm surprised that someone with a legit career like Sean Penn is willing to have her around for even a moment. Being associated with someone so tacky can't be good for other people's reputations.
Here's Lindsay smoking a cigarette with a friend on a private balcony above a farmers market in Los Angeles yesterday. Images thanks to WENN.