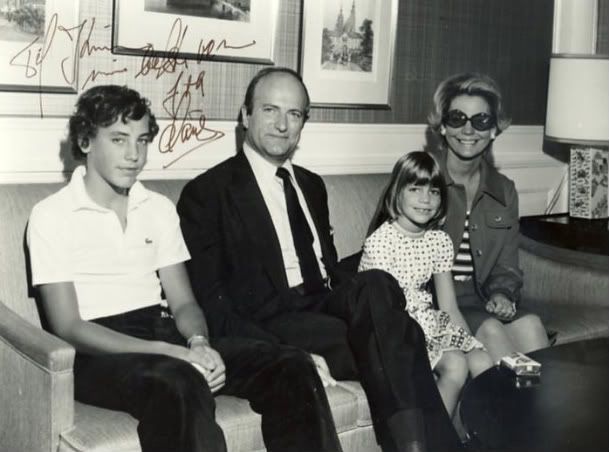 Her mysterious collapse into a coma was international news 28 years ago, and the man who was tried twice for her attempted murder became a notorious celebrity played by Jeremy Irons in the movie "Reversal of Fortune." Martha "Sunny" von Bulow (who was played by Glenn Close in the movie) passed away on Saturday in a nursing home in Manhattan, where she had spent the last 28 years in coma.
Martha (Sunny) von Bülow, the American heiress who was first married to an Austrian playboy prince and then to a Danish-born man-about-society who was twice tried on charges of attempting to murder her, died Saturday at a nursing home in Manhattan. Mrs. von Bülow, who was 76, had been in a coma for nearly 28 years.

Maureen Connelly, a spokeswoman for the family, confirmed the death. Mrs. von Bülow's three children said in a statement that they "were blessed to have an extraordinary loving and caring mother." The cause, as listed in the death certificate, was cardiopulmonary arrest, Ms. Connelly said.

Mrs. von Bülow's death came 27 years, 11 months and 15 days after she was found unconscious on the floor of her bathroom in her mansion in Newport, R.I., on Dec. 21, 1980.

In her long, silent years at the Milstein Building at NewYork-Presbyterian/Columbia hospital, and then at a nursing home on the Upper East Side, doctors said Mrs. von Bülow never showed any signs of brain activity; she was fed through a tube in her stomach. Yet there were always fresh flowers in her room, and photographs of her children and grandchildren sat on a bedside table. She was attended by private nurses, and her room, for some time, was guarded by private security personnel.

She is survived by her daughters, Annie-Laurie von Auersperg Kneissl Isham and Cosima Pavoncelli; her son, Alexander von Auersperg; and nine grandchildren.

Her second husband, Claus von Bülow, was convicted and later acquitted of twice trying to kill her with injections of insulin so as to aggravate her hypoglycemia, a low blood sugar condition.

His trials were among the most sensational of the 1980s. News media from around the world were drawn to the drama of the beautiful heiress who lay in a twilight zone, the debonair husband accused of attempted murder and two royal children pitted against their younger stepsister, with the glittering social milieus of Newport and New York providing the backdrop.

Hollywood, too, could not resist. The trials became the subject of the 1990 movie "Reversal of Fortune" with Glenn Close as Mrs. von Bülow and Jeremy Irons as Mr. von Bülow.

The prosecutions were the result of an investigation initiated by Alexander von Auersperg and his sister Annie-Laurie von Auersperg Kneissl, known as Ala, the children from Mrs. von Bülow's marriage to Prince Alfred von Auersperg. The accusations pitted the von Auerspergs against their stepfather and their half sister, Cosima von Bülow, and divided the loyalty of friends in Newport and New York.

In his first trial, in Newport in 1982, Mr. von Bülow was found guilty of twice trying to kill his wife and was sentenced to 30 years in prison. He appealed and posted a $1 million bond believed to have been put up by his friend J. Paul Getty Jr., the oil tycoon.

The appeal was guided by Alan M. Dershowitz, the Harvard law professor, and the conviction was overturned on the grounds that certain information had not been made available to the defense and that there had been no search warrant when pills were sent for testing.

Mr. von Bülow was acquitted in 1985 after a second trial in Providence, R.I., where his chief defense counsel was Thomas P. Puccio.

A $56 million civil suit filed against Mr. von Bülow by his stepchildren was settled in 1987 with the stipulation that Mr. von Bülow agree to a divorce and not discuss the case publicly. The couple were divorced in 1988. Mr. von Bülow lives in London.
This case always fascinated me. This case was tabloid fodder long before OJ Simpson and his "dream team" of lawyers. I remember during the trials, there was a new revelation about Claus or the von Bulow's marriage every day. I always thought that one day, Sunny would come out of her coma and tell the world what happened to her, but I guess not. Claus has kept a very low profile since the acquittals. The lawyer who made a name for himself defending Claus had this to say about Sunny's death:
Claus von Bulow is living in London, "mostly taking care of his grandchildren," said Alan Dershowitz, the defense lawyer who won his acquittal at the second trial.

"It's a sad ending to a sad tragedy that some people tried to turn into a crime," Dershowitz said. "I hope this finally will put to an end to this terrible tragedy."

"There are no winners in a case like this. I'm happy to have played a role in getting the criminal conviction reversed, because it was an unjust conviction, but there were no victory parties or celebrations afterwards because there was a woman in a coma," Dershowitz said.
Informal poll: Claus von Bulow– did he get away with murder?
Header photo from CasanovaKim's Flickr.