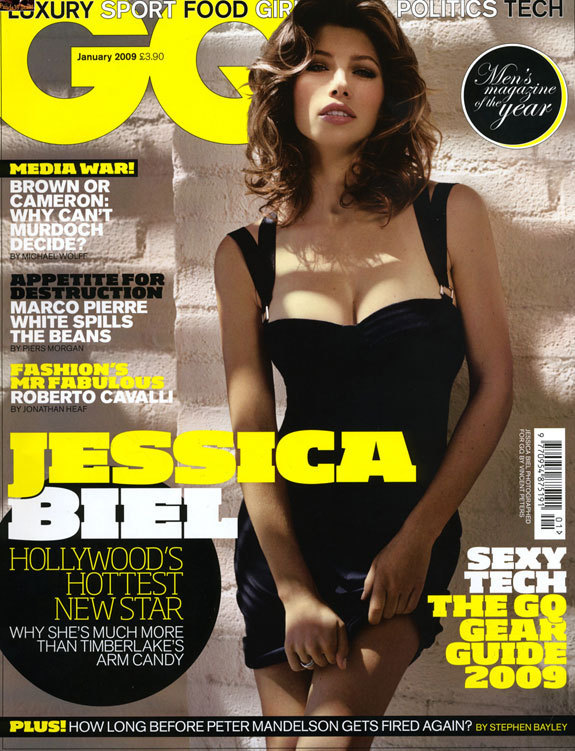 Jessica Biel is on the cover of next month's GQ in Brittan, and looks absolutely amazing. As usual she won't talk about longtime boyfriend Justin Timberlake. The two seem to have some sort of pact to never chat about each other. As a result I often forget that they're even together, until one of the engagement rumors pops up.
Jessica admits that her looks have gotten her far in Hollywood; crediting them for getting her foot in the door. She doesn't all-out say they trump her talent, but I can't help but wonder if that's what she's getting at. She manages to say it in a way that is confident but certainly not overly-conceited.
Jessica Biel graces the cover of the UK edition of GQ in January. Inside she talks about Hollywood and her good looks, but won't engage about boyfriend Justin Timberlake: "Justin Timberlake is the one part of my life that I own."

On the movie world:
"I think it's almost historical in Hollywood that there just aren't so many good parts for women as they are for men. I think as long as you're playing the wife or the girlfriend to the lead then you're always playing second fiddle to the guys."

On why she has a career in Hollywood:
"Your face and your body can get your foot in the door, obviously. And I'm thankful for that."
[From GQ via Huffington Post]
Jessica really is a great beauty. The photographs emphasize how classically gorgeous she is. Though she and Justin have maintained a very private relationship, rumors obviously still get out about the two. According to In Touch, Jessica was recently seen looking through bridal magazines. Everyone seems to assume that she and Justin will get engaged soon, though something tells me if they do we'll all be the last to know.