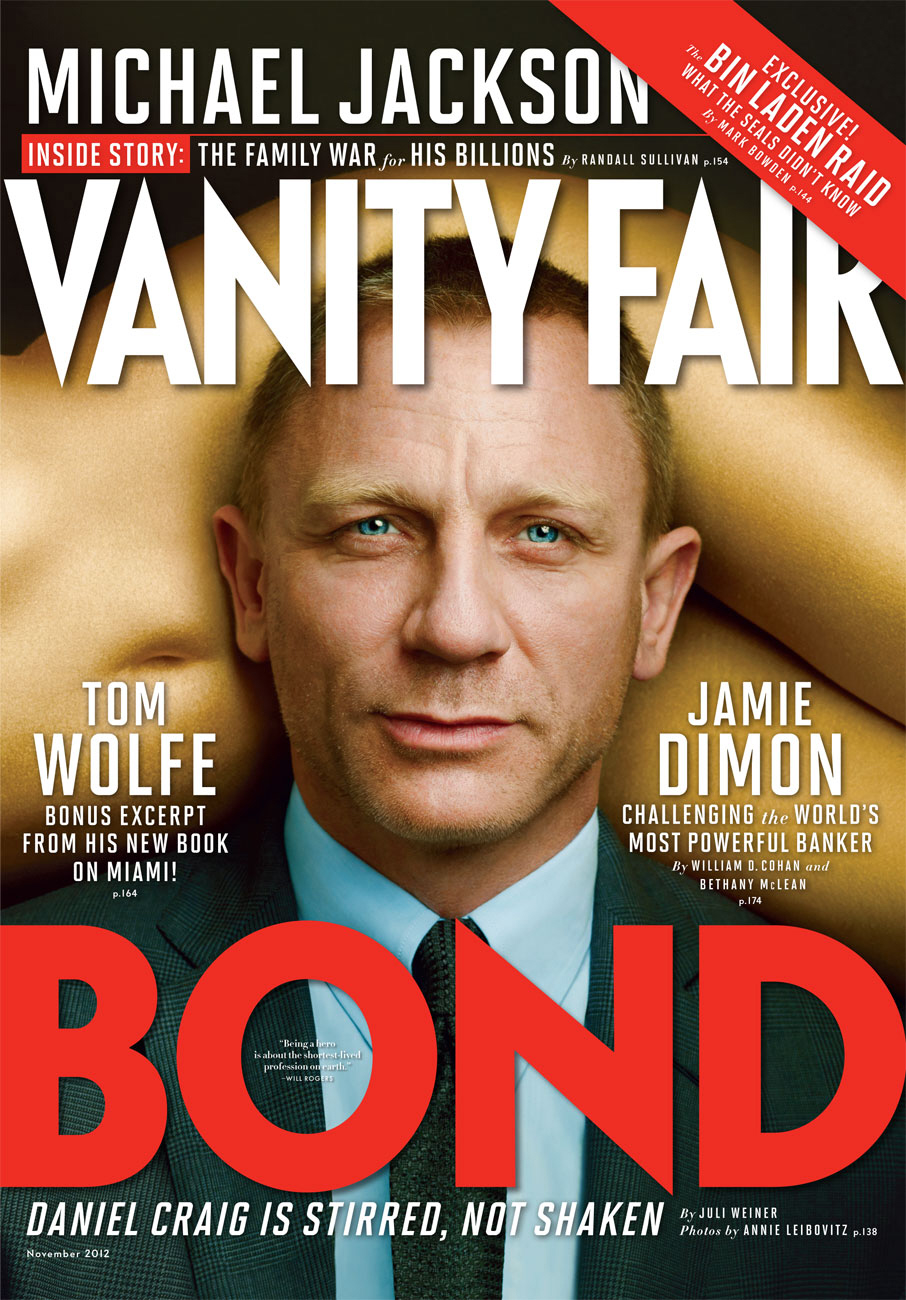 Believe it or not, I love that Vanity Fair put Daniel Craig on their cover. VF usually wants to get the most controversy for their covers, and failing that, they'll just put a dead celebrity or a Kennedy on the cover. So it's nice that they just went with a talented actor who is notoriously crotchety, who has a big franchise film to promote. Now, that being said, this cover is AWFUL. It looks like they super-imposed his mugshot onto a photo of a chick's crotch. It looks really cheap, as in "low production value".
Anyway, Daniel will make his third outing as James Bond in Skyfall, which I am looking forward to more and more each day. Daniel's interview seems pretty decent too… some highlights from VF:
"You talk to people in the movie business who have been doing this 40 years and they all say the difference is that, back in the day, you could go and have a drink in the bar, get drunk, fall over, have a good time, relax, whatever, and no one would know about it. But now everyone's got a camera," Daniel Craig tells Vanity Fair writer Juli Weiner of the challenges of being Bond. "Not that all I want to do is get drunk in a bar, but that's an example. So you can't live a normal life anymore. Because it will become public knowledge that you've whatever—gotten drunk in a bar or skinny-dipped on a beach or something. Things that normal people do occasionally. And in a way that's kind of—I've got to be high-class. I've done a lot of things in my life. But you have to think in that way. Which is sad, because I like bars."

On the eve of the release of his third turn as Bond in the upcoming Skyfall, Daniel Craig reflects on the iconic character and how the franchise has matured. "What I'm doing is not what Pierce was doing, and Pierce wasn't doing what Roger Moore was doing, or what Sean was doing, or what Timothy [Dalton] was doing. Things have changed. It's just kind of the ride of it. Pierce used to say that it's like being responsible for a small country. It's kind of like you have to look after it diplomatically. I kind of get that, but I can't really say that's my deal. I'm not going to be the poster boy for this. Although I am the poster boy."

"It's amazing how many times I've sat in interviews like this in a bar or a hotel, and it's 11 o'clock in the morning and someone sends a martini over," he says, laughing. "And it's like, Really? It's 11 o'clock! Cheers! I'm not going to drink it."

Of the controversy first kicked up in May over Skyfall's featuring of Heineken, meanwhile—notably not a martini—Craig says: "Now, product placement, whichever way you look at it, whether you like it or you think it's disgusting, or whatever, it's what it is. . . . Heineken gave us a ton of money for there to be Heineken in a shot in a bar. So, how easy is that? Just to say, O.K., there's Heineken. It's there—it's in the back of the shot. Without them, the movie couldn't get sold, so that all got kind of blown up. 'Bond's new drink is a Heineken.' He likes a lot of drinks—Heineken, champagne; it's all in there." Craig explains that "I'll drink a beer in the shot, I'm happy to, but I'm not going to do an 'Ahhhhh' [pantomiming an actor looking refreshed]. And I would say this because they're paying, but they're kind of respectful about it. They don't want to screw the movie up."

Of seeing some of Bond's softer side in Casino Royale—one scene in particular where he sheds a tear for his deceased girlfriend who betrayed him—Craig charmingly defends the machismo of his character: "He didn't sob. There was, like, a tear in his eye. No snot coming out of his nose, you know." This sense of humor is, co-star Judi Dench says, crucial to playing Bond: "The glorious thing about [Craig] is he has a great sense of humor. That's essential—the whole essence of Bond is that he doesn't take himself so seriously."
I get that Daniel Craig went from "respected, little-known actor in mostly UK independent productions" to "James Bond" all of a sudden, and that change kind of shattered and changed his life. But I also get tired of hearing Daniel bitch about it. Thankfully, he seems to be toning down his normal 'tude a bit here. What do you make of "I'm not going to be the poster boy for this. Although I am the poster boy"? He IS the poster boy, and it's a great honor for an actor, and there are lots of well-known actors who would love a chance to play James Bond, so why is Daniel still so f—king surly about it?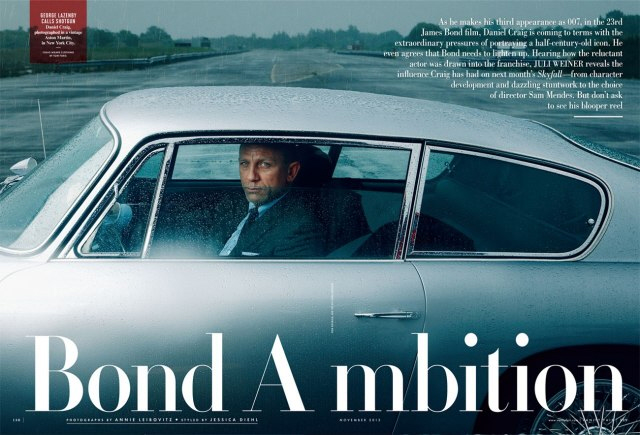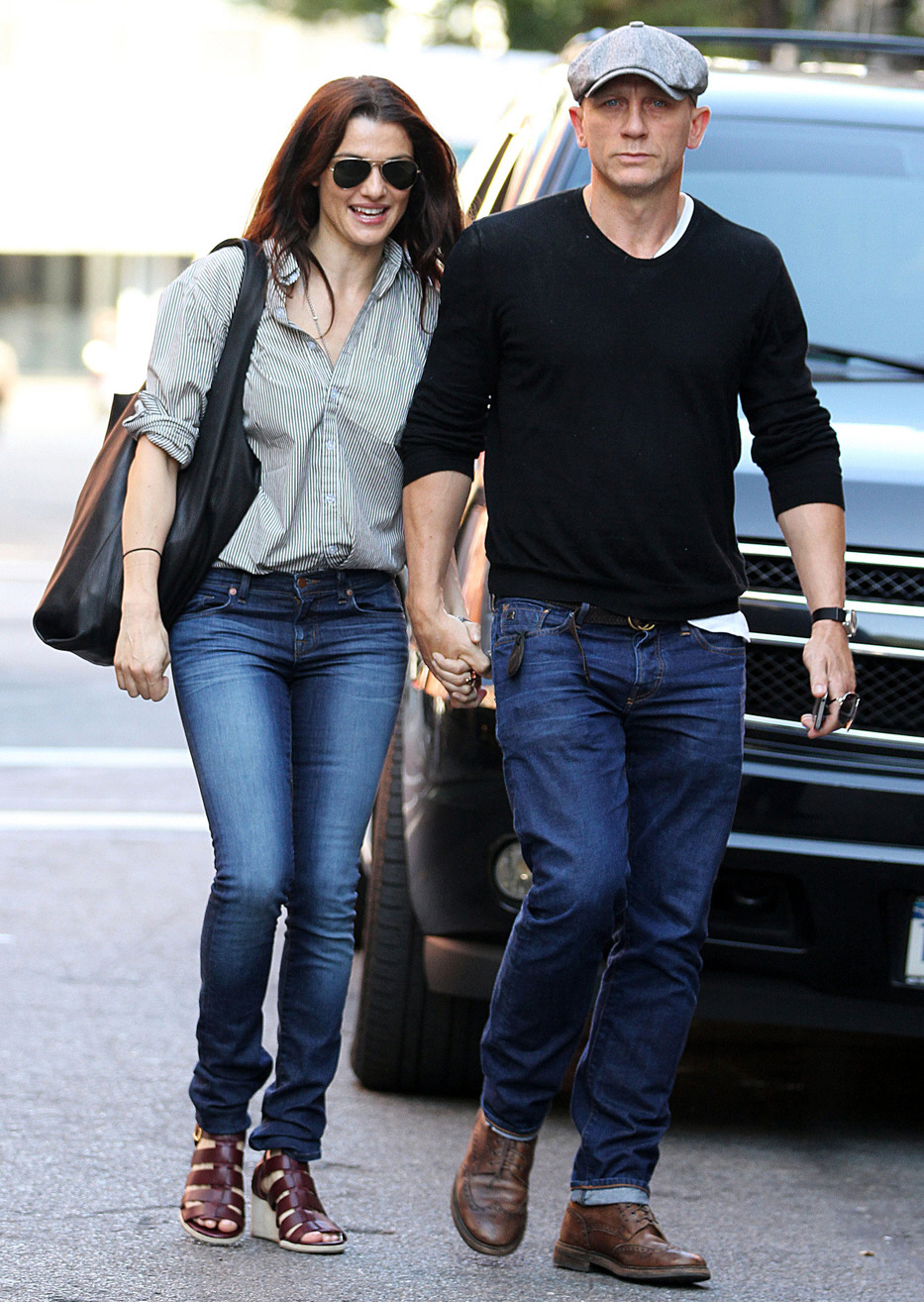 Photos courtesy of Vanity Fair and Pacific Coast News.