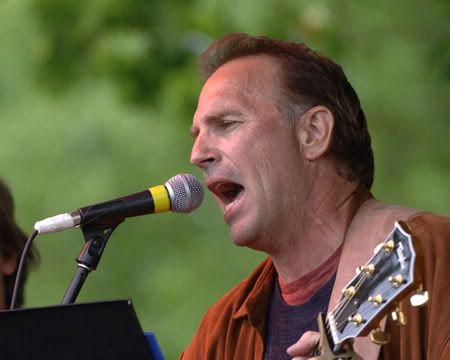 When I think of PeeWee Herman, I have to concentrate to remember the skinny pale guy in a bowtie with the weird laugh. That's because the first image that comes to mind is his disheveled mugshot.
Kevin Costner is lucky there is no photographic evidence of the fact that he jerked off while having a massage, because we might still think of the hot suave Costner from Bull Durham. When pictures like this of him come out, though, it's easy to imagine him doing the deed. (Although if you try and substitute old creepy Costner with young baseball player Costner it's kind of hot.)
The story is that Costner is said to have jerked off in front of a horrified female masseuse while honeymooning at a Scottish resort in 2004. Everyone speculated it was Costner a while ago, but the actor's involvement was confirmed, at least according to his accuser, when the court lifted privacy restrictions on the case last week.
One of Costner's exes has come to his defense, stupidly claiming that the hotel worker must have been rejected by Costner and is going through all this trouble to get back at him:
KEVIN COSTNER's former girlfriend BIRGIT CUNNINGHAM has leaped to the star's defence after hearing allegations the actor performed a lewd sex act in front of a masseuse while honeymooning in Scotland in 2004. The blonde socialite insists the screen star, who visited the five-star Old Course Hotel spa in St Andrews with his second wife CHRISTINE, would never be so "vulgar". And Cunningham, who dated Costner during the 1990s, has suggested the therapist may have fabricated the claims after being rebuffed by the hunk. She says, "Kevin is very romantic and tender, he would never do anything so vulgar. "He would be more interested in a long loving kiss rather than the naughty bit. He really is Mr Perfect, squeaky clean, if a little naive when it comes to realising the effect he has on girls. "Women are always throwing themselves at him but he hates being chased. Maybe she made an advance, was rejected and wants revenge."
Clearly this woman remembers the younger, hotter Costner of yore. Maybe that guy wouldn't have dared to get off in front of a bewildered masseuse, but creepy Costner didn't care.
Here is Costner performing with his new "garage band" at the BMW Charity Pro-Am golf event in Greenville, South Carolina on April 29th. Costner was the "headliner" celebrity golfing at the event. Other stars involved included hockey great "Wayne Gretzky and Brett Hull, quarterback John Elway, actresses Catherine Bell and Janet Jones-Gretzky, and actors "Cheech" Marin and John O'Hurley."