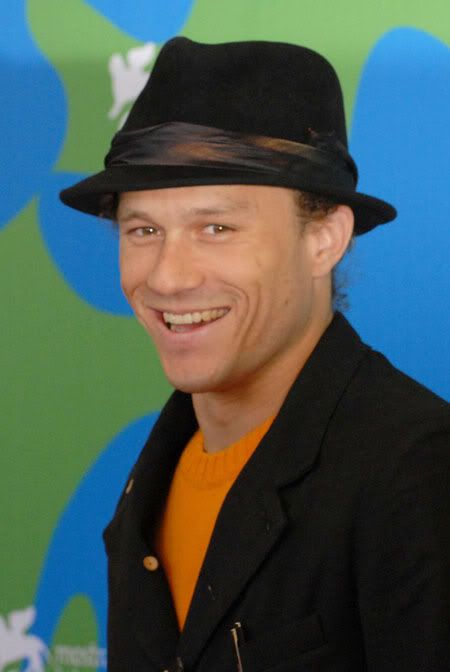 Heath at the Venice Film Festival on 9/4/07. Credit: WENN
Award season is coming fast. Pretty soon all this Academy Award speculation will turn into nominations, and one name that's been on everyone's mind since this summer is late actor Heath Ledger. His haunting performance in the summer smash "The Dark Knight" has just won its first award – an Australian Film Institute award for "Best Actor." Ledger's family attended the ceremony and accepted the statue on their late son's behalf.
Nearly a year after his death, Heath Ledger won a Best Actor Award in Australia for his role in The Dark Knight.

Ledger's father, Kim; mother, Sally and sister, Kate, tearfully accepted the Australian Film Institute's prestigious international award on his behalf.

"It's been without a doubt the most difficult year, losing such a loved family member," said Kate Ledger while struggling to keep from crying.

"We are so proud of him and humbly accept this award on behalf of his beautiful daughter, who we will cherish forever," she said, referencing Matilda, his 3-year-old child with Michelle Williams.

Ledger's performance as Joker in the Batman flick could earn him a posthumous Academy Award for best supporting actor, the Associated Press reported.

"It was this swaggering, psychopathic clown that turned his career into a legacy and the name Heath Ledger into an ongoing inspiration to actors everywhere," the Australian Film Institute said in a statement at the awards ceremony Saturday night in Melbourne.
Sadly, Heath didn't live to see the excitement he brought to this role. I suppose there will always be a debate among naysayers, who'll claim that the only reason this performance was so highly praised is because of Ledger's death. I disagree- I tend to think this would have been his superstar-making part, because it was so different for him. I doubt there's another actor of his generation who could have played the role the same way. But we will never really know, and that's too bad.