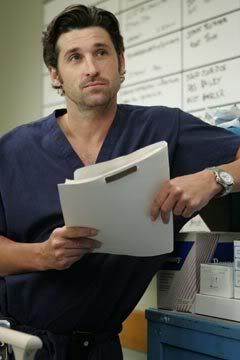 This is the second story from The National Enquirer's Mike Walker in which Patrick Dempsey stars at the hero of a supposed real-life medical drama, so take it for what it is. In October he was said to have saved a Grey's Anatomy crewmember who was suffering from a blood clot by calling 911 after he noticed that the guy looked sick.
Supposedly some kids were engaging in a bizarre practice I've never heard of, in which they let the car roll while dancing beside or on it. (I doubted anyone would actually do this, but there's a clip on YouTube so at least some idiot has tried it.) A kid predictably had his foot run over, and Depsey, who was randomly driving by and witnessed the dumbass scene, stayed with him and called 911.
Shocking moment for PATRICK DEMPSEY, who slowed down on a Hollywood street when he spotted teenagers playing that exciting new game, Ghost Riding the Whip – in which driver and passengers get out of a car while it's still idling slowly down the street and dance beside it. Suddenly … YEEEOW!…one dancing punk got too close to the tires – and the car ran over his foot! The "Grey's Anatomy" doc pulled over to help, and made a medical decision by calling 911…STAT! The teens were stunned to find Dr. McDreamy suddenly in their midst, but he told them he's not a doctor – he just plays one on TV. He stayed with the kid until the ambulance arrived – and real medics diagnosed a broken foot.
If I saw this in a regular newspaper I might believe it, but since it's the second hero story from Mike Walker about Patrick Dempsey I'm thinking it's either fabricated PR or grossly exaggerated. How often do people pull this stupid Ghostriding the Whip stunt and have you guys ever heard of it before?