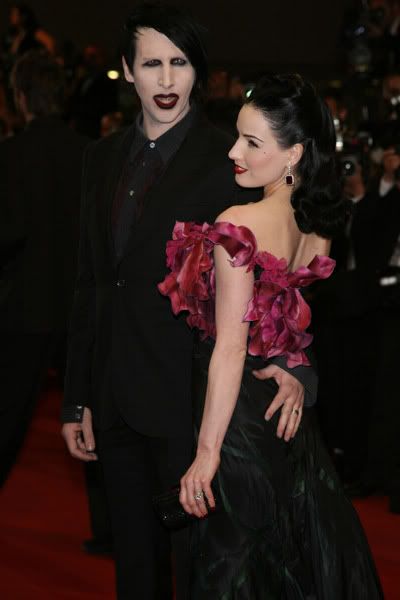 Haughty Dita Von Teese has enough fame on her own now and can get rid of the reason people paid attention to her these past few years. (Go ahead and tell me she's great and all, I'll take all your comments to heart and you're sure to change my mind.) Page Six reports that Dita's husband of one year, shock rocker Marilyn Manson, has been boozing and staying away from her and they haven't communicated in some time. Dita is about to serve divorce papers to Manson while he's recording and they claim she couldn't get in touch with Manson to even warn him about it.
Page Six has learned that the pasty-faced Manson, whose real name is Brian Warner, will be served with divorce papers today at a Los Angeles recording studio where he's working on his next album, with Von Teese citing "irreconcilable differences" in giving him the boot.

Sources say the raven-haired bombshell filed for the split right before Christmas, but Manson has been unaware of it because she couldn't get in touch with him.

"He's not been responsive," a friend said. "She loved him so much, but he has too many demons. He can't even communicate with her at this point. She tried to tell him she was divorcing him, but she can't even get him on the phone. She moved out of the house and he hasn't even noticed."

Friends say Manson had been boozing heavily last year, much to Von Teese's dismay, but she'd desperately tried to hold on. "She really tried to make this work," the friend said.
Why does this not surprise me? Maybe he's just sick of her and is drinking to forget about his mistake. Back in June I said that Dita and Marilyn weren't going to last after reading her comments about how much better she was than other hardworking strippers.
Dita and Marilyn dated for seven years before getting married in December 2005. They have some cats and dogs but no children.