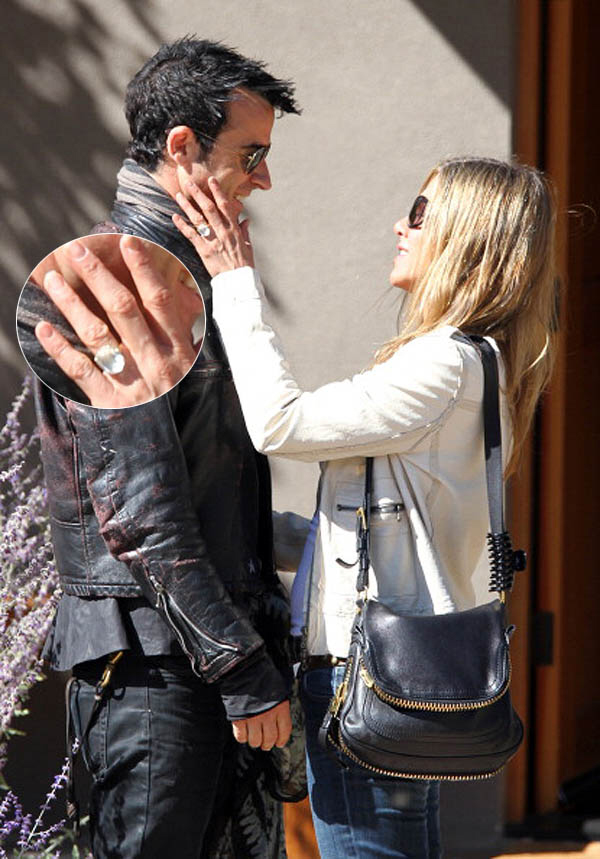 Note: we bought the engagement ring photo! HUZZAH. I'm so excited. Really! Anyway, people are still talking about Jennifer Aniston's ring debut. For whatever reason. I mean, I get that people hate the size and gaudiness of the ring, and I understand the hissy fits and all that. But I do think the more interesting story is two-fold: one, why did Aniston debut her ring RIGHT NOW, this week, after months of hiding it? And two, was this ALWAYS the engagement ring? Was this the ring that Justin picked out himself and used to propose to Jennifer? Anyway, there are more details about The Ring:
As we've finally caught a glimpse of Jennifer Aniston's massive engagement ring, given to her by fiancé Justin Theroux, we've begun speculating on just how big and pricy the stone is!

A jewelry expert tells us that might possibly be bigger than we ever imagined! Gemology and Jewelry Expert with 14 year of experience, Anthony Sarkissian of Beverly Hills' Premier Jewelry Lenders (Voted Best of Beverly Hills), gave his expert analysis of Jennifer's ring to HollywoodLife.com.

"If this is a fine quality diamond of at least 10 carats, which it looks to be from initial photos, we could be talking about a million dollar ring here," he says says. "10 carat and over diamonds command a premium price in the diamond industry, because they are more rare than smaller diamond."

"The ring looks to be a Cushion Cut or Oval Shape diamond, mounted in a classic Halo design. It may have Micro-Pave diamonds around the center stone as well."

"Once again, [Jennifer] is a trend-setter, going with a yellow gold setting. This is a popular trend in Europe right now, but we are just starting to see it here in the States," he continues. "We will definitely be seeing a lot more of the yellow-gold style in the engagement rings world, especially with [Jennifer] setting the trend."
Yes, I caught the yellow gold thing earlier but I didn't say anything. This is one of the few points where I will defer to Carrie Bradshaw: no yellow gold for engagement rings. And no pear shaped diamonds. Always err on the side of conservatism for engagement rings, I think. Aim for "classic" not "Real Housewife-gaudy". Also: I'd be willing to bet that this is more than 10 carats. I'd put it closer to 15-18 carats. I do have to wonder: is Jennifer getting the backlash unfairly? Is this gaudy thing actually Justin's taste?
Incidentally, Aniston was in Boston yesterday, and instead of posing for more photos with her ring, she stuck her hand in her purse to hide her ring finger. Haha.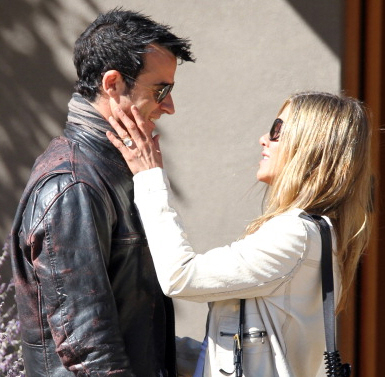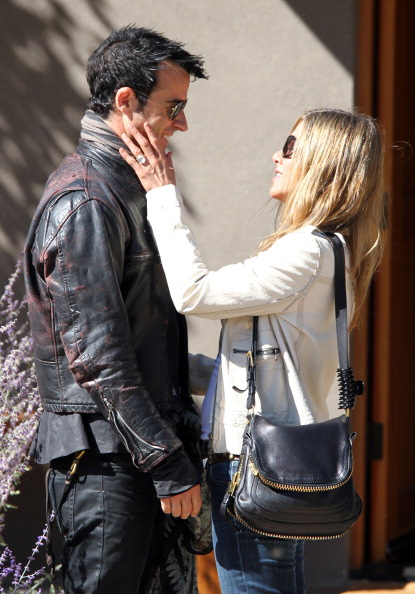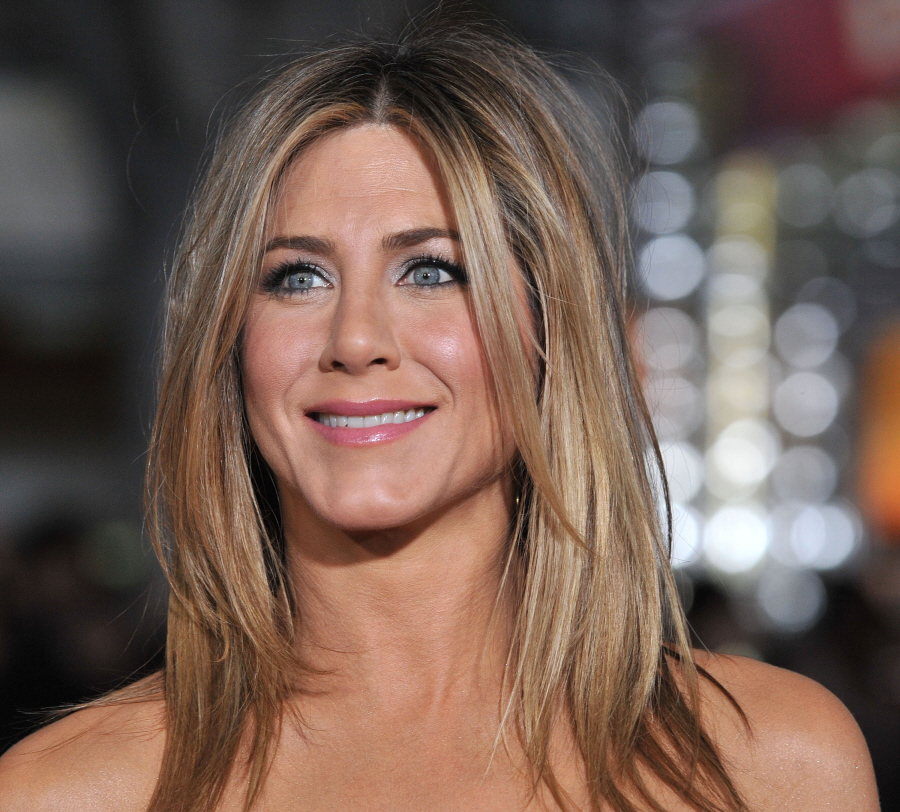 Photos courtesy of Jason Thomas/Filmmagic.