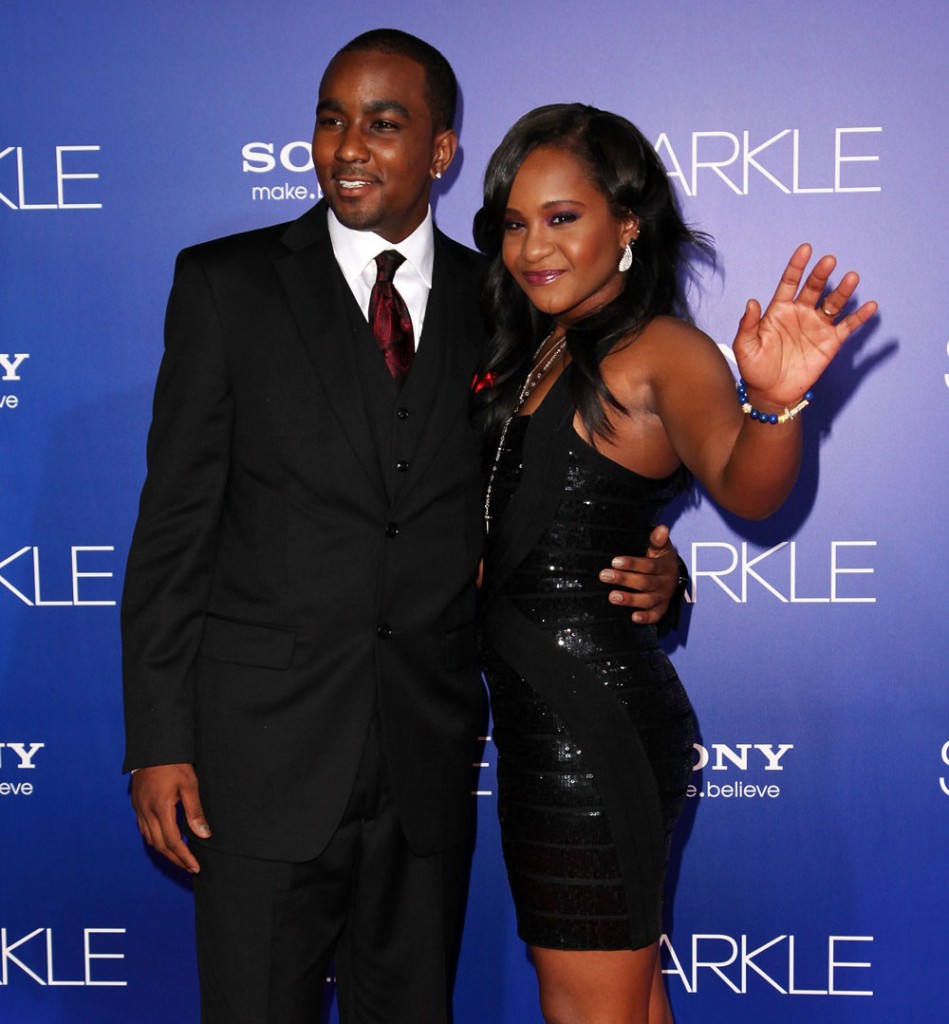 It's hard to write a title that accurately portrays this mess, and I tried to be as accurate and diplomatic as possible. We've heard that the late Whitney Houston's daughter, Bobbi Kristina Brown, now 19, was dating a guy named Nick Gordon in the aftermath of her mother's untimely death. Nick is 22 and was raised in the same household as Krissi (she goes by Krissi) since he was 12. He was basically raised as her adopted brother (although I haven't been able to confirm that Whitney ever formally adopted him) and they are said to have considered themselves brother and sister. So Krissi's mom died and she started seeing a guy she once thought of as her brother. It's disturbing on several levels, and Krissi's family doesn't approve. Whitney's mom, Krissi's grandmother Cissy, told a source that "what they're doing is incestuous." It wasn't technically incest as they're not related by blood, but it really creeped the family out.
Well now there's a new Houston family reality show coming to A&E, and in a promo for the show Krissi confirms she's engaged to Nick. Of course there's a reality show, and of course these two are engaged.
How does the family of Whitney Houston cope after her death? Now we can find out.

We have a special sneak peek promo of A&E Network's latest reality show, The Houstons: On Our Own, which shows how Whitney's loved ones have tried to move on since her passing.

And for Bobbi Kristina Brown, that means getting engaged.

Rumors of the 19-year-old's engagement to boyfriend and adopted brother Nick Gordon have been swirling around the Internet for quite some time now, but Bobbi kept denying the claims.

In the clip, you'll see the drama revolving around Bobbi Kristina and Nick's love affair (apparently, not everyone approves) and through what sounded like a nervous giggle, Bobbi announces, "We're engaged!"

Watch to see how they took the news and catch the premiere of The Houstons: On Our Own on Wednesday, Oct. 24.
This still bothers me, but I have to say that after I saw Nick supporting Krissi at the Billboard Awards in May, I came away with a different opinion of him. He really seemed to adore and support her. There were allegations that he latched on to Krissi after Whitney died in order to get his hands on Whitney's estate. They seem to really love each other at least. Again, it still seems wrong to me, and obviously Bobbi's family agrees.
Here's a shot of Bobbi's engagement ring, which is from Nick's Twitter and was posted in August. It's sapphire although I can't tell if those are real diamonds. Maybe it's an heirloom ring from his/their family. Shudder. [via Daily Mail]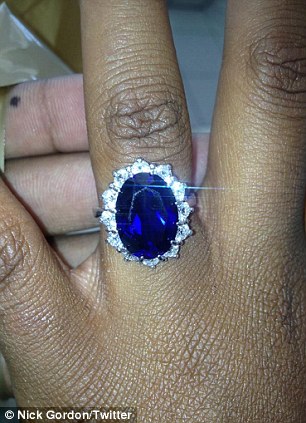 And here's a promo for their new show. We don't need more reality shows!

Another clip from the show. It shows how loved-up Krissi and Nick are, and how messed up Krissi is in the wake of her mom's death.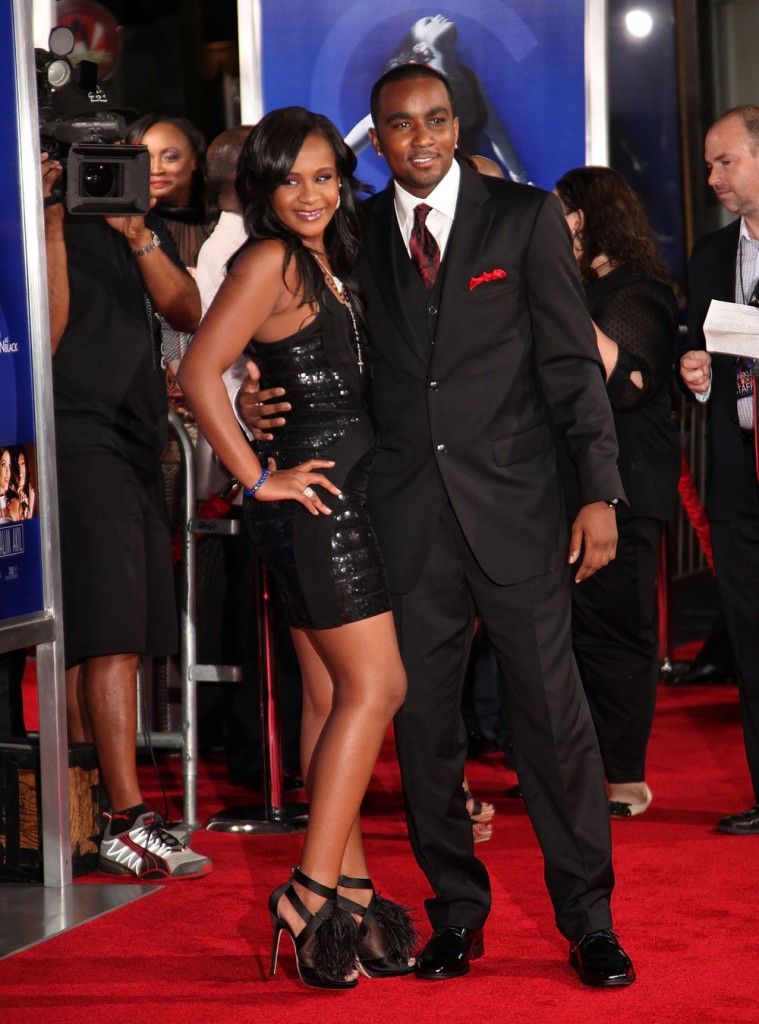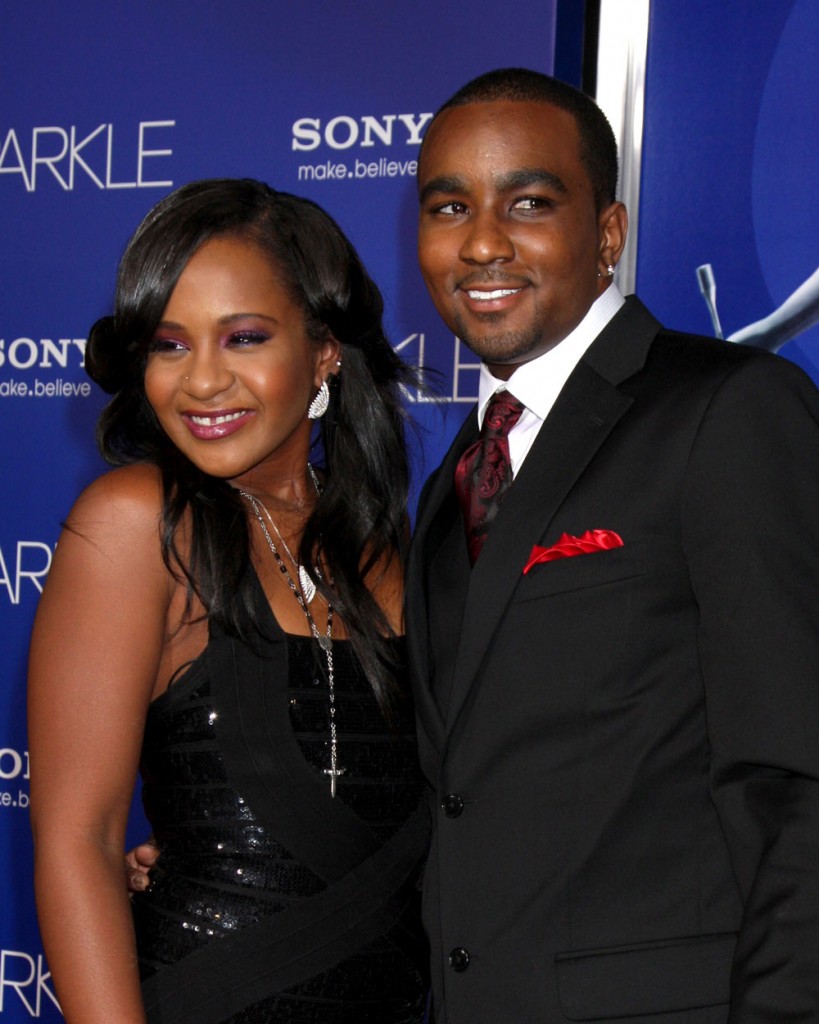 Krissi and Nick are shown at the "Sparkle" premiere on 8-16-12. Credit: WENN.com