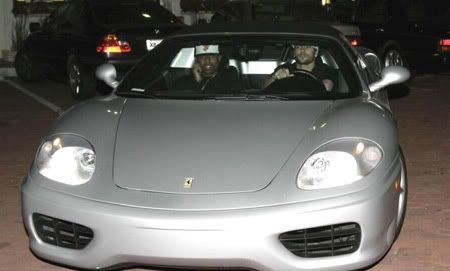 On April 13th, we reported that the Department of Children and Family Services announced that they closed their investigation into Sean Preston's highchair fall accident. We mentioned that it seemed odd that they would close a case so soon, considering that it usually takes months for them to investigate. It turns out that we were right, because Britney will now receive regular visits from the child welfare agency. They have made careful statements saying there's no "ongoing investigation," but they're still going to check in on her:
Britney Spears will be visited twice every month by social workers who wish to check up on the well-being of her son Sean Preston.
The Department of Children and Family Services have told the singer that it is routine procedure to make regular visits to her household as Sean was treated for head injuries this month.
"Initial visits showed no parental neglect whatsoever," a source told the Daily Star. "But it's routine to have follow-up checks. It would be important to meet any new nanny or carer, for the purpose of updating records. There's no investigation pending."
Seven month-old Sean was said to have suffered from a skull fracture, which may have occurred from a highchair fall or a reported fall off the couch when his father Kevin was supposed to be watching him. Sean Preston did not have a skull fracture or a blood clot, and those reports were false. He did suffer some kind of head injury that made him sleepy, though.
Britney is said to be five months pregnant with her second child. News reports went back and forth as to her pregnancy status, with the latest news stating that it's true. When questioned about his wife's pregnancy at a recent radio station appearance, Kevin said "I wouldn't bet on it."
Here is Kevin going out to dinner at the restaurant Nobu with a friend. Pictures [via]