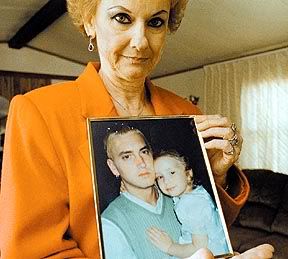 Eminem is having a rough month. His second marriage to Kim Mathers broke up admit allegations of his drug abuse, his best friend the rapper Proof was shot and killed, and his mother is dying of stage four breast canncer. Eminem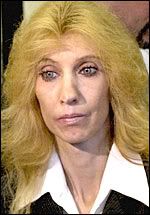 must have learned something from tragedy, because he's decided to put aside the long-standing feud with his mom and has spoken to her for the first time in years. He's even paid some of her massive medical bills:
Eminem and his mother Debbie Nelson famously fell out after which he attacked her through his songs; she then sued him for defamation in 2002 claiming $7million.
However, now that Nelson has terminal cancer, Eminem is desperate to help. A source told The Sun: "The nightmare Debbie has been going through with her cancer has put everything into perspective.
"She is very weak and knows the prognosis is bleak. She is desperate to build bridges with her son and put things right before its too late.
"He has started helping her financially with her medical bills. They've spoken a few times on the phone and she desperately hopes he will visit her."
It's nice that Eminem is making an effort, but what the hell is wrong with him that he hasn't visited his mom in the hospital?
Meanwhile 50 Cent says that Eminem is going to be ok and that hip hop reflects the state of violence in African-American culture and is not the cause:
He says, "He's coming along. He's gonna be all right. I mean, it was definitely a big loss for him. Proof was actually his best friend in the world from forever."
The rapper insists that the sometimes violent lyrics in hip-hop music did not play a role in Proof's murder. He adds, "I think that the violence that happened to Proof and the violence that's happening across America right now has nothing to do with hip-hop. It has something to do with the people – the state of them – and the music doesn't alter that."
Maybe Eminem will actually see his mom before she dies. It might help him realize how important family and friends are, and how you shouldn't hold a grudge.