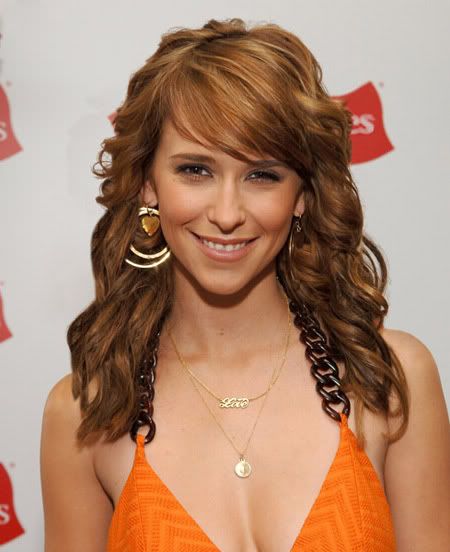 Poor Jennifer Love Hewitt got her gorgeous black hair bleached blonde and cut short last week. She realized it looked bad, though, and seems to regret it:
She explains, "I chopped it off and dyed it another color. And then it will all go back. The hair looks good with some outfits and not good with others."

Instead of just laying low and letting herself get used to it, maybe styling it differently, she dyed it a reddish color and got extensions put in.
J.Love – the way to cope with a bad haircut is by waiting a while. Unless the cut is lopsided, you are bound to make a rash decision if you change it right away! It does look a little bit better, but not much. Please don't mess with it any more.
She appeared with her new hairstyle at the launch of the new Hanes ComfortSoft underwear on Saturday. Notice in the picture of JLove posing with the Hanes models that she is fully clothed. Of course she would have been a lot cuter with plain hair and in her undies too, especially since her orange dress is God-awful.