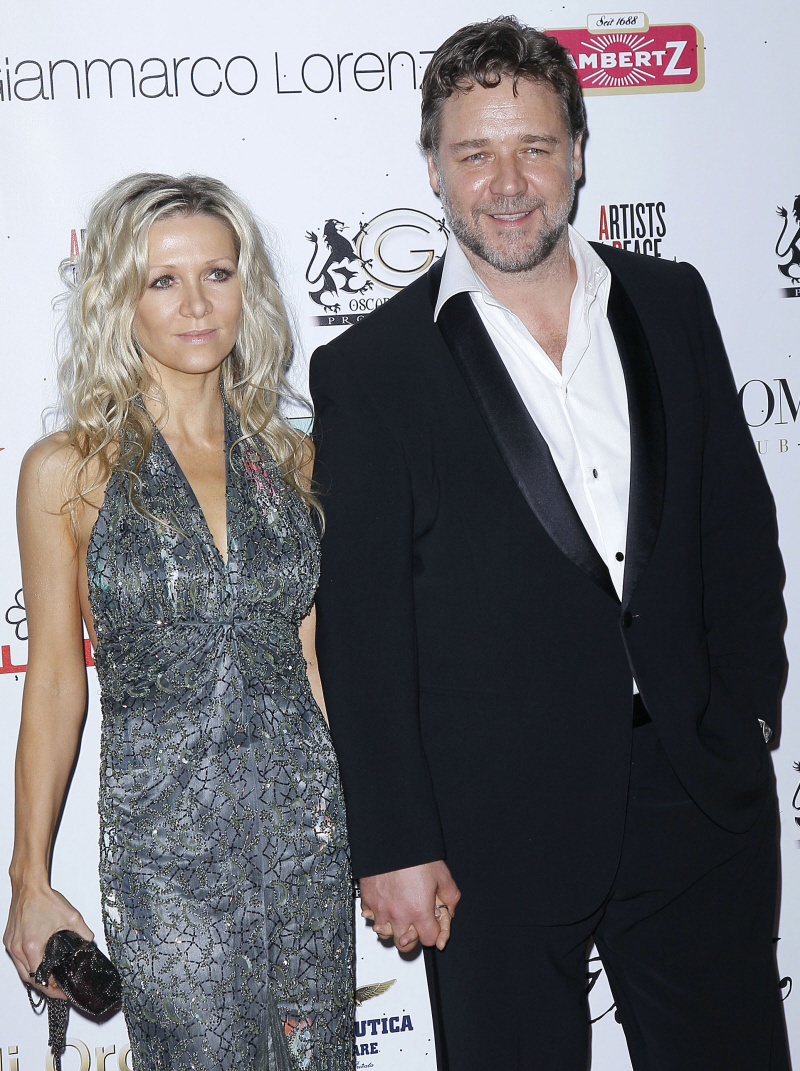 Oooh, this is a decent scandal that is not wholly unexpected. I mean, I was kind of shocked when I read this headline, and yet it made some kind of sense to me. Russell Crowe and his wife of nine years, Danielle Spencer, have separated. They have two sons together, Charles and Tennyson. Right now, the explanation given for the split is his schedule – he's been working a lot lately, and he has even more films to come. But is it ever that simple? Put another way: do you buy that Russell Crowe – with his sometimes sordid romantic history – would split up with his wife because he was working too much?
Gladiator actor Russell Crowe and his wife of nine years, Danielle Spencer, have separated, according to a report in Sydney today. The 48-year-old Oscar-winning actor and his 43-year-old singer wife have gone their separate ways, with Crowe turning his undivided attention to his acting career after the split, said the report.

The couple, who have two children – Charles and Tennyson, aged eight and six – have parted on friendly terms, the children remaining with Miss Spencer while her now-estranged husband continues filming the biblical epic Noah in the US.

The report has come as a shock to showbusiness circles in Australia because the couple were regarded as a having a strong marriage despite the demands of their careers, with New Zealand-born Crowe in constant demand for film roles while his wife, whose mother is English, has managed caring for the children as well as singing and appearing on Australian TV.

They were married in a chapel on Crowe's farm in the hamlet of Nana Glen, in northern New South Wales, in 2003, following which they lived in a penthouse on the shores of Sydney harbour before moving into a £6 million mansion in the posh harbourside suburb of Rose Bay.

The Sydney Morning Herald, which broke the news of the split today, said Miss Spencer was the quiet, unassuming woman who tamed the Gladiator with her calm and steady nature. She once said of her husband's fame and fortune that 'all that stuff has nothing to do with me as a person.'

Despite the general belief that they were a strongly-bonded couple, some critics were surprised to note that Miss Spencer had been photographed on a night out with Damian Whitewood, her dance partner in a tv show, Dancing With the Stars, a few months ago. Crowe made a big point of dismissing rumours about their relationship later when he gave his wife a lingering kiss in front of the cameras at Sydney airport.

But the demands of his acting career have kept him away from Miss Spencer for much of this year. He has also missed most of the games of the Sydney rugby league club in which he has a financial interest and has left his wife to care for their children. He has six films coming out in the next 12 months – Man with the Iron Fist, Les Miserables, Broken City, Superman, Noah and the Winter's Tale.

The couple met 22 years ago on the set of the movie The Crossing, but before developing his relationship with Miss Spencer he had a much publicised romance with Meg Ryan. He said of Miss Spencer after their marriage that the thought of marrying her had crossed his mind the first time he had met her. Miss Spencer was careful with her words when her husband was involved in a phone-throwing incident in a New York hotel seven years ago after he was unable to get through to her.

'I'm not condoning his behaviour,' she said. 'I don't want to make excuses for him because I'm certainly not. But I do understand when you're apart that the loneliness kicks in.'
If you go to that Daily Mail link, you can see the photos of Danielle with that dude Damian Whitewood – it does look like there could be something shady going on. Would Rusty's wife cheat on him? Hm. Would he cheat on her? Hm. I really don't know – my feeling right now is that there's more to this than just a scheduling issue. But here's an interesting question: what does a single-and-ready-to-mingle Russell Crowe look like these days? Who would Russell make a play for at this point? He likes blondes, if that makes a difference. Who is available and blonde these days?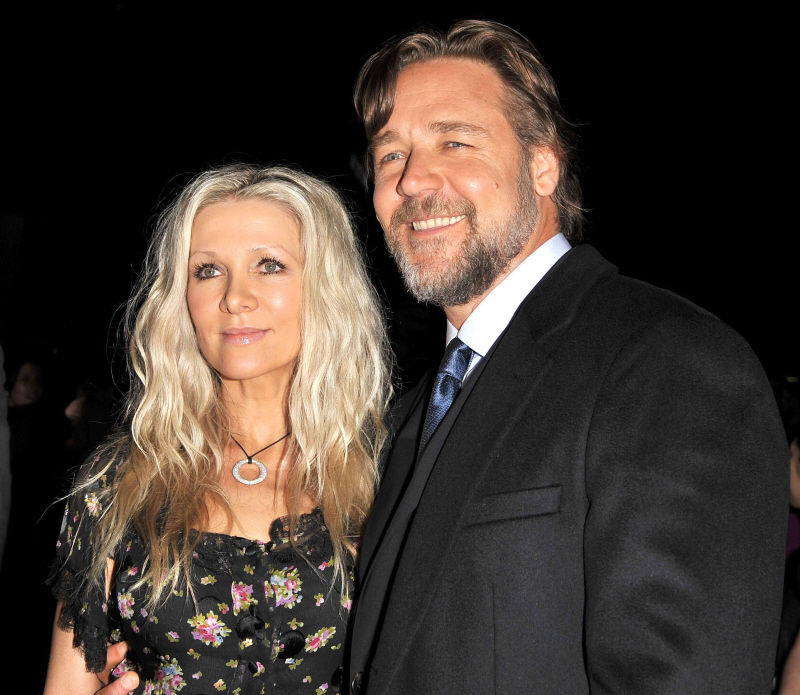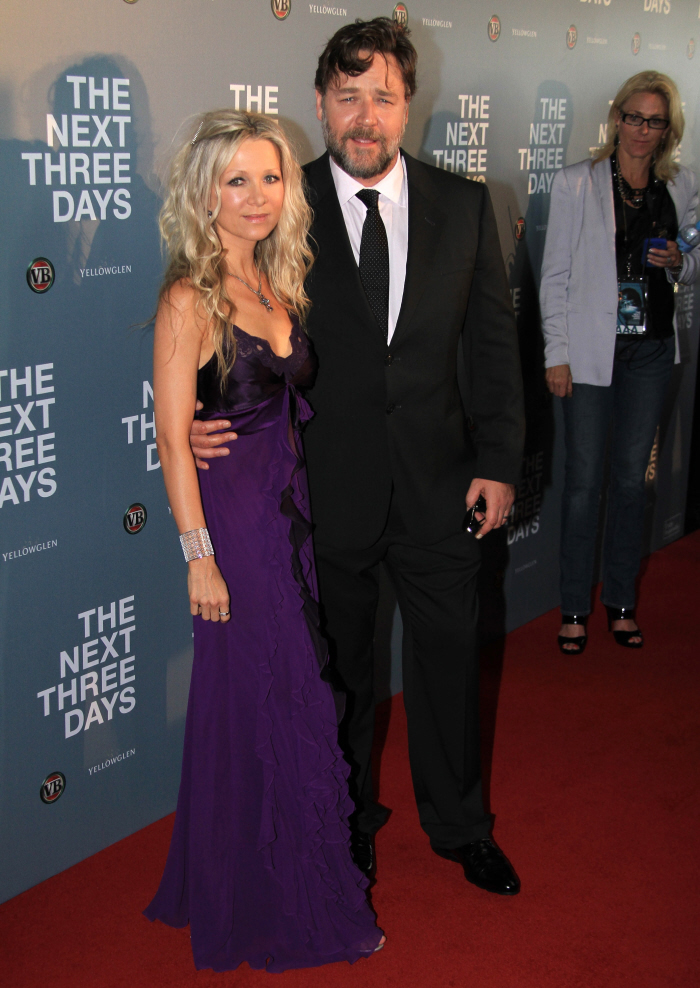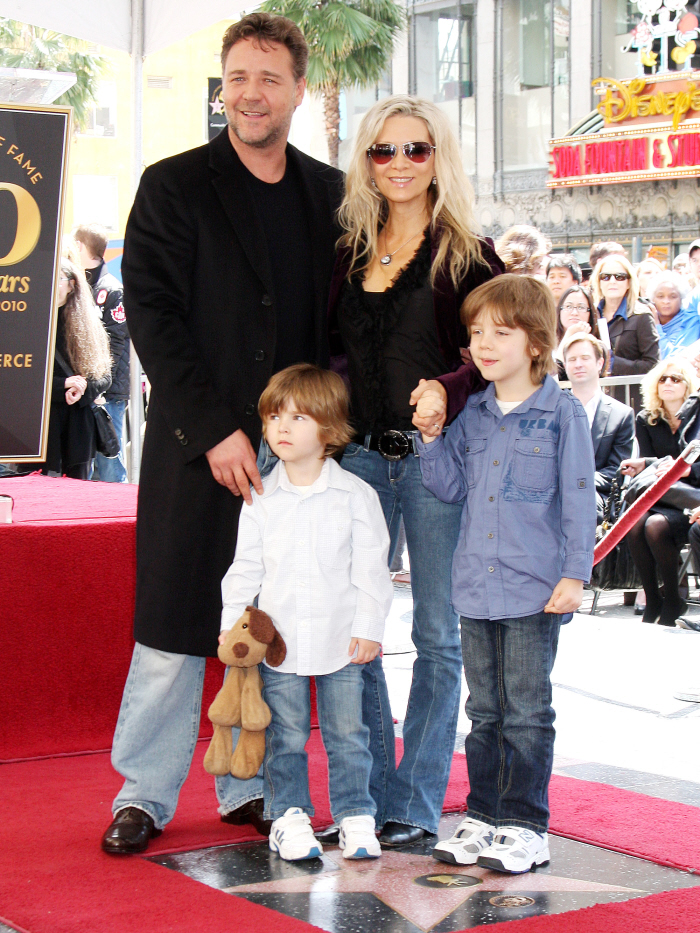 Photos courtesy of WENN.