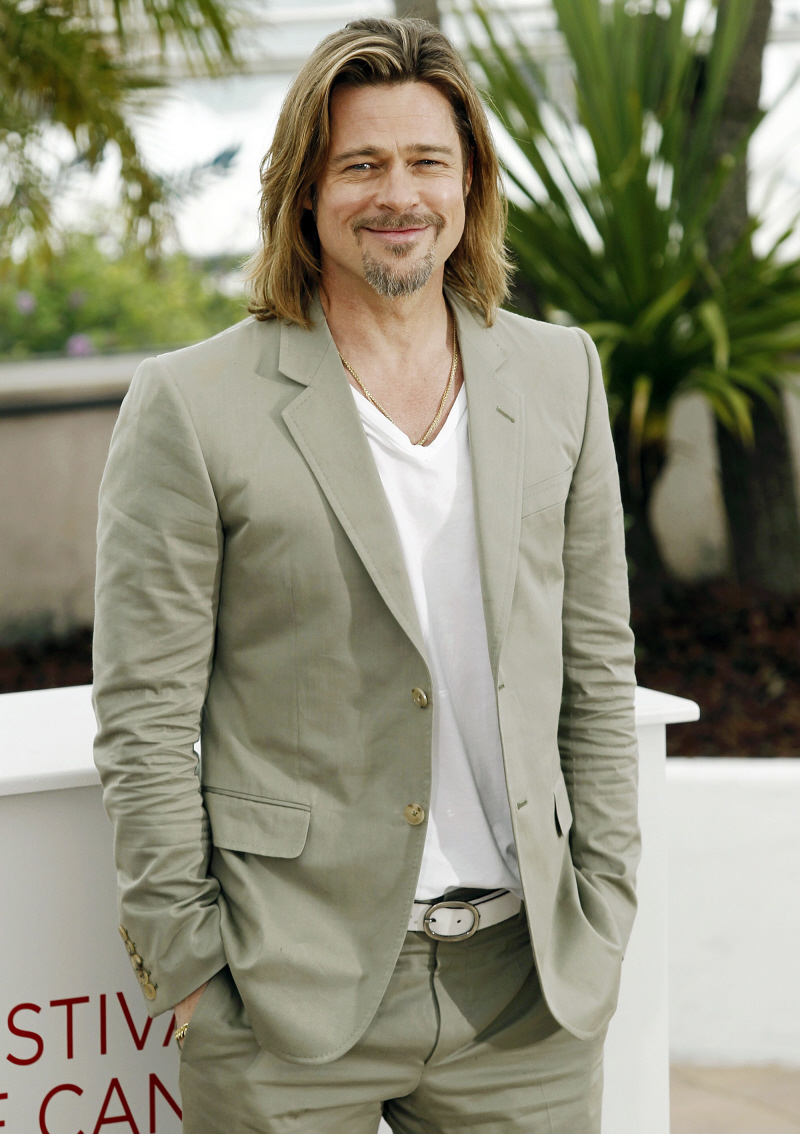 In addition to his film Killing Them Softly (out in November) and his Chanel contract (the ads are due out tomorrow), Brad Pitt has another side project to promote: he's the executive producer on a documentary called The House I Live In, directed by Eugene Jarecki. The documentary is about "what President Richard Nixon coined 'the war on drug abuse' in 1972. The film looks at how things have exploded since then, how we ever got there in the first place, and what the hell it all really means." Brad made an appearance at an LA screening for the film on Friday night (we don't have those photos, sorry), and Brad ended up discussing his own drug use and his thoughts on The War On Drugs (and Drug Users). You can read the full interview here, at HuffPo, and here are some highlights:
Brad's drug confession: "My drug days are long since passed but it's certainly true that I could probably land in any city in any state and get you whatever you wanted. I could find anything you were looking for. Give me 24 hours or so. And yet we still support this charade called the drug war. We have spent a trillion dollars. It's lasted for over 40 years. A lot of people have lost their lives for it. And yet we still talk about it like it's this success."

What Brad thinks of 'The War on Drugs': "[It] is possibly a barrier to keep the impoverished down. To keep them shackled. And I thought well that [producing this documentary] may be even too liberal for me [laughs], but we just came off of Hurricane Katrina. We had just witnessed that there was a particular portion of our society that was being ignored and that this could be the case."

Brad on why we don't even talk about drugs in this election: "It's been this taboo subject forever -– unless you're claiming victory for a bust or a win. It's absolutely taboo to talk about it as a failure. Which it is. It's an incredible failure… If we spent a fraction of that on education …"

Brad on what the "War on Drugs" is really about: "Certainly that it's a backwards strategy that perpetuates itself. But also Eugene came at it in a way that I had never thought about before. That the drug war is actually being used to hold a portion of our society down. It's staggering to me what is being perpetrated in this name of a war on … immorality. It's criminal in itself. And we've got to look at that. We have to change that."

How we end the War on Drugs: "The only way to end the war on drugs is to take the profit out of it. I know this comes with a whole other host of problems and I don't know if I'm actually presenting it as a reality, but we have to look at the what-if-everything-was-legal and people were allowed to make their own choices. And we were treating it less as a criminal issue and more as a sickness. People do drugs to escape. We're not talking about experimentation. People with long-term drug use are escaping."

Brad on de-criminalizing drugs: "There's another issue. You can control quality. The quality of drugs is higher than it's ever been, but it's still all over the map. If you decriminalize, then they could control the quality."
The HuffPo interview is actually with Brad and the director, Eugene Jarecki, and Jarecki has a lot of interesting stuff to say about decriminalization and how our war on drugs has fundamentally changed the Mexican economy. It's a fascinating discussion, and even if you don't agree with Brad and Jarecki, I do wish this was a larger discussion in our society, and I wish politicians (from both parties) could discuss this situation with an eye towards the realpolitik.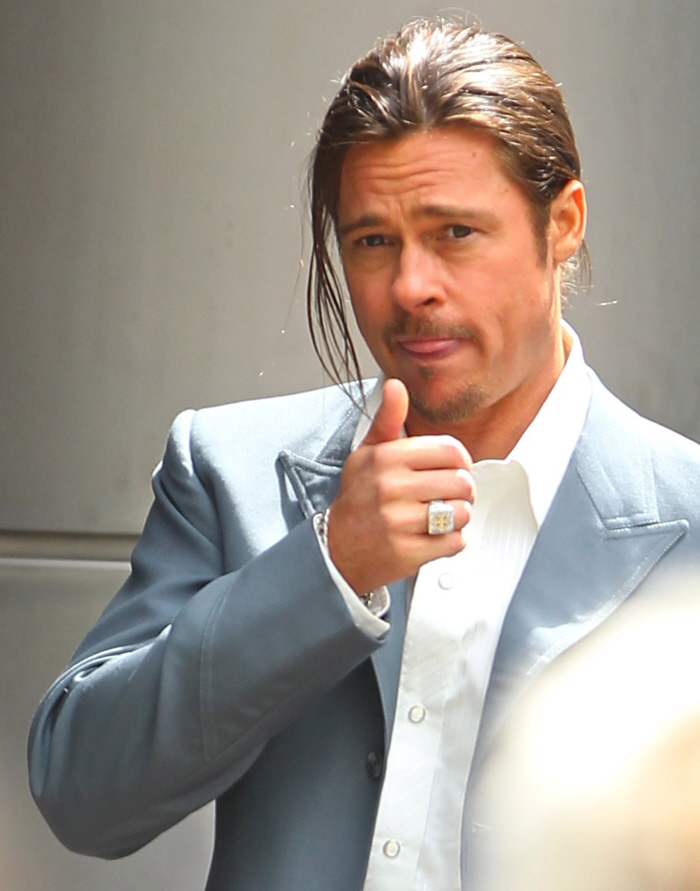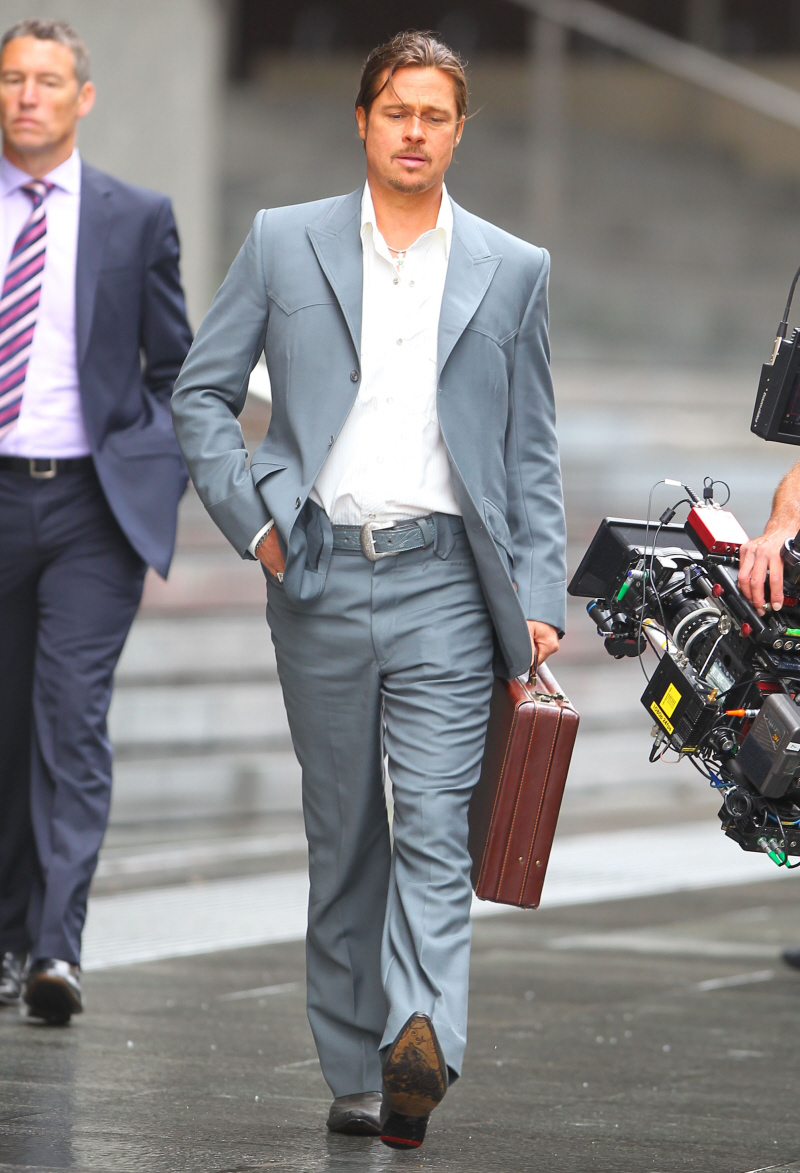 Photos courtesy of WENN.