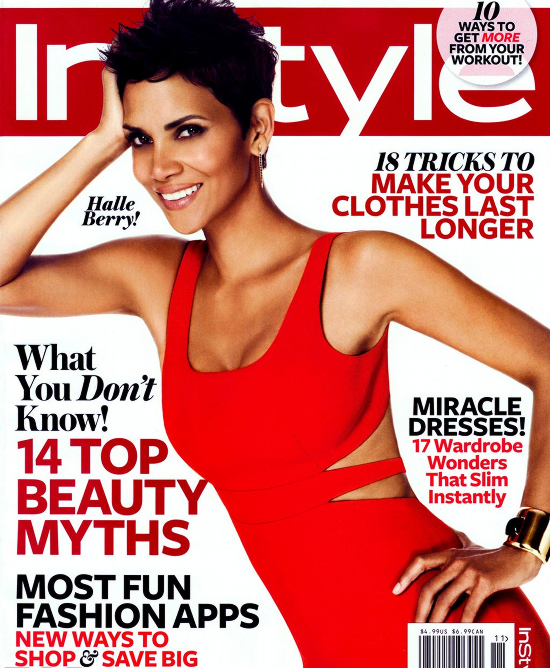 Halle Berry covers the November issue of In Style, on newsstands Friday. She looks amazing on the cover in a tight red cutout dress, but we wouldn't expect anything else from her. You can say a lot of other things about Halle, but she usually looks incredible. An inside photo shows Halle in some ridiculous loose leather pants and fishnet gloves. I guess leather jodhpurs are in for that tiny subset of people with too much money and no sense of shame.
In her interview, Halle covers a lot of topics that the press is interested in: her custody battle and bid to move to France with Nahla, her fiance Oliver Martinez, her hair, and aging. (Not that she is actually aging.) I have to say that Halle talks a good game. She makes it sound like she wants to move to France for Nahla's own good, and so that Nahla doesn't inherit Halle's own inflated sense of self. (Not that she actually said that.) It's all about Nahla not feeling "special" because she's followed by photographers, and about Nahla not growing up "around the tabloids." It would have been more accurate to say she doesn't want Nahla "to grow up around her father." We have yet to how everything will turn out for Halle, Gabriel and most importantly, Nahla. That case is taking quite a while and I hope that means Halle will have to stay put. Here's more:
On why she wants to move to France
"It's the appeal of privacy and a greater sense of safety for Nahla. I don't want her to grow up around the tabloids. Because we are followed all the time, she is starting to feel like she is somehow special, and of course she is, but I want her to understand that she's special because of who she is, not because she was born into this celebrity blender."

On her custody battle
"There is turbulence, bit this too shall pass."

On her wedding plans:
"I do know it will be very small. I haven't been to many weddings, but I went to one this weekend with 250 guests. I thought, Wow – so this is a wedding, huh? I've never had that, nor have I wanted that. I wasn't even trying to catch the bouquet!"

On her fiance Olivier Martinez:
"When I first met Olivier, there wasn't the initial 'I'm in love!' It was something that grew more gradually—and it feels more real because of that. [Marriage] is another one of those never-say-never things. I'm a hopeless romantic, and I won't stop till I get it right!"

"He's silly, a clown, and very much the life of the party, which is good for someone like me. Danny Downer … been there, done that. Now I like Louie Lightfoot!"

On aging in Hollywood:
"Throughout my career I have been talked out of things I wanted to do, and when I look back I think, I should have followed my instincts. I relied on others to guide me because I thought they knew better. But as I've gotten older, I've learned to trust myself. Don't stress about your age or fight it. Appreciate the young women who look like you once did, but don't strive to be like them. You're moving into a new phase of your life—embrace it. That's what I hope to do."

On not being defined by her hairstyle:
"I think I am at my best when my hair is short. It's easier to take care of and more of who I am. Women are conditioned to think we need long hair. I see that happening with my daughter. She is so in love with her hair right now. She says, 'Look, Mommy—it's so long!" As women, we think it defines us, and we learn that at a young age."
[From InStyle via Celebrity-Gossip and People]
Now we know that Halle is planning a small wedding, and that she considers it "embracing aging" to get subtle work done at the dermatologist. I'm not saying she looks toxy or filled, she doesn't, but she's had some minor things done. I would too in her position, but I like to think I would be more honest about it. (Who knows though.) The main thing that bothered me about this interview was how Halle used her daughter as an example of women being "conditioned to think we need long hair." I only have a little boy, I can't speak for girls, but he was into boy stuff from a very small age, like cars, trucks and robots. It really seemed ingrained to me and not influenced by society, media, or family at all. He just wasn't interested in girlie stuff and there was nothing that would have changed that. Of course we need more role models for girls that are not naive Disney princesses waiting for their savior prince, but a preference for long hair doesn't mean that society is defining it for a child. She's just a little kid. I went through a phase where I refused to wear anything but dresses. At least Halle doesn't insist her daughter cut her hair.
Here are photos of Halle out with Olivier Martinez on 10-12, and alone on 10-16. Credit: FameFlynet. Instyle photos credit: Credit: Giampaolo Sgura for InStyle via The YBF