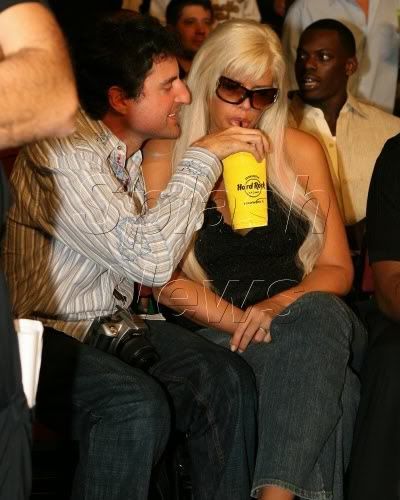 Trashtastic Anna Nicole Smith and her weird boyfriend/lawyer Howard K. Stern took in the Samuel Peter vs. James Toney boxing match Saturday night in Florida. Smith and Stern are stateside by court order, and must submit Anna's baby to paternity testing by January 23rd. Stern claims to be the father of the baby but the general consensus is that paparrazo Larry Birkhead is the biological father. Birkhead is suing Smith for custody.
MSNBC's The Scoop reports that Anna is trying to set up an offshore company in order to hide potential assets from Birkhead. Anna is still fighting for a piece of the $1.6 billion estate of J. Howard Marshall, the 89 year-old guy she married and jerked off for a year before he died in 1995. His son, who was trying to bar Anna from cashing in on the will, passed away last summer, but word is that Anna doesn't have much of a chance of getting the money now.
Anna Nicole showed off a new huge back tattoo that features her and her baby Dannielynn in a cute pose together. I first thought it was Anna's departed son Daniel on the tattoo, but now it looks more like Anna to me. Whoever did the tattoo was probably as medicated as Anna usually is, and they certainly weren't a talented artist. It would make more sense if it was supposed to be Daniel, but doesn't it look like Anna?
These pictures show what a parasite Howard K. Stern is. He looks like he's smelling Anna's hair here and in every photo he's grabbing onto to her. What a freak he is.