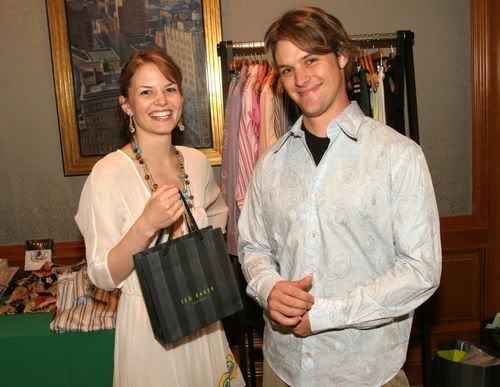 I didn't even know these two cuties were dating, but Jennifer Morrison and Jesse Spencer, who play young doctors on the excellent Fox series House are engaged. My husband loves that show and is always quoting House.
Actress Jennifer Morrison and actor Jesse Spencer, who costar on FOX's hit medical drama House, became engaged over the holidays in Paris, PEOPLE has learned.

Morrison, 27, who plays Dr. Allison Cameron, and Spencer, also 27, who portays Dr. Robert Chase, met while filming the pilot for the series, which debuted in 2004.
Jennifer Morrison was born in Chicago and got her start as a child model appearing in catalogs and commercials. Jesse Spencer is Australian like his character Dr. Chase on House. He started out in the popular Australian soap Neighbours. His father, two brothers, and sister are all doctors in Australia, which must give him a lot of insight into his character. Wikipedia claims that his family members watch House and enjoy trying to figure out the rare medical conditions before they're diagnosed on the show.
Congratulations to Morrison and Spencer. They make such a cute couple and every time I watch the show I'll now be looking for little signs that they're being flirty with each other.