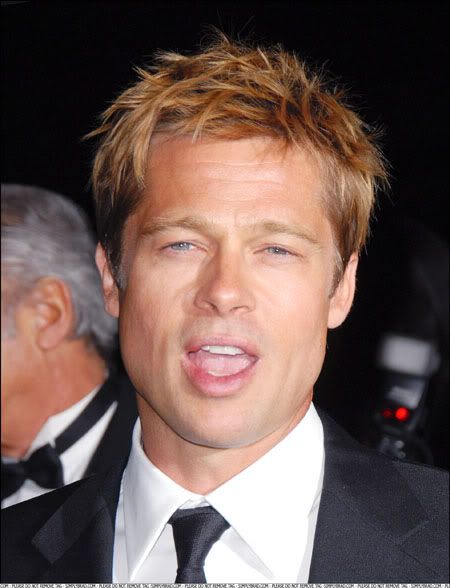 British newspaper The Guardian has a cautionary piece for Brad Pitt, saying that his career isn't as great as it once was and that he can't measure up to Matt Damon's rising star. Damon has a big hit with the Bourne series and is playing meaty roles lately like in the super-boring Good Shepherd. All Pitt put out last year was Babel, which The Guardian deems pretentious, and although he's been working a lot lately 2007 doesn't have many great movies in store for Pitt.
They say the only promising film that Pitt is making in 2007 is The Curious Case of Benjamin Button, which won't come out until Christmas time. The Oceans movies are kind of dragging him down, and he's not really standing out in any films.
They say he hasn't made any standout films since 1999:
That was 1999, and the last time he seemed awake and having fun. Moreover, from the outset, audiences have fun to the degree that he's having a good time. We like to see that cheeky grin. But what we got instead was a series of films where the smile was fake or absent: Snatch, The Mexican, Spy Game (with Robert Redford – the kiss of death), Ocean's Eleven, Full Frontal, the flat-out disaster of playing Achilles in Troy (I don't think Achilles ever smiles), Ocean's Twelve and Mr & Mrs Smith.

The latter was a hit, because the public was interested to see him with Angelina Jolie, yet it was hard to avoid the feeling that she was a lot sexier and smarter than he was. As for the two Ocean films – where he plays sidekick Rusty Ryan – they may have seemed like three months out with the boys and a sure cheque, but they have done no one involved any good. George Clooney survives because of all the other things he does. The same goes for Matt Damon. But Brad Pitt is behaving as if they were real jobs of work.

He has plenty of work coming up, including a third Ocean film, The Assassination of Jesse James (which really seems to be a film about Ben Affleck playing Bob Ford), and yet another David Fincher project, The Curious Case of Benjamin Button, which comes from an F Scott Fitzgerald story about a guy who keeps getting younger (a nice hope). I'd say the Fincher picture can't come too soon, but it's not likely to appear until next Christmas. Time for Pitt to think very hard about that crew cut he's adopted, to learn to smile again, to say goodbye to Ocean and to realise that Angelina Jolie is riding her own private tsunami which other people are not expected to survive.
I say when you're a star like Pitt and make so much money, who cares? It's not like he's Ben Affleck and has to be super careful about the films he's making. He already has a great career and although he hasn't won an Oscar or anything he's not likely to slip from the A list. Sure DiCaprio, Damon and Craig are now stars to watch out for, but Pitt will always set women's hearts aflutter.
He looks a little bit weathered now although he could be just tired out from a gruelling schedule. He is shown at the Palm Springs film festival on Saturday, where the cast of Babel received an award. When asked if he would have more kids with Angelina, he gave their standard answer "Of course." Pitt, Jolie and their family will be living in New Orleans for the next few months while Pitt is filming The Curious Case of Benjamin Button.
Pictures from SimplyBrad. Thanks to WeSmirch for linking this story.