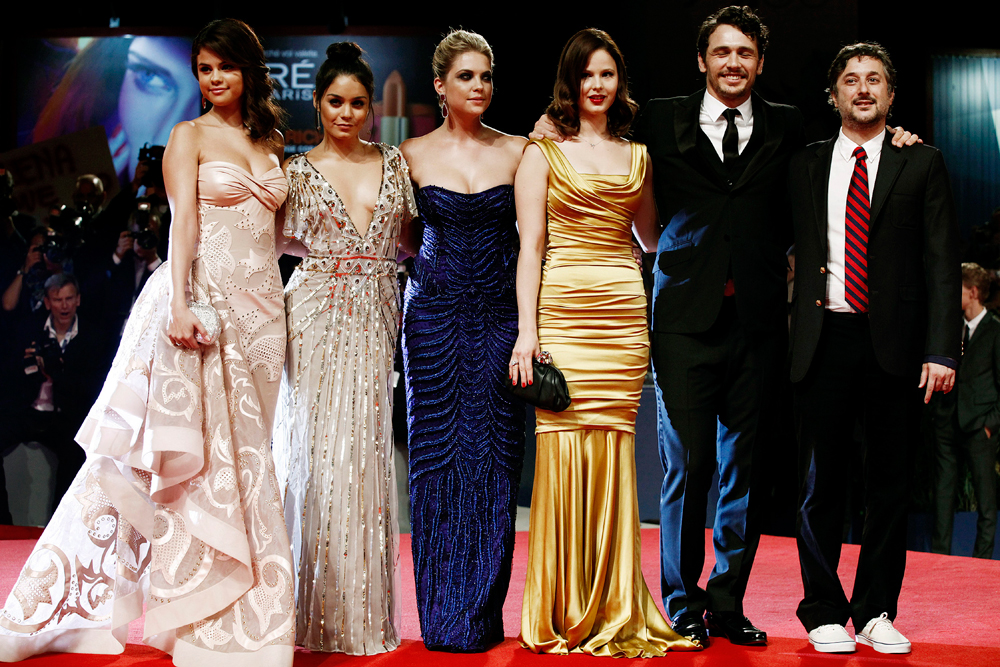 Sometimes it takes me a few minutes to get revved up enough to write about James Franco and his living, breathing, everlasting life of AART. As such, it's awfully suspicious (in terms of art) when James decides to start dating a co-star from one of his (arty) projects, which is the case where Spring Breakers is concerned because Franco is now dating Ashley Benson, who is the blonde in these photos. It feels pretty sketchy, but that's probably just because Franco is involved. Sketchy as in calling an Etch a Sketch ART, which is probably something that Franco has done at some point in his (art-filled) life.
Here's the details. A source told Page Six that Franco and Benson were spotted together walking in Washington Square Park and holding hands at the Los Angeles Haunted Hayride over the weekend: "They have been seeing each other for a little over a month, but things are going well." But if they were truly seeing each other for a month, why was Ashley photographed here on 10/12 with her boyfriend of several months, Ryan Good?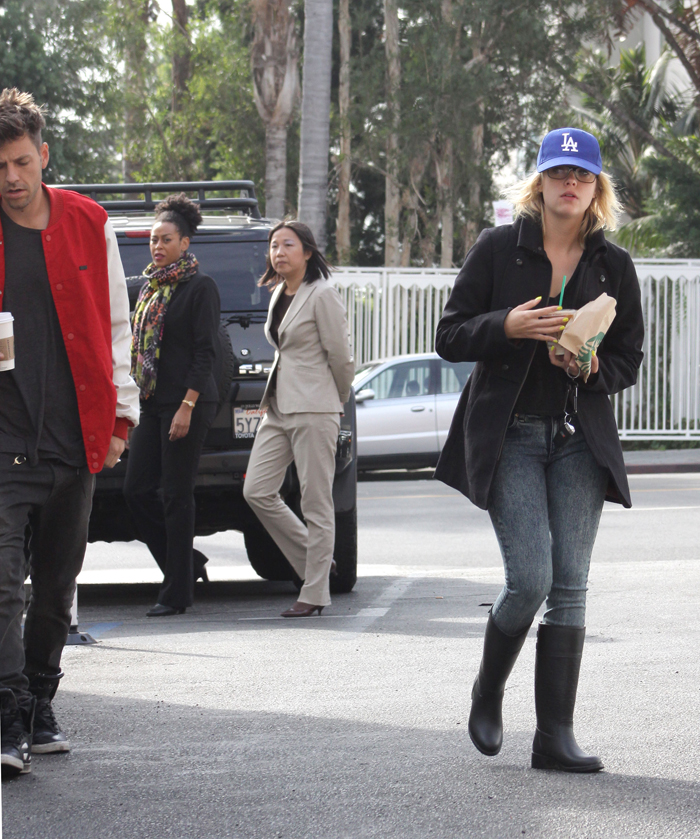 The art thickens, however, for the Mail has some new photos of Franco "cosying together" with a blonde whose face is well hidden. Is it Ashley? Probably so, because according to E! Online, she and Franco are totally art-boning: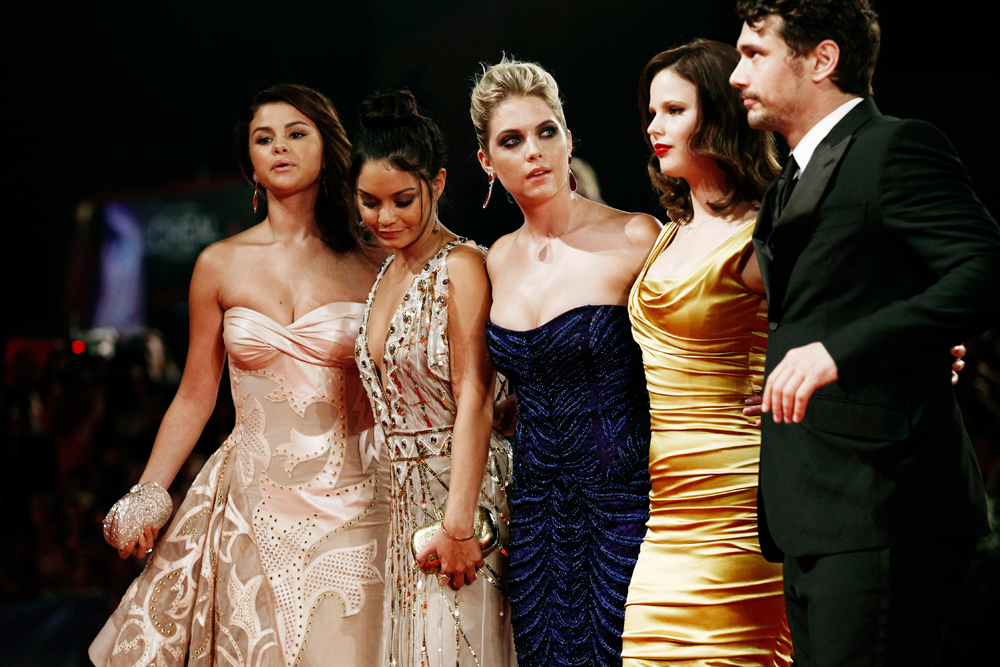 James Franco has found himself a Pretty Little girlfriend.

The Oscar nominee is dating Ashley Benson, aka Hanna Marin on Pretty Little Liars, a source confirms. The couple met while making Spring Breakers, an indie flick costarring Selena Gomez and Vanessa Hudgens.

Franco, 34, and Benson, 22, were recently spotted holding hands at L.A.'s Haunted Hayride, according to the New York Post, which first reported the new romance. Reps for both did not immediately comment.

The two are seen in some very comprising positions in Spring Breakers, a drug and sex-fueled film about four coeds who find themselves mixed up with a drug dealer. One scene in particular features a three-way romp with Hudgens in a swimming pool.

Benson told us at the Toronto International Film Festival in September that Hudgens and Franco made it as comfortable as they could for her. Franco explained that he tried "to stay relaxed" and not "use any teeth."
[From E! Online]
So Franco has himself a new girlfriend. Is that interesting? Maybe not in and of itself, but here's a wrinkling factor — Selena Gomez is reportedly quite upset that Ashley is dating Franco because she did so at the expense of dumping Ryan Good, who happens to be Justin Bieber's BFF. Selena's also supposedly "feel[ing] used and kind of punched in the face seeing as though she got Ashley the [Spring Breakers] role and Ashley just used the opportunity to break her friend's heart." Is this why Selena is really upset, or is it because James stopped hitting on her to go after Ashley?
Franco has also been promoting Francophrenia (which is the uber-meta feature film he created to justify his insulting, vaudeville-esque return to "General Hospital" last year) at an Austin Film Festival. In doing so, his haughtiness gave a 75-minute speech, during which he claimed that Paul Thomas Anderson nearly offered him the role of Freddie (that went to Joaquin Phoenix) in The Master, but Franco says he ultimately didn't get the part because he "wasn't scared enough or something." Ugh, this douchebag would have killed that movie. While onstage, Franco also took another opportunity to say that his turn at hosting the Oscars failed because "the material they gave me was CRAP!" Well, Franco may be a totally pompous prick, but at least he's consistent at it.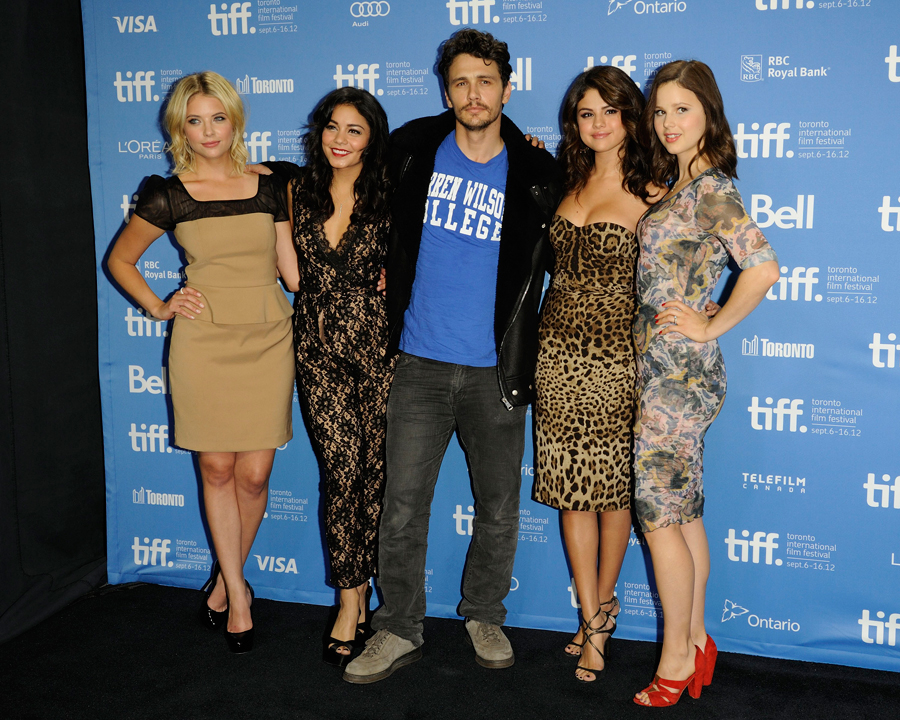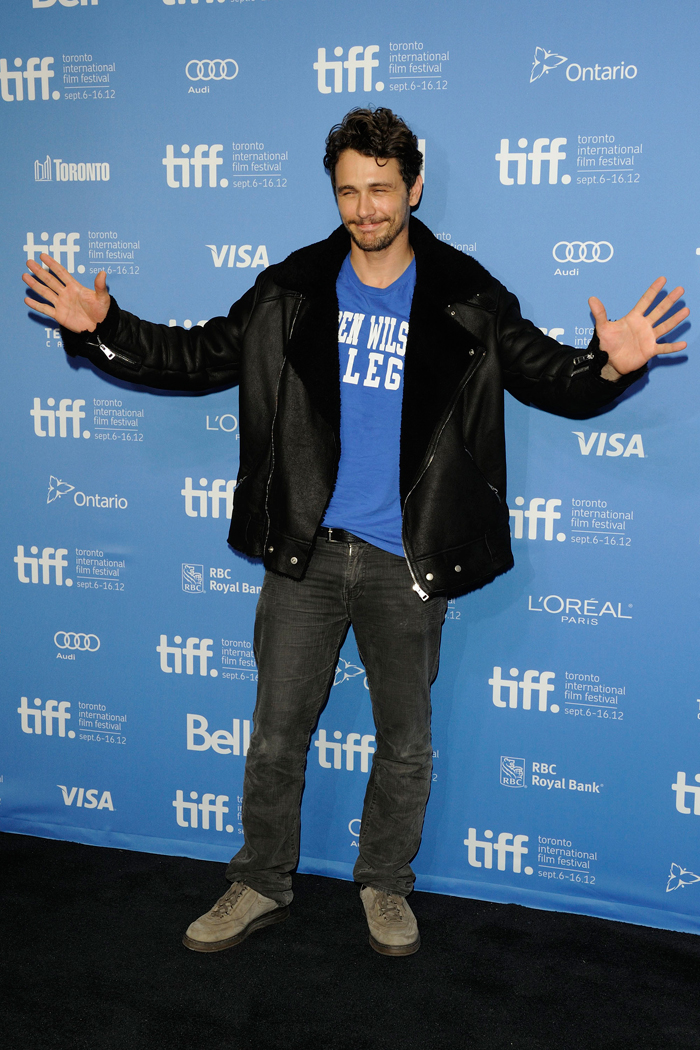 Photos courtesy of Fame/Flynet and WENN