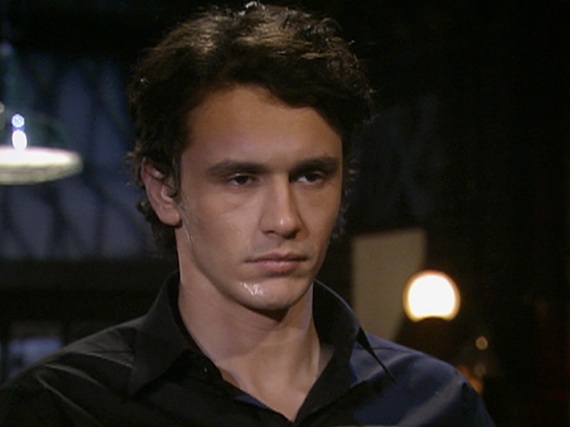 It takes a lot of (useless) mental energy to get revved up enough to write about James Franco, and he'd probably be quite flattered to hear of that sentiment. Quite simply though (and this isn't a compliment), Franco is an exhausting entity and lately not so much an actor as a personality who seeks to inform us all about how highly educated and well-rounded he is as a person. He seems to believe that that acting should simply be considered "performance art". So here are some stills from Franco's recent (return) stint on "General Hospital" starting with the first one (above). Don't ask me what that stuff is on his chin. Just don't.
At any rate, the show's audience is said to be displeased with James Franco, who played an ongoing "GH" character that simply goes by the name of "Franco." As a whole, his entire performance seems to be merely a self-referential exercise for sure. But remember, this is a man who got his NYU professor fired for giving him a "D" grade and considers his own butt to be "art." Never mind that James Franco can't handle the simple concept of Twitter because he's an artist that shall be regarded as such for generations to come, right?
Now a pretentious, Franco-oriented article from Hollywood Reporter discusses his latest involvement with "GH," and as expected, he's basically making fun of the show, its audience, and everyone in between; naturally, he sees all of this as part of his artistic evolution. It's kind of confusing too, but his "GH" appearance is also part of a silly movie called Francophrenia that will soon be screening at Tribeca. So Franco has basically made a movie about a guy (himself) who gets himself mixed up with his own serial-killer character … and (drum roll) the lines between reality and fiction begin to blur. It's so dumb. Here's part of the Hollywood Reporter article, and the clip of Franco's "GH" serial-killer exit is below as well: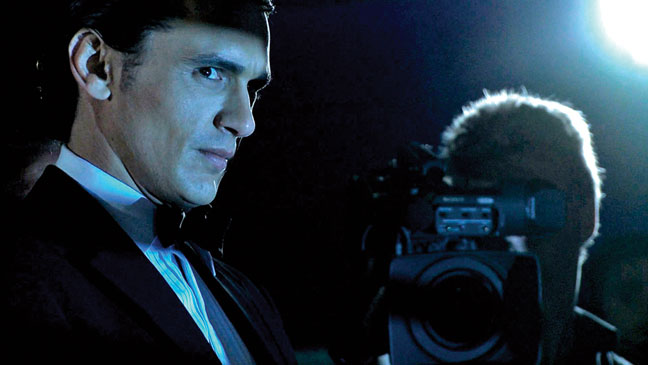 The simple synopsis of Francophrenia (or, Don't Kill Me, I Know Where the Baby Is), which makes its U.S. debut Friday at the Tribeca Film Festival, is that it's a movie about a TV actor who confuses his true self with his character. The mental blur, at the most basic level, comes due to the fact that the actor shares his name with his character, who just so happens to recite long monologues about manipulating reality.

But that the actor is James Franco, a man who has gone from well-regarded actor to tirelessly medium-hopping Hollywood Rorschach blot, makes it impossible to settle for a simple synopsis. After all, this is the guy who gave just two requirements for his character on "General Hospital": "All I said was I wanted to be an artist and I wanted to be crazy," he tells The Hollywood Reporter during a sit-down conversation in New York.

It was two years ago that, in order to prepare for a role as a fictional soap opera actor in a film by his artist friend Carter, Franco decided the best research was to actually act in a daytime soap. That led to that famed guest arc on the ABC daytime drama, where he was rewarded with a part as a crazed installation artist-serial killer named Franco, the first step in the warping of fact and fiction.

"I didn't know what would happen, it was just sort of an experiment, it was a way to just insert myself into this kind of foreign world that was also sort of related to my world," Franco explains, adding that he also was interested in exploring the friction between what is perceived as highbrow (film) and lowbrow (soaps) entertainment. The parody in it all, the name Franco and serial killer identity, didn't come from any desire to poke fun at the world — they came straight from the "General Hospital" writers room. If there was any joke, everyone from the show was in on it.

That sense of fun didn't extend to the audience. At first, the reception for his soap work was less than positive, and he got the creeping sense that he was seen as an impostor in the daytime world.

Why, people wondered, would a guy who had just earned awards for starring with Sean Penn in an Oscar-winning drama now go to the equivalent of Hollywood's cheesier minor leagues? Some saw it as an attention grab — though there are far easier and seedier ways to get press than a recurring role on a daytime show — which hardened his resolve "to frame [the role on the show] for myself and have some ownership of it."

From there, he took a camera on set to document his experiences, including at a special, public taping of an episode at the Museum of Contemporary Art in Los Angeles. Between a plot that featured the character Franco's artistic re-creation of the show's usual hospital set and fans of the show doubling as extras in the episode, it was multi-layered even before Franco filmed behind the scenes.

"We wanted our own, basically f#@*ed-up version," he laughs, though he admits he didn't know how that f#@*ed-up version would take shape.

** Don't kill him, he knows where the baby is **

In many ways, that's the point: the film serves in part as a sort of notice that, yes, Franco is well aware that his forays into writing, cross-country degree collection, art, experimental filmmaking and celebrity-challenging sometimes leave people scratching their heads — and often outwardly cynical about his motives. Here, he gets to wink at those critics, even though his initial acting in "General Hospital" was as straightforward as the sometimes ludicrous story line allowed.

It's a sly response to the sort of bizarre myth that has grown around him. Among other critical missives, he refers to a 2010 New York Magazine piece by Sam Anderson that asked "Is James Franco for Real?" and served as a kind of national damnation by inquiry, casting him as equal parts myth, savant and snake oil salesman in its examination of his literary, artistic and academic pursuits.
[From Hollywood Reporter]
That reference to a "snake oil salesman" really sums up my feelings on Franco these days. For awhile, he was amusing enough while bucking the system, but now it's just annoying to hear him prattle on about how smart and educated he is due to simultaneously pursuing three different graduate degrees (while not attending class) and starring in Blockbuster movies (while talking them down but willingly accepting the paychecks). Here's that "GH" clip of the death of the "Franco" character:
As for the "GH" clip, I don't know what to think about Franco's "artistic" intentions, but he is one lousy actor when it comes to soap operas. Granted that such programming doesn't call for Oscar-caliber performances, but Franco is espcially bad as serial killer "Franco." He's obviously attempting to be a vaudeville villain but is failing miserably. Here's an actual question — is "General Hospital" always this terrible? I'm not big into soaps but am familiar enough with "Y&R" to the point where I can tune in quarterly and easily catch up on the storyline and the bed-swapping between characters. The "Y&R" acting isn't great, but they get the job done, so is "GH" always this bad, or is just Franco's presence?
Well at least "GH" fans can rest assured that "Franco" won't be returning anytime soon. Or at least, he shouldn't return anytime soon. One never knows with soap operas.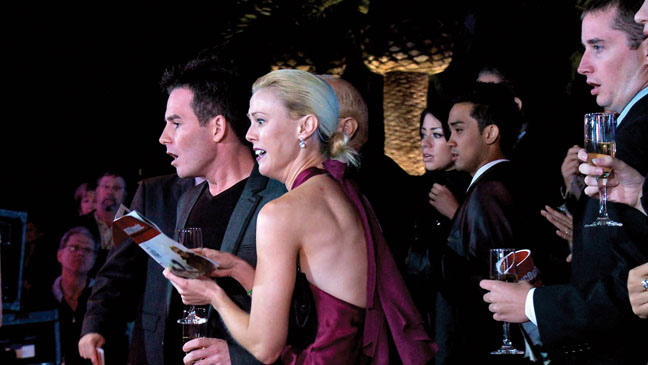 Photos courtesy of Hollywood Reporter